As you'll see from these fairy garden painted rock ideas, painting on rocks can be a hobby all it's own – but it's one that goes hand in hand with fairy gardening as far as I'm concerned.
You can start super simple, and decorate your fairy garden with a few easy ladybug rocks, or spend a little more time and create your fairy house entirely with paint!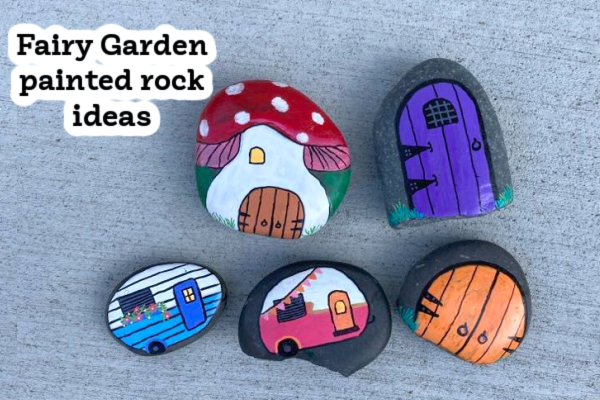 How do you paint fairy garden rocks?
There are only a couple really important things to note before you start painting your rocks for your fairy garden.
First, if you want to have much detail, acrylic paint pens are SO MUCH EASIER to work with than paint brushes!
I didn't even know paint pens existed, but it turns out they are the rock painting secret everyone but me knows.
So, I ordered these acrylic paint pens online- and I LOVE THEM!
Try to choose rocks that are super smooth – and light colored. Some of my rocks were so dark I had to use three or four coats of paint to get coverage, and that was sort of tedious. The rougher rocks seem more porous and "suck up" the paint!
If you can pick your rocks off the ground, that's much better than buying them! The ones you buy sometimes have a waxy coating on them, and the paint won't stick. (Also, paying for rocks sort of sucks.) Just give them a rinse and let them dry completely before you start painting.
If you really want to get into rock painting for your fairy gardens, I found this article full of helpful tips for getting started and avoiding mistakes!
Check out the ideas below for things to paint on rocks to decorate your fairy garden.
15 fairy garden painted rocks to inspire you
These fairy garden painted rocks are so cute – you might want to make all of them! Once I started painting, I didn't want to stop.
Fairy Doors
Doors are such an easy thing to paint on rocks, and the perfect fairy garden accessory!
Plus, a fairy door can be magical all on it's own – placed against a tree trunk or against a rock pile.
You can also make fairy doors from polymer clay or popsicle sticks!
I painted these super simple fairy doors on rocks –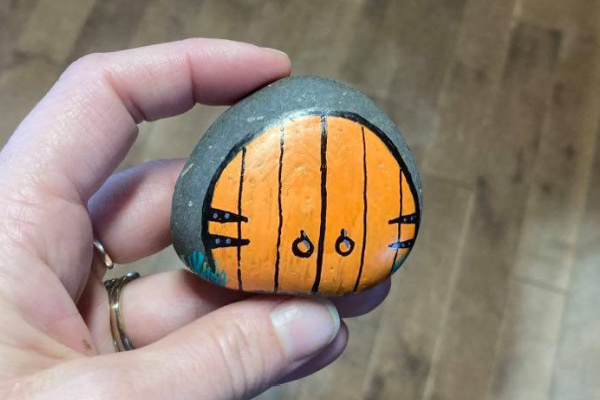 My husband – a carpenter – said that while they were cute, I needed to realize that the hinges wouldn't actually "work".
I have to admit this honestly blew my mind. I had no idea that hinges couldn't be this close together – something about stress, I dunno.
He told me this is the problem with the internet. Some fairy might look at this picture and determine this is how they should hang their doors, when in reality… the hinges just won't work. Beware of what you learn on the internet LOL.
I told him fairies have some magic that we don't have, so it doesn't matter where the hinges are.
You can also paint much more elaborate fairy doors – look at this gorgeous one from AffinityStones!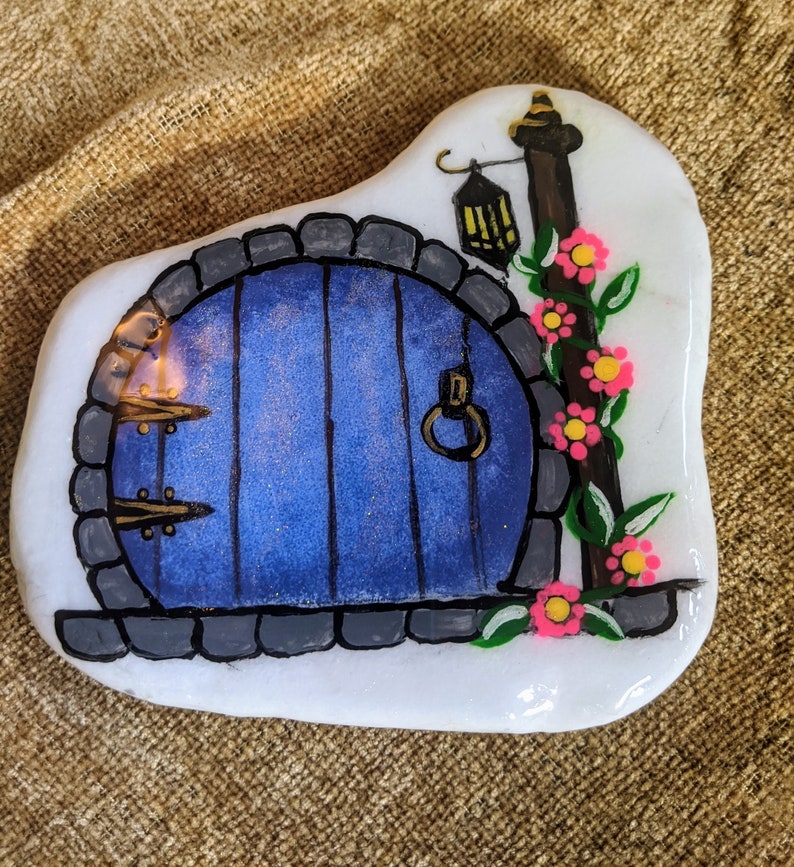 Fairy Houses
I painted this tiny mushroom house, and for as un-artistic as I am, I was pleased with the way it turned out!
With the white, I had to do three coats just to make it even SORT of covered. This is definitely an example of where a lighter colored rock would have been easier.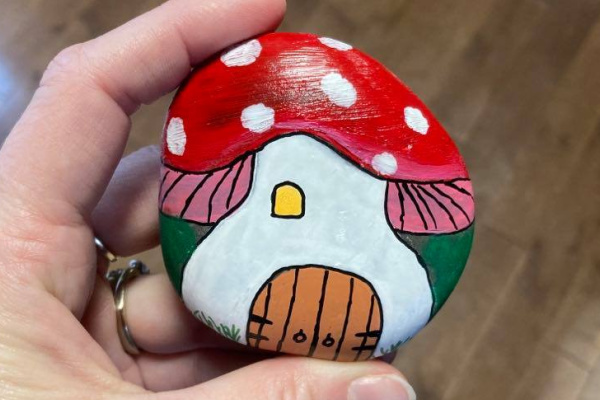 I followed (obviously, I use that word VERY loosely) this youtube tutorial to make my painted rock mushroom house. (Her talent is amazing… don't be disappointed if your first attempt at painting a fairy house on a rock looks more like mine than hers LOL.)
You can also go with more traditional or cottage house styles: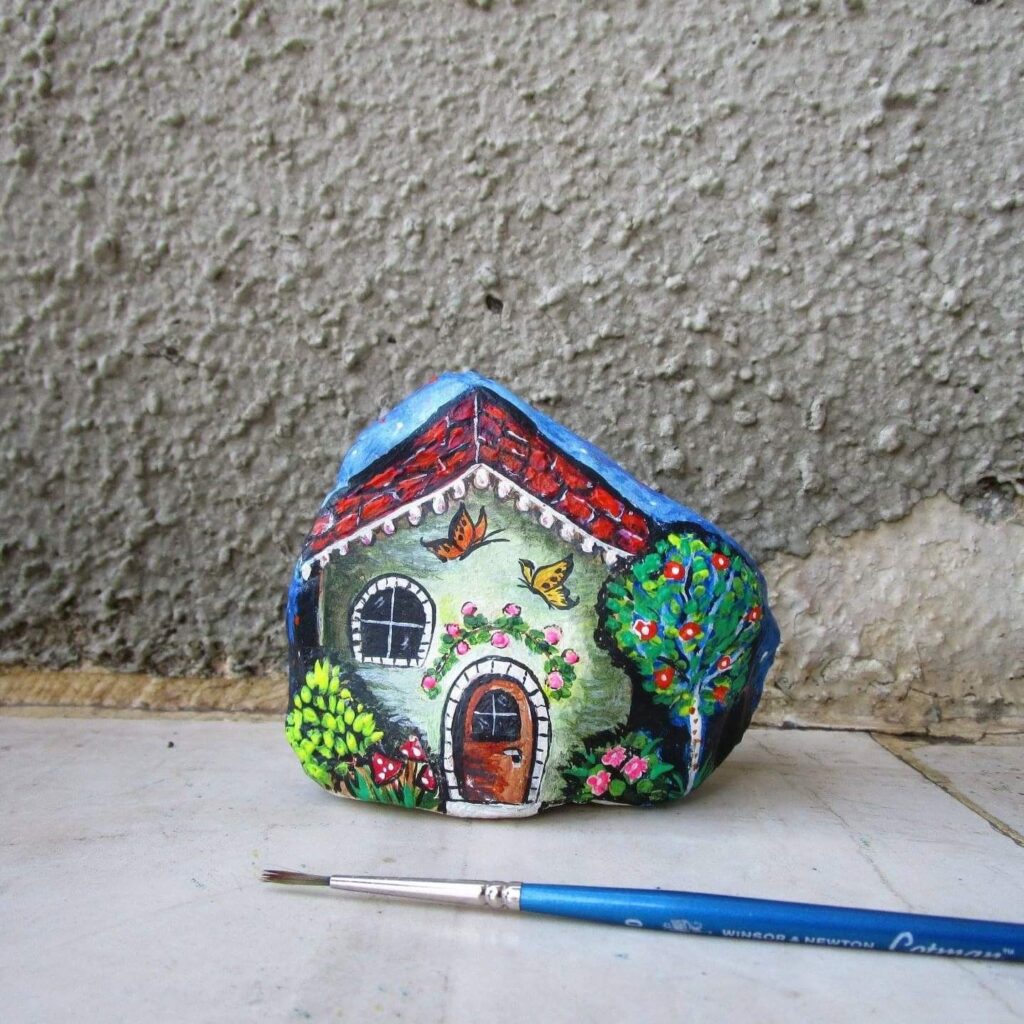 This adorable fairy house painted rock is a bit more elaborate than anything I could create!
Danijela's instagram account  is FULL of adorable little cottages that fairies would LOVE to have in their gardens.
Tiny Creatures are adorable fairy garden painted rocks
Ladybugs, bees, snails, frogs, hedgehogs, birds, turtles, butterflies… really any creature that would find in a garden make adorable painted rock fairy garden decor!
My sister painted this frog, and he would look perfect in a fairy garden!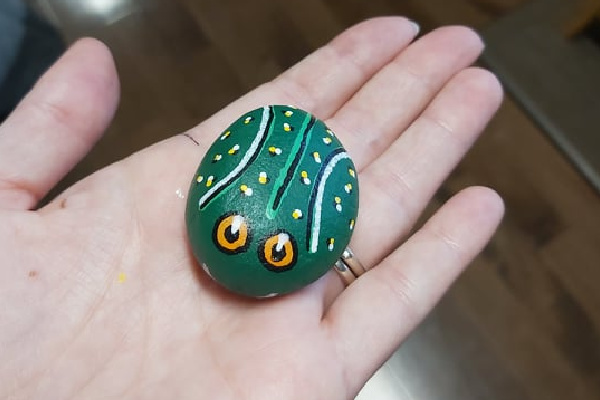 Bugs – like ladybugs and bees, are a really easy thing for kids to paint on rocks – you could choose itty bity tiny rocks to make them more realistic!
I had so much fun painting these owls, this could become a hobby all on it's own!
The owls and the frog both came from tutorials in this book – it has SO MANY cute designs that are easy to re-create!
Seasonal Décor
If you love to decorate your fairy gardens for the changing seasons, painted rocks are a great way to add holiday themed elements without much effort!
Tombstones and ghosts are easy to make and will definitely add a halloween / fall decor feel!
My sister painted this little ghost, and the tombstones idea is from ilovepaintedrocks.com.
You could also paint some rocks like little pumpkins!
Flowers
Flowers are one of my favorite designs to paint on rocks for a fairy garden – because there is NO LIMIT to the colors and types of flowers you can paint! They can be super simplistic (great for kids) or more complicated.
This cute daisy from rockpainting101.com would look amazing in a fairy garden!
Stepping stones / garden path
You could create a really magical colorful garden path with painted stones – they could be elaborate like mandalas, or simple – a base color with spots or stripes would make a stunning (but easy) path between fairy houses.
Here's a gorgeous rock mandala from AffinityStones.
Imagine a fairy garden path made from many of these!
What are your favorite fairy garden rock painting ideas? I'd love to see some photos!
If you would like me to feature an image of a rock you painted for your fairy garden, you can email it to me at admin @ mommyonpurpose.com.