I really adore seasonal / fall fairy garden decorations.
It's so fun to change your fairy garden up and decorate it for fall or give it a refresh for spring… I love to keep my fairies "up to date" with the changing seasons, which inspired me to come up with some fall fairy garden ideas! (It keeps my kids involved and learning about seasons also!)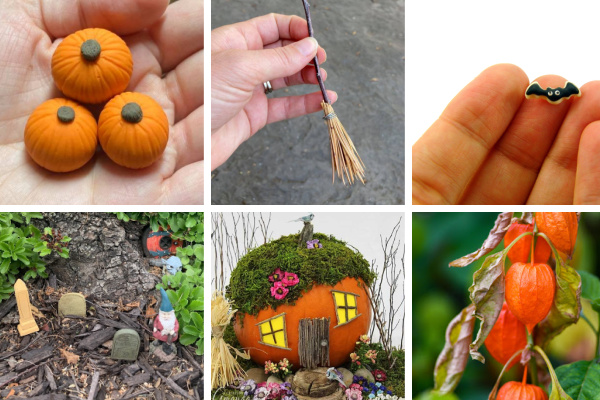 I live in a part of the world where we get brutal winters, so my outdoor fairy gardens have to get cleaned up and put away after autumn, so fall fairy gardening sort of feels like the last "hurrah" for the gardens I've worked on all summer.
Setting up a fall fairy garden display on your porch can be a sweet surprise for children out trick or treating on Halloween as well- so make sure your display is well lit!
If your fairy garden needs some autumn décor ideas, check these out!
(THIS POST MAY CONTAIN AFFILIATE LINKS. YOU CAN READ OUR FULL DISCLOSURE POLICY HERE.)
1) Add some itty-bitty fairy sized pumpkins to your miniature garden
You could totally even paint jack-o-lantern faces on these adorable pumpkins made from polymer clay.
They were SO EASY to make (full tutorial here), and they only take about 5 minutes each!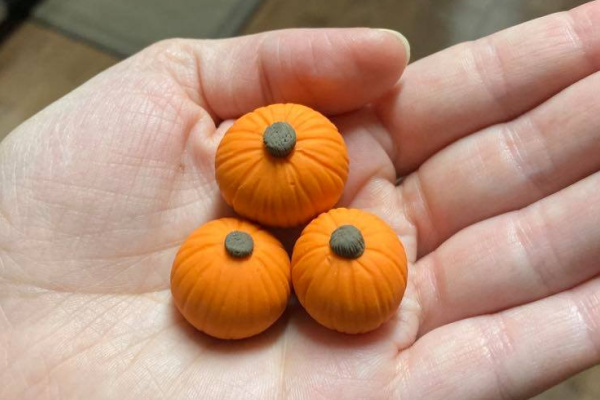 2) Create a harvest theme display with polymer clay veggie baskets
Show the world that fall has arrived for the fairies as well as the humans by creating a harvest theme – little empty veggie plots with baskets of harvested produce off to the side, next to the door of the house. Here's a tutorial on how my kids and I made the veggies pictured below!
You could include small shovels or rakes, you know, whatever the fairies might be using to clean up their gardens as the season ends.
3) Create a Fairy Feast of Adorable Polymer Clay Treats
You can use polymer clay to create ANYTHING – you could make a whole feast of Halloween treats with this tutorial from The Mouse Market.
Look at this sweet tiny bat cookie – what Fairy wouldn't want THAT on her table?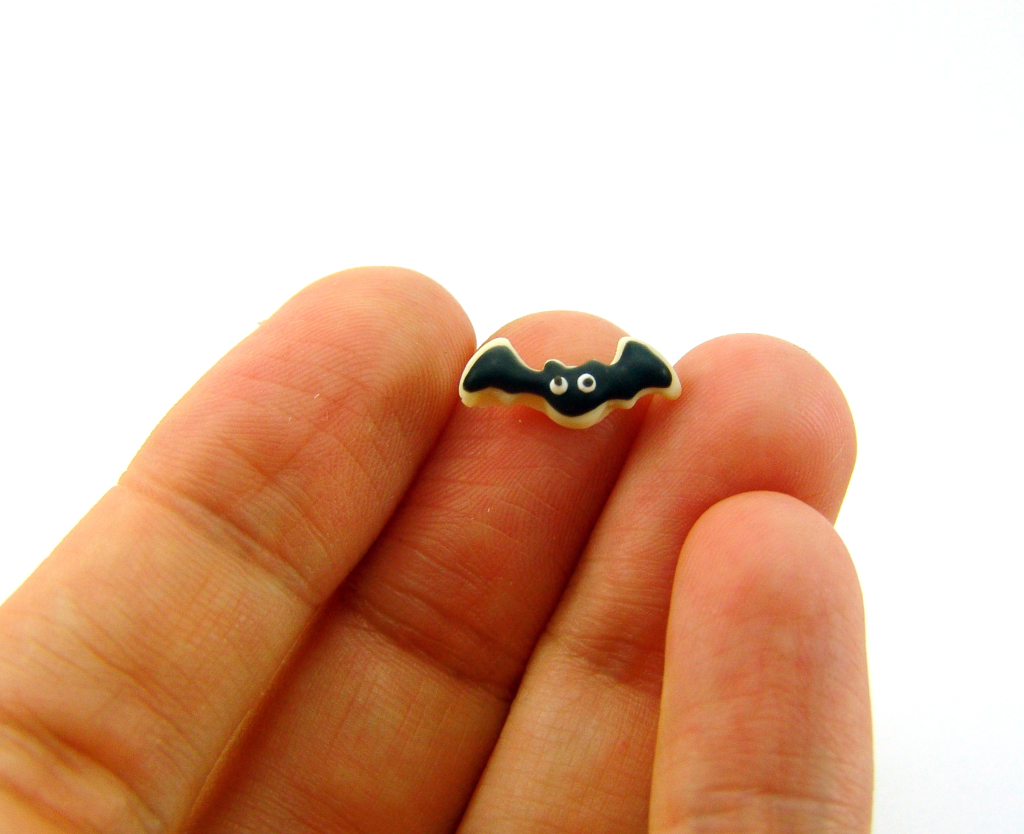 4) Make a little broom
It's easy to make a little broom – either for general fall cleaning, or for more "Halloween-like" fairy transportation.
Just collect a twigs and some dried grasses + tie it all together with wire!
Voila!
Doesn't it look cute with the pumpkins and this little polymer clay lantern? (Pictured below in my broken pot fairy garden.)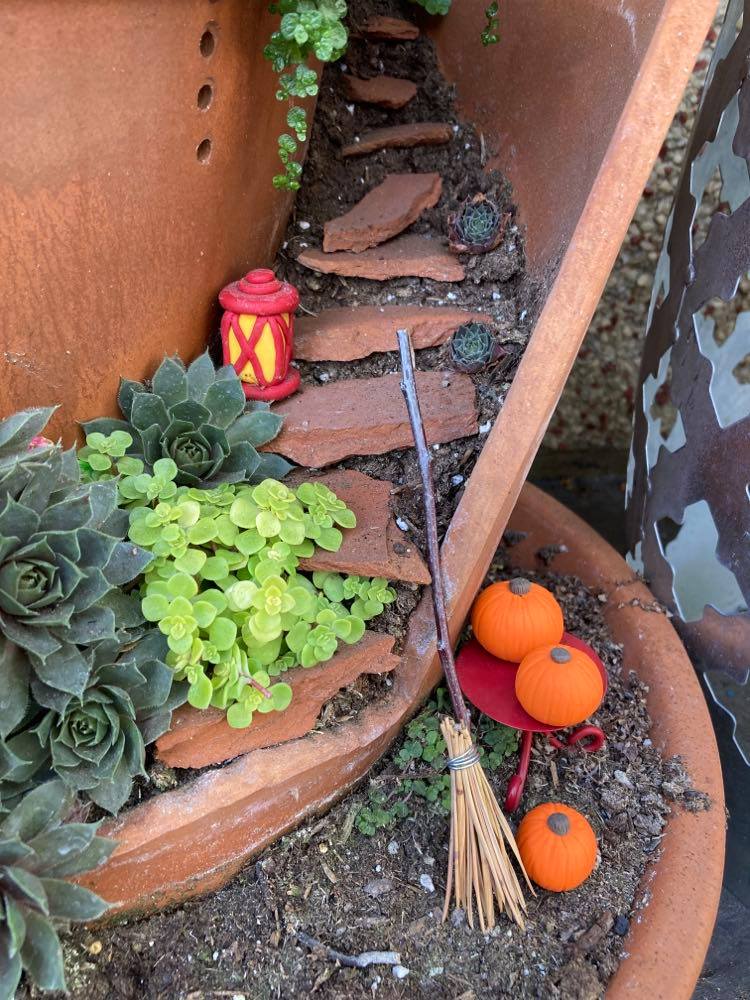 5) Create a fairy Pumpkin house – Super Easy Fall Fairy Garden Idea!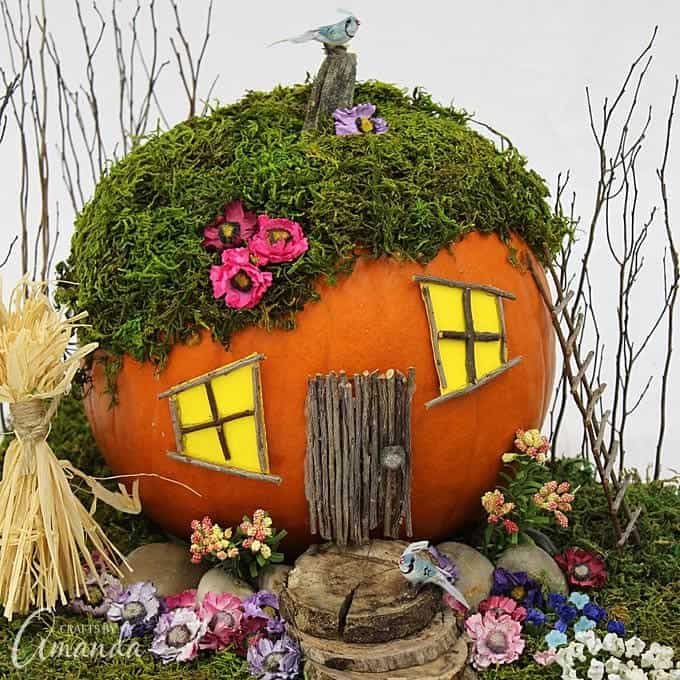 This pumpkin fairy house over at Crafts By Amanda is so awesome! It's a neat alternative to carving pumpkins and looks incredible! (Way better if you have small kids and would rather not play with knives, maybe?)
If you want to use a pumpkin or gourd as a fairy house, you can create doors and windows using sticks as she did here.
I've also made some cute doors out of polymer clay. You could easily create a fairy door from clay and then affix it to your pumpkin. Once the season is over, you'll have a reusable door to put on a tree or create another little fairy hideout. (Because of course, pumpkins or gourds as fairy houses won't keep forever, but my fairies never mind moving into a new fairy house.)
6) Use a Faux Pumpkin as a planter to create an Autumn fairy garden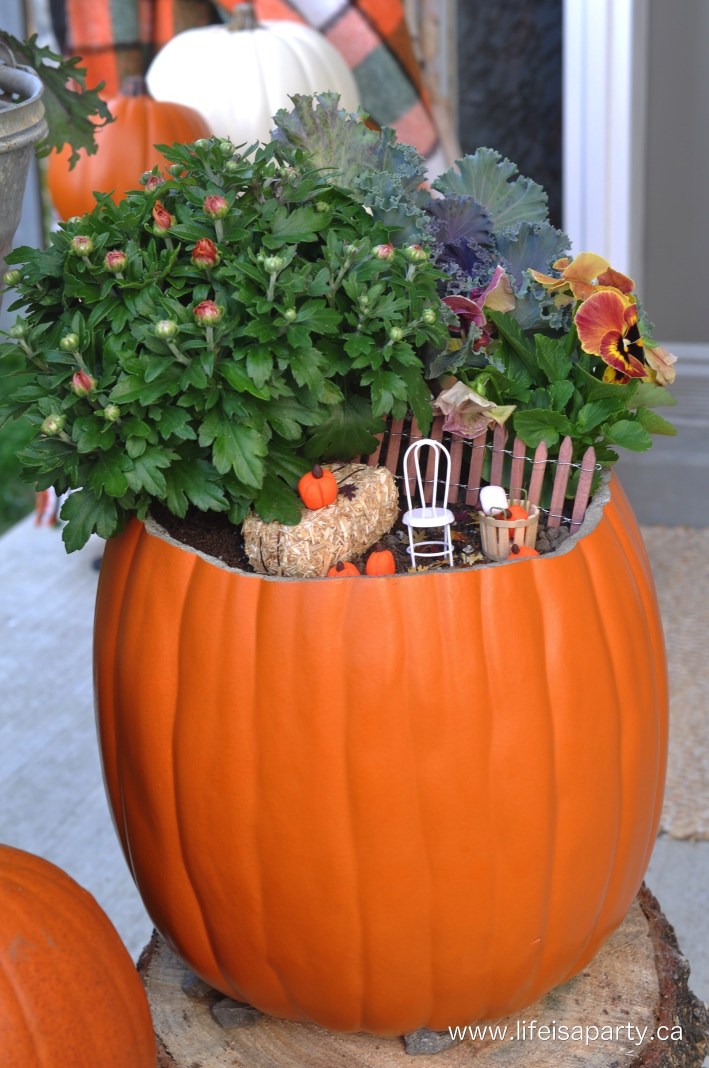 Would you prefer something seasonal, but a little more permanent? A faux pumpkin makes an amazing fairy house as well! Over at Tatertots and Jello, Jen walks readers through all the steps to creating a fun and festive fairy garden right in the top of a pumpkin planter.
Faux pumpkins can be found at craft stores and online. Look for sturdy foam or easy-to-cut plastic pumpkins, so you remove the top and put plants inside. If the pumpkin is particularly deep, you may want to put an overturned flowerpot in the base.
Here's more ideas for outdoor fairy garden planters!
7) Create a display inside a faux pumpkin
OK so, if I'm honest, I didn't know faux pumpkins were a thing before I started digging around for autumn fairy garden décor ideas!
A simple craft store faux-pumpkin is an adorable fall fairy garden idea you may love all year round (From makewithlindseycrafter.com)! The hollowed out plastic gourds can be found at most craft stores, especially in the fall. You can carve out the front display hole and create a perfect spot to nestle your fairy friends and accessories.
Succulents make particularly nice filler for fairy gardens like this, because they often have shallow root systems, so they don't require a lot of dirt. Be sure to put down a few rocks to create appropriate drainage before you add your plants. Once the plants are in place, tuck in your fairies and accessories like small chairs to complete the display.
8) Make a Tiny "Spooky" Fairy Graveyard
If Halloween is your thing (it's not mine) you might love the idea of a fairy grave yard – for that "fun spooky" feeling. (It escapes me how a spooky feeling can be fun for anyone!)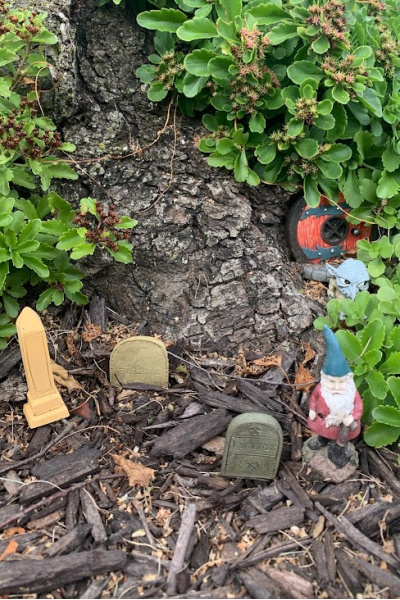 You can get these tiny tombstones on Amazon, or you could pretty easily make them with polymer clay!
9) Plan ahead for Autumn with Chinese Lantern Plants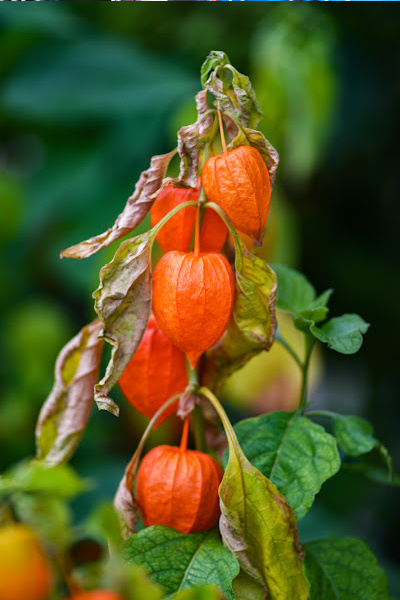 I still remember the first time I saw the tiny little "lanterns" on a Chinese Lantern plant.
If you're thinking ahead, you can plant some in your fairy garden! (Unlike other fairy garden plants, these hold their color well into the fall!)
They look amazing just left natural – but you can also paint jack-o-lantern faces on them as well (how's that for one of the cutest fall fairy garden ideas ever?).
10) Spread faux spider web over the drying up plants for that very Halloween look!
When I was a kid, we used to decorate my gramma's porch with faux spider web at Halloween. This stuff would be PERFECT for giving your fairy gardens a Halloween feel.
You could even add in a few fake spiders.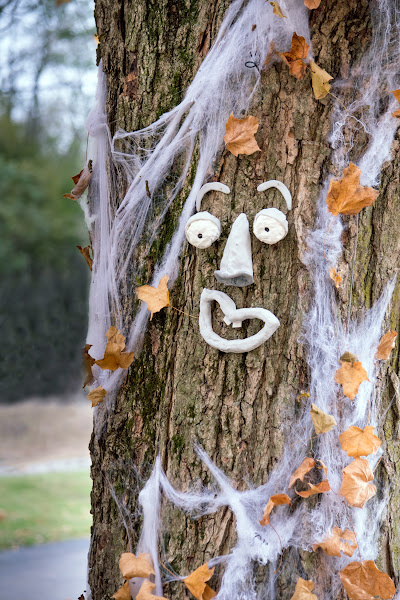 11) Paint Rocks as Pumpkins, Tombstones, or Spiders
A super cheap way to add a bit of fall décor to any miniature garden is to paint rocks to look like jack-o-lanterns, or tombstones, or even spiders!
There are so many great fall fairy garden ideas to decorate your miniature garden for Autumn – what are your favorites?