DIY fairy garden accessories don't HAVE to be super involved and detailed. Sometimes – especially when you're making a fairy garden for a child – simple and easy is the BEST!
Popsicle sticks are such a cheap (and versatile) crafting medium… you can create just about ANYTHING from them for pennies! I thought I'd share a list of simple popsicle stick fairy garden accessories you can make with your kids – that'll add SO much character to your miniature garden – without breaking the bank!
(THIS POST MAY CONTAIN AFFILIATE LINKS. YOU CAN READ OUR FULL DISCLOSURE POLICY HERE.)
How to make fairy garden accessories out of popsicle sticks
To create your popsicle stick fairy garden accessories, all you really need is popsicle sticks and glue of your choice (I recommend waterproof wood glue, but if your child is crafting without your help, good old white glue is fine!).
For some projects you'll need to trim the sticks, so in this case supervise children – or help them cut the sticks to size before they start building.
If you're using plain wood popsicle sticks you may want to paint them or stain them to match your project / add color – OR you can skip the painting and just buy a pack of pre-colored ones.
The pre-colored sticks are a great option for crafting with little kids – if you don't want to pull out paint and make a giant mess – haha.
Popsicle sticks are really affordable so don't worry about "messing up", and tell your kids the same. It's a great opportunity to let them take the reigns. If you mess it up, try again!
Here's some inspiration for your popsicle stick miniature garden accessory creation session:
12 Adorable Popsicle Stick Fairy Garden Accessories
I've made most of these popsicle stick fairy garden accessories myself (or with my kids) – and collected a few more ideas from fellow crafters!
Fairy House
Of course, the quintessential fairy garden accessory is the dwelling! You can make an entire house pretty easily out of popsicle sticks!
You can use colored sticks, or plain – and embellish with ANYTHING. Here's a couple popsicle stick houses my kids and I made last week: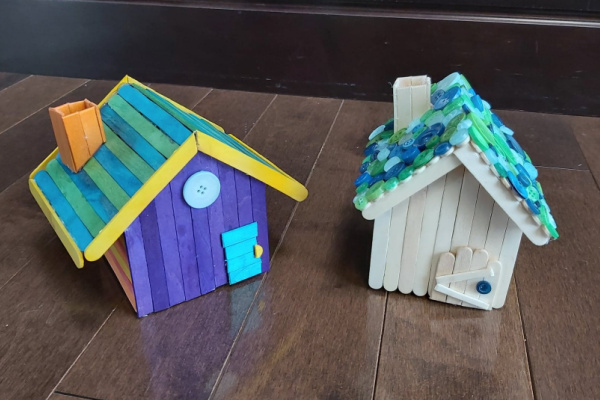 Fairy House Doors (or Roofs)
OR – if you, like me, like the look of stone fairy houses, popsicle sticks are a quick easy way to make the doors for any fairy house! I used them to create the doors for this cute stone fairy house – I wanted something that would be as durable as the house (or easy enough to replace if the elements got to it).
I painted them bright iridescent blue and glued them on… for the handles, I just bent tiny bits of wire and attached with super glue.
(If you want more involved doors, try making them out of polymer clay!)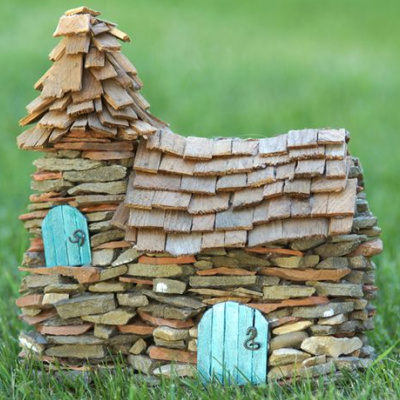 Just like like doors, you can use popsicle sticks to create only the roof for your fairy house.
(Of course, you can make a fairy house roof from just about anything lol.)
Beach Chair
These cute little beach chairs are probably the most complicated of all the popsicle stick fairy garden accessories I'll share – and they DO require a little bit of at least sort of measuring lol. You'll want to help your kids with these ones, but they are worth the effort! See the full tutorial for these mini Adirondack chairs here.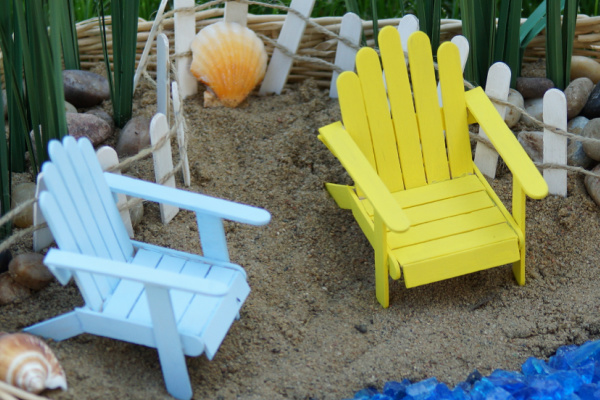 Fairy Garden Fence
In the image above, you can see I used a white washed popsicle sticks to create the fence. I glued hemp string to them – but you could also make the fence with ONLY popsicle sticks, like Karen did, in the image below – see her full tutorial over at Crafts For All Seasons.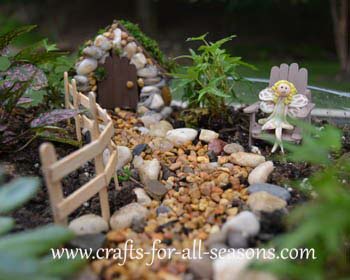 Signposts
Cute colorful signposts can add so much fun to the garden. Point the way to a real place, like grandma's house, or to a totally mythical place like Hogwarts.
Ladders
I LOVE ladders in a fairy garden. I love thinking that – while maybe the fairies can fly – they probably do use ladders to get from one level of their space to the next. (And I love multi-level fairy gardens THE BEST haha.)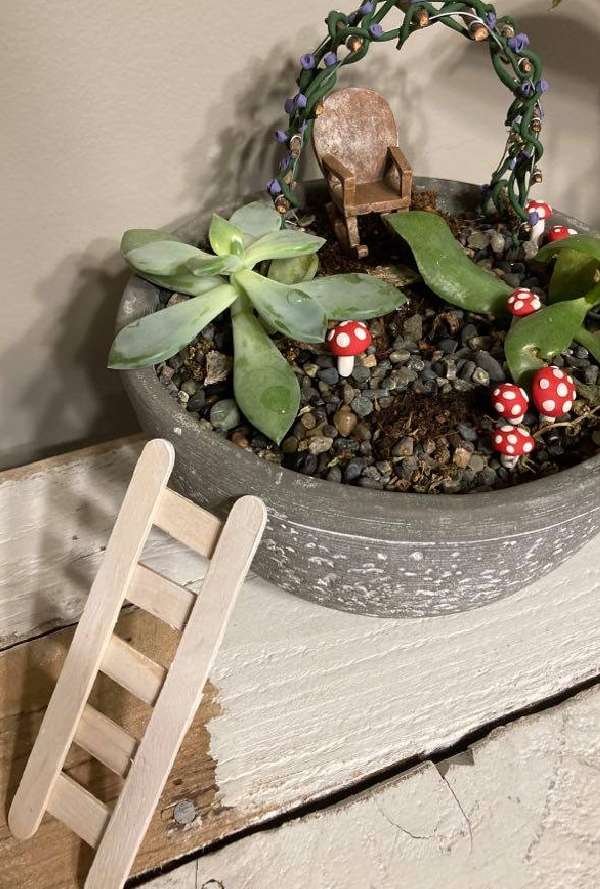 Popsicle sticks are a super simple way to make a fairy garden ladder. You can make more involved ladders from polymer clay, or more rustic ones from sticks.
Tiny Picnic Table
I'm sure the fairies have super cute tiny picnics. This little popsicle stick table is easy to make and SO cute!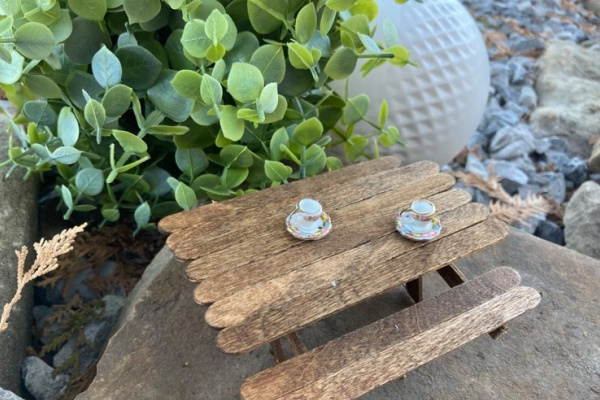 You could dress it up with a tiny pot of flowers in the center!
Fairy Bridge
This adorable bridge is just popsicle sticks glued to an empty plastic tub. You can get the full tutorial over here at a craftymix.com. I LOVE the addition of the beads and string rather than having a "solid" structure… it makes it so much more magical!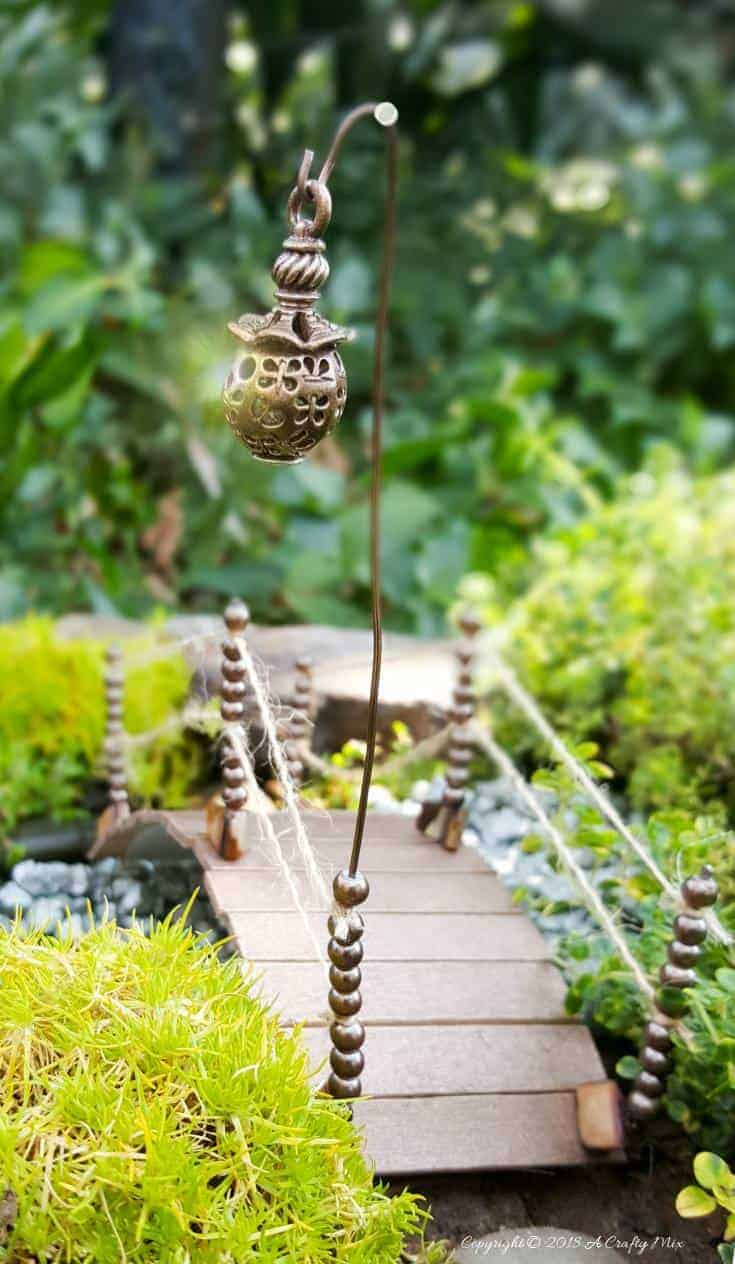 Tiny Fairy Bench
This sweet little bench from Meatloaf and Melodrama is easy to make and could be painted ANY color – I love it when fairy garden accessories can add a pop of color!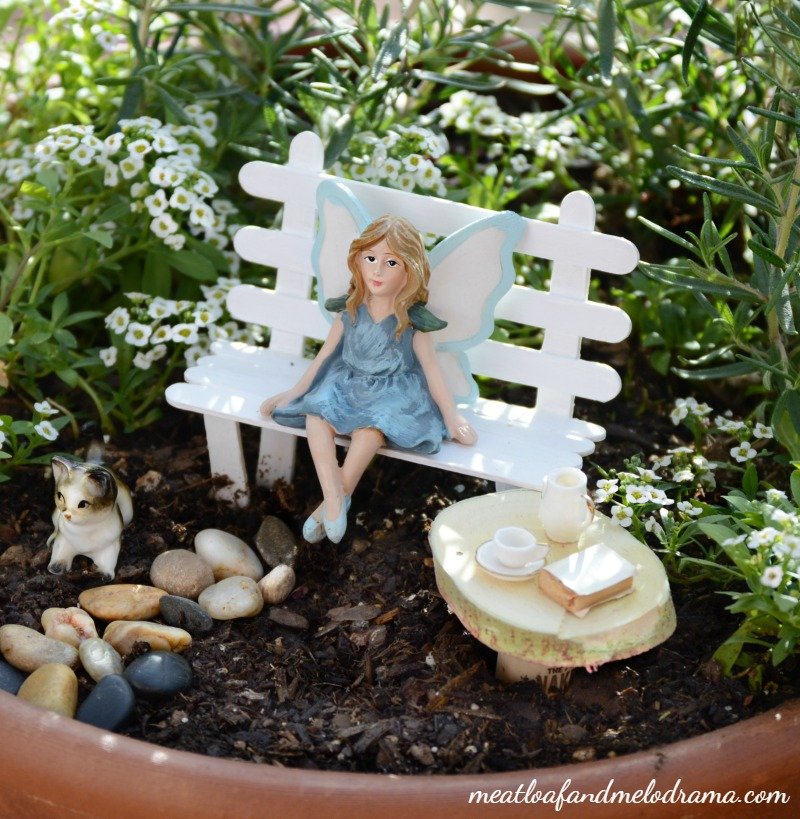 A Deck for the Seating Area
Speaking of a pop of color – that's exactly what you get with this popsicle stick deck from Mommy Moment.
I LOVE the color it adds, but I also love the very IDEA of the deck. It can be really frustrating trying to get itty bitty furniture to sit nicely on dirt or rocks, plus, as I've said before… I generally think that fairies like to keep their feet clean.
You could use this same idea and create a walking path between dwellings and seating areas with popsicle sticks!
Fairy Bed
This sweet fairy bed from Simple Practical Beautiful is SO magical. It's made from popsicle sticks and imagination. (And I love that it was her daughter that dreamed it up!)
A pallet garden
This one is more involved… your kids (unless they are a little older) probably won't make this popsicle stick fairy garden accessory by them selves, but it was just toooooo cute to not include!
This image, from DIY AND CRAFTS, shows a pallet garden created with REAL succulents – but I personally would make mini polymer clay succulents to put in it, so that the you could enjoy it for years!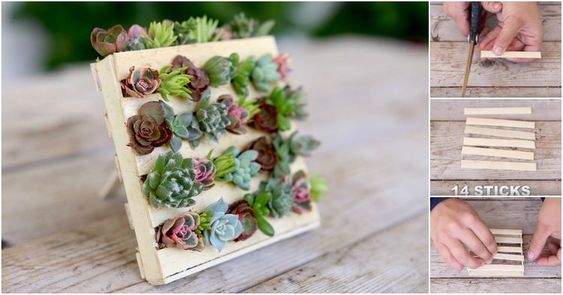 If you want to go beyond popsicle sticks, I have a ton more awesome fairy garden ideas for kids here!
Have you made some awesome Popsicle stick fairy garden accessories? Share your ideas with me!