How to Make a Fairy Garden in a Lantern
I've always wanted to make a fairy garden in a lantern.
(If you've been here long that won't surprise you, there's not much I DON'T want to set up for the fairies LOL.)
They're great small space fairy gardens (much like tea-cup or terrarium fairy gardens) and they're also great indoor fairy garden containers!
(THIS POST MAY CONTAIN AFFILIATE LINKS. YOU CAN READ OUR FULL DISCLOSURE POLICY HERE.)
After Christmas, Lanterns go on sale at Micheal's for 70% off, or you can get them at a thrift store… I've found them both places. (Amazon also has really cute ones that would be perfect for a fairy garden.)
I got this one at Micheal's –
I also go this cool grass mat stuff at Micheal's… it was expensive, but I'm cheap so of course I got it when it was ALSO 70% off.
I cut a square of it to fit the bottom of the lantern. (I still have tons left for other fairy garden projects!)
I wanted my fairy garden lantern to have lights, and it's too bad that all lights require batteries, because to be fairy they take up a fair chunk of the "ground" in my garden. If I had had more time, I would have maybe thought harder about how to run the lights in from OUTSIDE (I may still change this).
Anyhow, as it is now, I placed the battery pack under neath the grass and pushed it all down around the edges, and added a few dobs of hot glue to really keep it in place. I left the corner with the switch for the lights free of course – and it sort of popped up annoyingly.
To hold it down, I scattered some rocks around the edges, and that totally solved the problem.
Then I tucked a few sprigs of fake plants around the edges. I had imagined having MORE plants, but with the battery pack in there there's honestly very little room! I would really consider leaving the battery pack OUTSIDE your lantern if at all possible when you make a fairy garden in a lantern.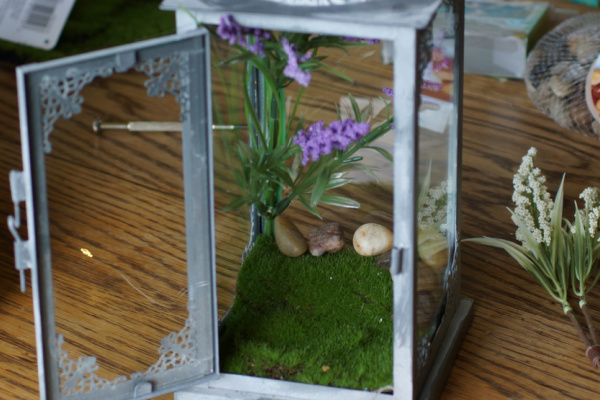 The last step was adding the sweet little fairy garden accessories (you know, the tiny fairy things that make it a fairy garden…)
Believe it or not, I actually SUPER STRUGGLED with this because the space is SO limited.
I was trying to do this in just a couple of hours and didn't want this fairy lantern project dragging on for hours and hours, so I didn't want to make accessories by hand. I wanted to use some of the literally hundreds if tiny things I had laying around!
This space looked like a cozy space for just one fairy to relax – so I thought a reading nook might be appropriate.
The polymer clay toadstools were a given, as I love to add those to almost any fairy garden, haha.
The REST of the decor was CHALLENGING!
First I tried this little rocking chair and a tiny stool as a table… I made little books for the table by folding small pieces of cardboard and glued them together with hot glue (because they were just so small they wouldn't stay shut lol.)
But I didn't LOVE the way it looked… (I really didn't love how the one little light was shining on that rock so I did move that as well.)
Next I tried a bigger chair, partly because I had bigger books (that I got from Micheal's) that I knew would go better with a bigger chair.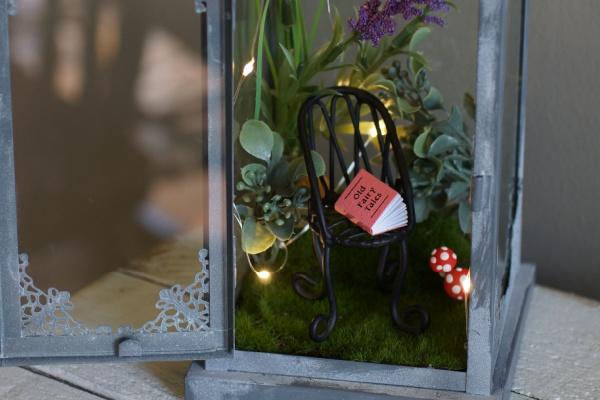 I was REALLY unhappy with this too – but at first I could figure out why. I even took it outside to try and photograph it in the natural light and see if that made a difference.
Then I realized it was because the black chair just wasn't VISIBLE enough in the tiny lantern against all the plants and grass!
I painted the chair white with acrylic paint – not in a particularly careful way, I didn't care if the chair looked warn. I find most fairies don't aren't terrible picky things.
I was so impatient for it to dry I MAY have gotten a little paint on some of my plants…
But it made a HUGE DIFFERENCE!!!
I LOVE the little white chair (and the larger book). It makes the PERFECT decor for a fairy garden in a lantern!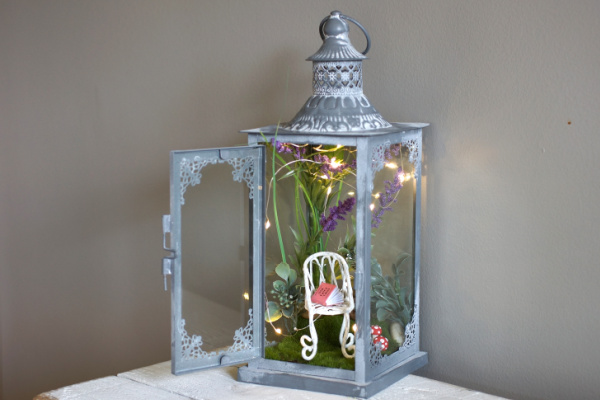 This fairy garden lantern is sitting in our dining room currently and my son LOVES to turn the lights on.
Even my husband thought it looked pretty great, and he's hard to impress with fairies!
Have you made a fairy garden lantern? I'd love to see a picture!