DIY Miniature Flower Pots for Fairy Gardens
This sweet little fairy garden accessory is so simple to make it almost doesn't warrant it's own tutorial, but it's also too cute to just gloss over!
These miniature flower pots were the PERFECT finishing touch for this little wheelbarrow fairy garden: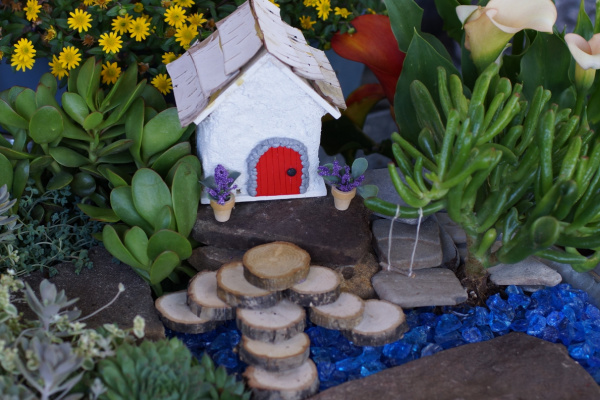 I was struggling to come up with great accessories for this garden because the house is actually SO small.
(THIS POST MAY CONTAIN AFFILIATE LINKS. YOU CAN READ OUR FULL DISCLOSURE POLICY HERE.)
Most of the accessories I have on hand – or even can think of to make, are just SLIGHTLY bigger than this house allows. I'm not OVERLY picky about scale, but I don't want things to look ridiculous either.
(I like to be able to SORT of believe the fairies could be hiding just around the corner!)
Then I remembered these itty-bitty flower pots I'd picked up at Micheal's one day (you can also get them on Amazon, or make them from polymer clay.)
They were the PERFECT size to be "large" pots of flowers outside this tiny house.
All you need to make miniature pots of flowers for a fairy garden:
Some sort of miniature container
a few springs of fake plants
a scissors
a glue gun
Trim (very small) bits of plant, and fill the container with hot glue… and press the plants into the glue!
(You might want to sort of try and hold them in place prior to gluing to see if you need more or fewer plants, and to make sure it looks how you want it to.)
I wanted color for this particular garden because it's a succulent garden and was lacking color in my opinion, but you could make these into cascading pots of greenery quite easily. (I might just have to try that soon!)
I was SO pleased with how they turned out!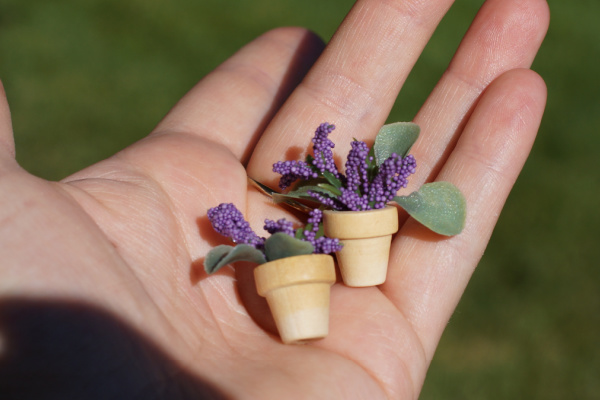 I thought about painting the pots – you know, bright blue with white stripes, or pink with yellow polka dots – anything like that would be sweet! I just didn't have the time, but I will paint the next set of mini potted plants I make for a fairy garden!
Alternatively, if you have time for a more involved project, you could make tiny flowers out of polymer clay – I made this little succulent last week and it is SO cute (in my opinion lol). Click here for the full tutorial on making mini polymer clay potted plants!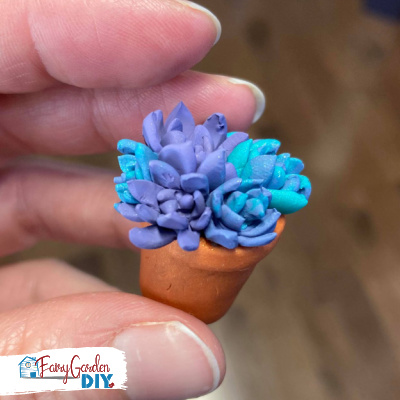 (PS, if you love miniature pots of flowers, you will probably love miniature baskets of veggies!)