Indoor Fairy Garden Container Ideas For Any Space
Do fairies only live outdoors?
No! Of course not! (And coming up with indoor fairy garden container ideas can be fun!)
When summer winds down, there's no need to say goodbye to your garden friends. Pixies, gnomes, and fairy folk look perfectly at home inside your home.
If you're wondering how to set up an indoor fairy garden, don't miss our tutorial post.
I actually find that indoor fairy gardens offer more flexibility and creativity than the outdoor variety. Indoor fairy container gardens are just as charming and adorable. You can use delicate materials and don't need to worry about sun-fading, weather damage, rampaging squirrels and other outdoor hazards.
If you're ready to set up an indoor fairy container garden, but aren't sure what to put it in, I've gathered plenty of inspiration for you as far as indoor fairy planters.
(THIS POST MAY CONTAIN AFFILIATE LINKS. YOU CAN READ OUR FULL DISCLOSURE POLICY HERE.)
Try out these 20 indoor fairy container garden ideas in every room of your house!
1. Terrarium
(I should have taken this picture from further back so you can really SEE the terrarium, but it's a square glass one I originally got from costco. I used a larger flat rock under the chairs so they would be stable.)
A terrarium is a wonderful spot to set up an indoor fairy container garden.
After all, terrariums ARE the quintessential indoor garden containers. To set up a terrarium garden, scale your fairy-scape to the size of your container. If you have a large terrarium (like an upcycled aquarium, for example), you may fit several fairies, houses, and accessories.
If you're working with a smaller terrarium, as I was, put in your plants first and then add a few fairies and/or accessories, as you see fit. You may want to give your fairies a little chair and a few rocks, to add personality and visual interest to your setup.
2. Teacup
One of my favorite indoor fairy garden containers is a teacup! I love the whimsical look—it reminds me of something from Alice in Wonderland. Teacups are often quite small, of course, but a simple miniature fairy garden looks so darling.
If you're wondering how to build a teacup fairy garden, don't miss my tutorial. It's so easy and adaptable. You can use a purchased house and accessories or create your own from polymer clay (like I did) and other bits. There are plenty of plants, especially succulents, that will grow inside a teacup.
Just be sure when you put in your plants you leave some room for your fairies!
3. Washtub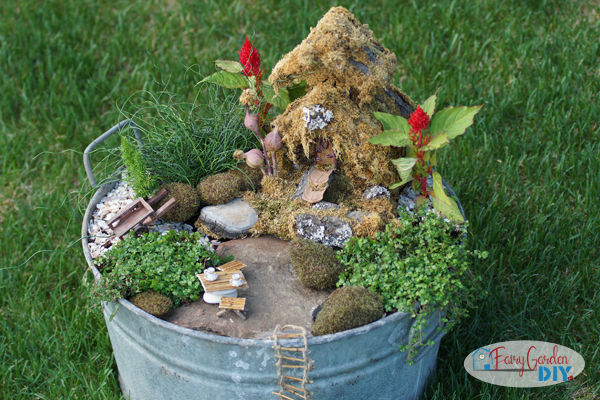 One of the first fairy gardens my kids and I put together was in a galvanized washtub. I used the washtub as a planter for several years before converting it to a fairy garden display. Washtubs are fun containers because they offer more room than a typical indoor container and you can move them outdoors if you so choose.
When planning a fairy garden in a washtub, be sure to leave a little room between plants to fit in your fairy dwellings! I personally prefer fairy gardens without dirt showing, so I usually use ground cover like bits of shells, small rocks, sand, or another substrate. Once the plants and ground cover are in place, arrange the fairies however you like. Include a house (or even two) and you'll have an adorable fairy garden that's right at home indoors or out.
4. Basket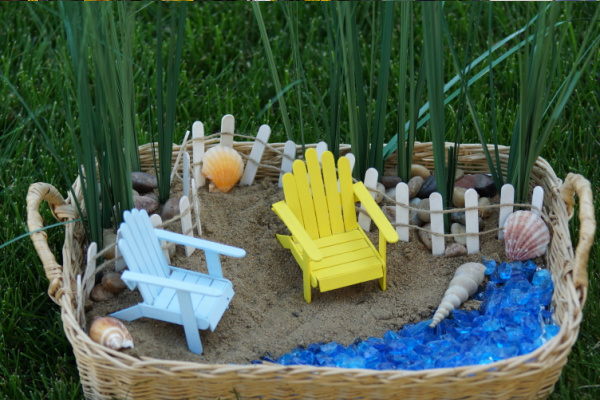 A tisket, a tasket, what's more adorable than fairies in a basket?!
If you've ever received a dish garden from a florist, you know the secret to planting in a basket is to put in a plastic pot or liner before adding the dirt. From there, it's simply a matter of arranging your fairy garden as you would a garden in a standard flowerpot.
I really like the rustic look of a basket garden and there are plenty of options to suit your style. Baskets are often made from natural materials, which blend nicely with a naturally made fairy house. Fairy houses made from small stones are my favorite to create! The DIY house would look perfect nestled in a woven, wooden, or bamboo basket!
5. Enamel Basin
This sweet circus theme garden from House of Hawthornes is a great example of a fairy garden in an enamel basin.
She found this basin at an estate sale, and honestly I think ALL the best indoor fairy garden containers come around second hand! There's something about the "old + used" look that makes the fairies at home, I'm sure.
When using a container like this one, either make sure there is a drainage hole and then place it on some sort of tray to catch water, or just add a layer of rocks under your soil to provide drainage!
6. Birdcage (one of my favorite indoor fairy garden container ideas)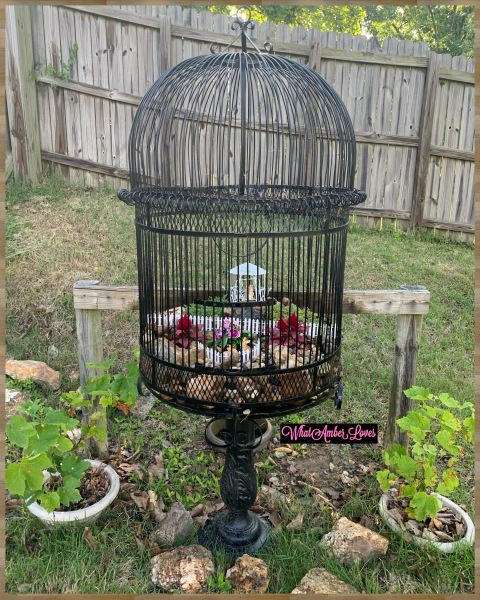 A vintage birdcage makes an adorable container for fairy gardening!
While this one from What Amber loves is pictured outdoors, a birdcage would make a perfect indoor fairy garden container.
Add a layer of sheet moss in the bottom of the birdcage and a few small potted plants for greenery. Give your fairy accessories to create a scene—a mossy bed, a climbing ladder, or a small picnic table and chairs.
Birdcages also make a cute home for fairy-friends like dragons! Depending on the size and style of your birdcage, a dragon or another fantasy creature could be right at home. Antique or vintage looking birdcages seem as though they were perfectly made to house tiny dragons!
7. An Upcycled Wagon
How amazing is this fairy container garden in a vintage little red wagon? Over at Minnie's Milestones, she came up with a unique display that includes a DIY concrete "leaf" roof for her fairy house. The wagon is a great container—with sides low enough to create an accessible display.
She lined the wagon with tin foil baking pans, filled them with dirt, and then put the mosses and plants on top. A peace lily is a great plant for an indoor fairy garden, as it requires very little sunlight or care. I really like how her little fairies and gnomes are nestled against the plants with homemade mushrooms, rocks, and waterways.
8. Mason Jar
A jar makes an adorable mini fairy garden container! Choose a jar that's big enough to hold a few small fairies, moss, and maybe even a gnome door like this adorable fairy garden in a jar from The Country Chic Cottage.
I love the way the door works in this fairy display. It's so cute! If you're looking for ideas for fairy garden doors, I have a tutorial to help you DIY your own fairy door using polymer clay. I adore these little doors because they make any spot look magical. Put the door against a tree in your yard, in the corner of your house, or in a garden pot. Every spot becomes a portal to imagination!
9. Lantern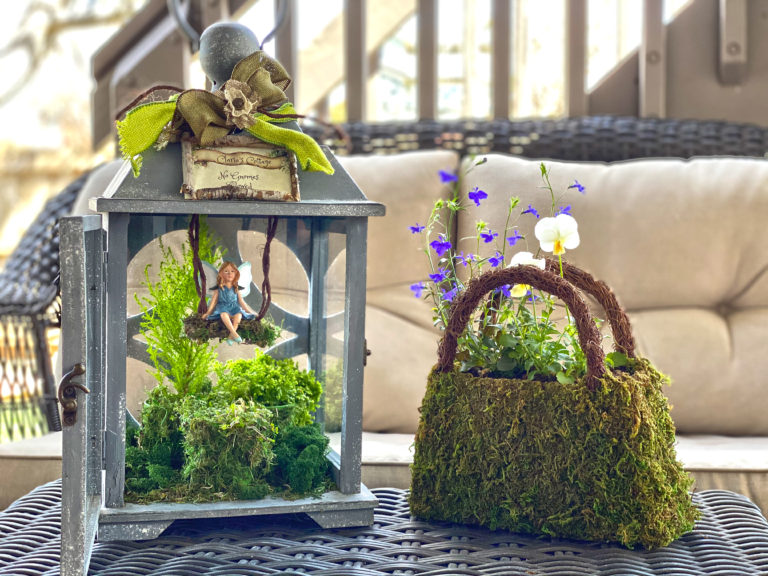 The lights in this fairy display from My Home of All Seasons make it especially delightful. The whimsical "firefly" effect is easy to achieve with a strand of battery-operated mini lights. The little fairy girl in the swing looks like she's enjoying her evening play time on the patio.
To create your own fairy lantern, any vintage-style lantern will do.
Look for glass sides without too much adornment that can interfere with the view. Set up your lantern with a mossy bottom. You may want to use floral foam to hold the display in place. Add your fairy and her accessories, like the swing (or a chair) for a perfectly darling fairy vignette.
10. An Old Suitcase
How incredible is this fairy garden in a suitcase from Empress of Dirt?! A small vintage-style suitcase is a perfect spot for a fairy display. Put down a sheet pan on the bottom of the case to protect it from water. Add rocks for drainage and a layer of dirt. From there, you can create a fairy display in a suitcase using mosses and plants.
I really like the little cottage in her display. You can create a brick fairy cottage by following my tutorial or purchase a small fairy house for your suitcase. Add rocks and fairy-friendly accessories (I love that pitcher of iced tea)!
11. Round Terrarium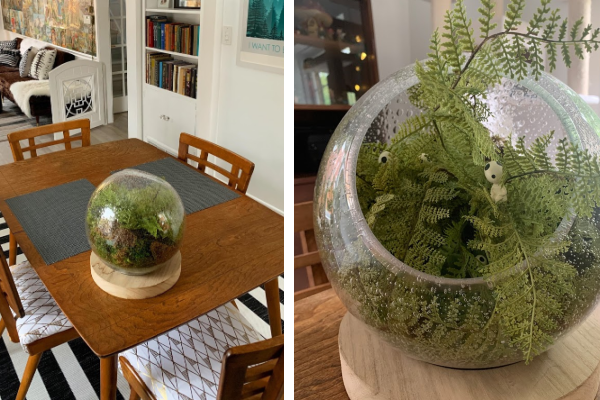 How great is this round terrarium?
A friend found it on the clearance endcap at Target for a few dollars. Round terrariums were very popular in the 60s and 70s, and you can still find vintage round plastic terrariums today at antique shops. If you're searching online, look for round terrariums as well as round fishbowls.
As far as setting up your fairy container garden in a round terrarium, you can use real plants, like succulents for a desert-scape. Round terrariums also work well for leafy ferns and small vines like a lipstick plant. In this case, my friend used little tree spirit figurines in her terrarium (but it would be perfectly adorable with fairies or gnomes as well).
12. Bonsai Dish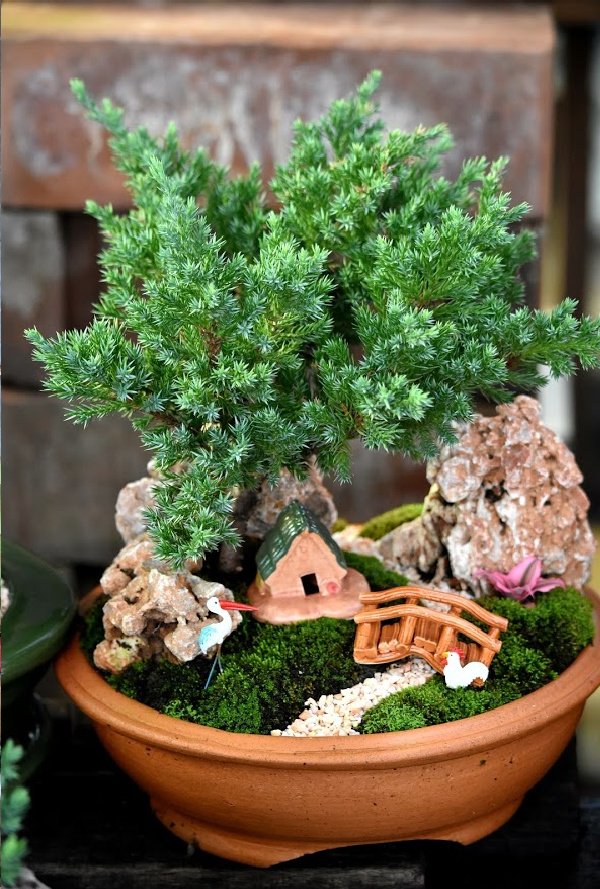 The free space at the bottom of a bonsai dish is an excellent choice for an indoor fairy container because they're largely self-contained and low maintenance. If your dish garden is very full (like this one), then one or two accessories are all you need to complete the look. Of course, if you want to add more, go for it! Fairy gardening is all about creativity.
Even though small dish gardens don't have a lot of space for a whole fairy village, they make a perfect choice for beginners. If you want to create your own fairies for your container garden, an indoor dish is a great home for them too.
13. China Cabinet
My friend built a two-story fairy village in a repurposed mid-century modern china cabinet. The village uses sheet moss as the base, with purchased fairy houses and accessories throughout. She added holiday lights for sparkle (and to add more lighting to the cabinet).
If you have a bookshelf or a china cabinet, an indoor fairy garden can be a great addition. Using a cabinet keeps the fairy garden safe from pets and protected from dust. Fairy gardens in a shelf or cabinet may not work as well with real plants, but there are so many natural looking faux plant options out there, you'll hardly tell a difference.
14. Raised Planter
Raised planters and containers are great for bringing fairy gardens up to eye level! While a large raised planter might be a little unwieldly for a small indoor space, it could be lovely in a three-seasons room or near a patio door.
Raised planters, like many other container gardens, afford you the ability to move your fairy garden indoors during the winter months and enjoy it outdoors in the summer. I also find that raised planters are a fun option for kids, who love being able to get face-to-face with their fairy pals.
15. Glass Display Case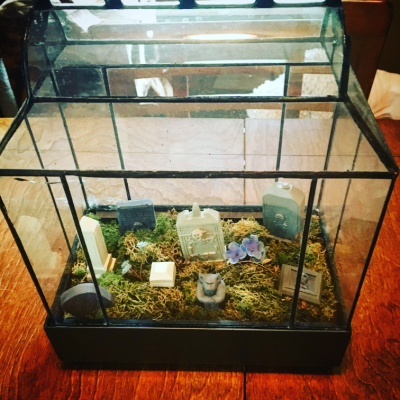 My friend uses a vintage glass display case to create a creepy miniature cemetery for Halloween each year. The gothic style of the glass case looks spooky and the tiny headstones are perfectly at home amongst the mossy "grass."
Indoor fairy container gardens can take many different forms. You can make a special fairy display to fit a season (like fall or winter) or you can change your fairy container with the seasons. Remember, there's no right or wrong way to fairy garden. It's open to your imagination and preferences!
16. Flowerpot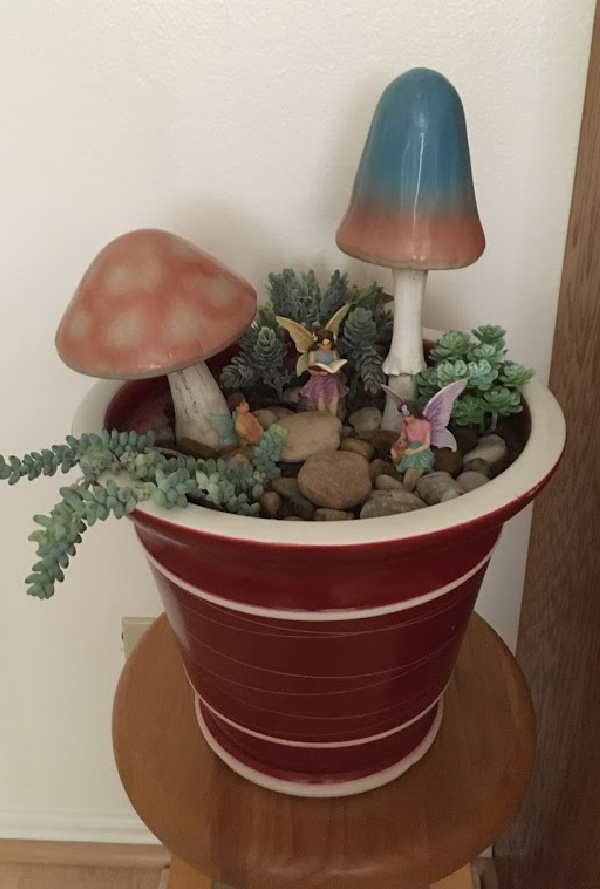 A flowerpot makes another perfect spot to set up an indoor fairy container garden. If you have a green thumb with lots of indoor houseplants, you may want to tuck in a few fairy friends or tree spirits at the base of your potted plants all around the house.
If you're starting out with a simple flowerpot, work around your houseplant with a few fairies, decorative groundcover (like glass marbles, moss, or small stones) and accessories. These adorable toadstool mushrooms are simple to make from polymer clay and brighten up your fairy setup, even in a small flowerpot.
17. An Old Clock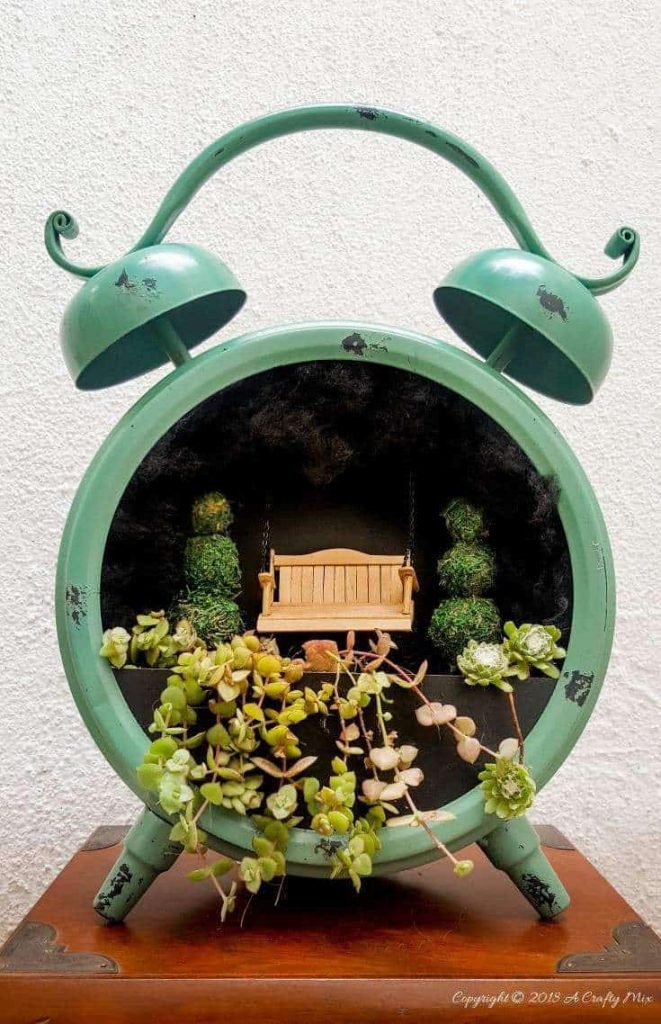 I adore this display from A Crafty Mix! I love how she took something totally different (a retro-style alarm clock decoration) and used it as the base for her fairy garden! It's so unique and darling. The little porch swing with the surrounding topiaries looks so inviting.
Look for succulents that create a "spill out" effect. Rock crop, burro's tail, or string of pearls make nice options for this type of fairy container. Arrange the greenery so it cascades over the side of your display. You can use any home decoration to create a fairy container—get creative a look around your house for different possibilities.
18. A Window Box Planter
Fairies look adorable in window boxes and raised planters. The longer shape is great for setting up several fairy houses and looks perfectly at home indoors or out. Herbs are a great plant choice for fairy gardening because many herbs are easy to grow in kitchen windows or out on a patio.
Use rocks to mimic waterways amongst the plants and put in mosses as groundcover (especially if you prefer your fairy garden not feature visible dirt). A little boat and water-creatures look cute interspersed amongst the plants and fairies.
19. An Upcycled Water Table (great for kids fairy garden)
If you want a kid-friendly indoor fairy garden display, an upcycled sensory-play water table or even wading pool can be a great container. Kids will relish the opportunity to play with real, live plants indoors and create different layouts and looks. It's a great opportunity to introduce kids to gardening and teach them about the growth cycle of plants.
There are many kid-friendly fairy houses made out of all sorts of materials. Durable plastic fairy houses are a good option for younger kids, while older children may enjoy making their own display or using a fairy garden kit. Remember, you aren't limited to just fairies either! Some kids may love dinosaurs or jungle animals in their display.
20. A Cloche
Bell-shaped cloches have been used for years as mini "greenhouses" to help force plants that needed a special environment. They always make me think of an old English garden. Cloches make a perfect cover for your indoor fairy display.
Here, Mariëlle at Magical Daydream created a whimsical display of butterflies, lights, and golden branches. You could create DIY fairies or butterflies for this type of display. Protected by the cloche, even delicate materials will work in this style of indoor fairy garden.
This is not my FAVORITE of the indoor fairy garden container ideas, because I don't love it when my fairies feel trapped.
21. Plant Saucer / Draining Tray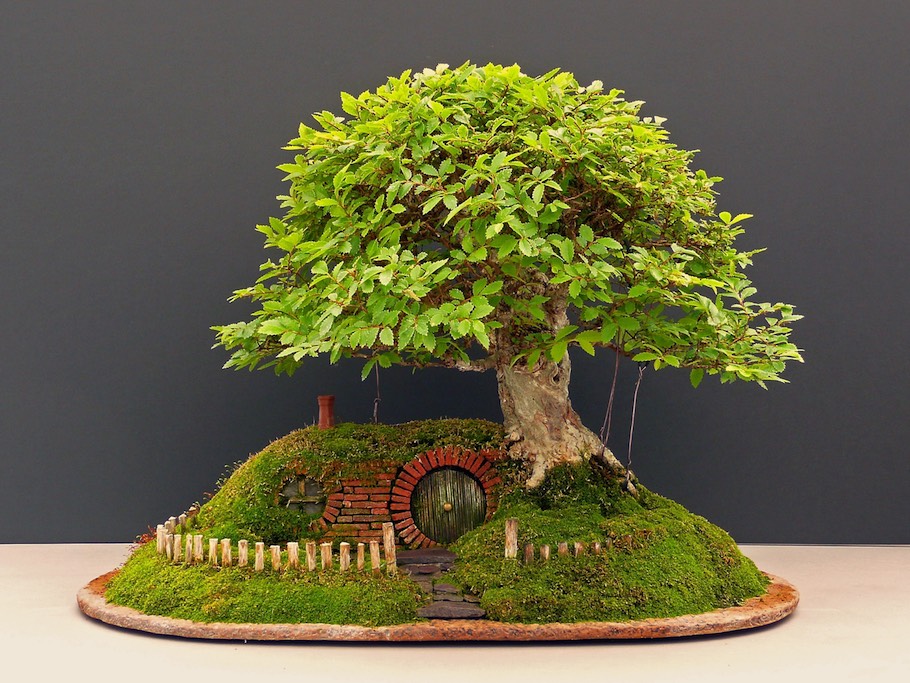 How incredible is this trayscape?! Using a bonsai tree, the creator made a tiny hobbit house that looks absolutely realistic and beautiful. This trayscape is from Bonsai Empire, and the post includes a step-by-step tutorial on creating your own miniature home with a bonsai tree.
Although the author used roofing material to create the bricks, it's very similar to the faux brick fairy house I built using Styrofoam. I love fairy (or in this case, hobbit) houses that look natural and homemade. There's something so incredible about them—as though the fairies made them all by themselves!
A simple plant saucer count be used to make something similar!
22. An Old Drawer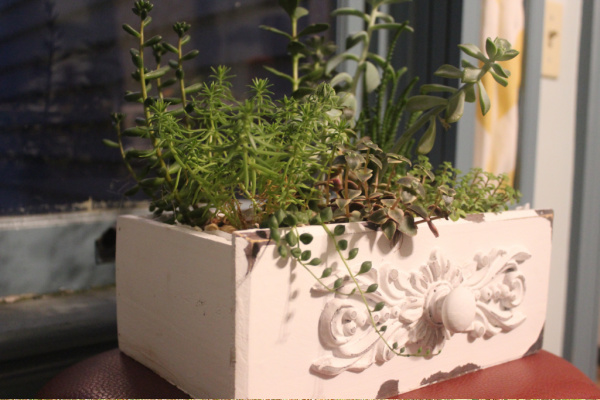 I know, there's no fairies pictured above, but use your imagination!
Wouldn't this drawer (or any old drawer with peeling pain and a beautiful knob) make an IDEAL indoor fairy garden container?
23. Basket – Not the same as before!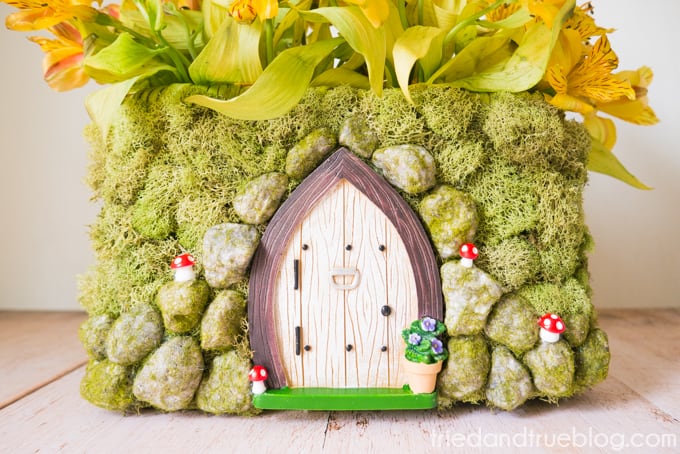 I know we've already had "basket" – but this is different, and I just had to share it!
At Tried and True Blog, Vanessa flips tradition on its head by making the flower container the fairy house! She uses a basket as a planter and adds a darling door, moss, and windows to create a one-of-a-kind fairy home. Bright yellow spring flowers look amazing spilling out from the top, and the house would be darling on tabletop!
I think using the container as a fairy house is a fabulous idea, and you could try it with a pot, bucket, or another flower-friendly container. Fairy gardening can be a creative and imaginative endeavor. Don't be afraid to experiment and see where it takes you.
Hopefully these ideas have given you inspiration to create your own indoor fairy container garden! As you see, it's easy to set up an adorable display in any room of your home. Fairy gardens can brighten any window and add a little magic to any corner. Create one (or several) today!
Looking for more ideas? Many of these outdoory fairy garden container ideas can also be used outdoors, of course!
What are your favorite indoor fairy planters?
Save this post about the best indoor fairy garden container ideas to Pinterest – and inspire other fairy gardeners!