Polymer Clay Fairy Garden Ladders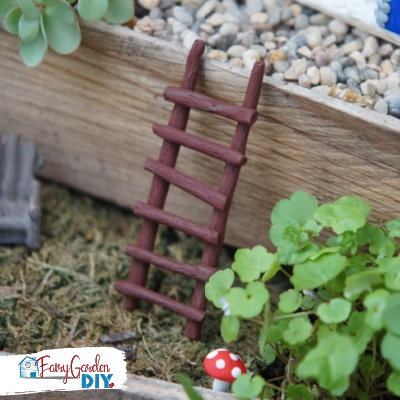 I've been wanting to create a three-tiered fairy garden in these old wooden crates I got at my grandpas estate sale years ago, and of course, the tiers called for ladders!
For my washtub fairy garden, I made a rope ladder, but it didn't hang really well and the limited space available in the wooden crates called for more straight up and down ladders.
I thought about making one with twigs, but our yard seemed to be lacking perfect little fairy garden ladder twigs, and I just couldn't come up with other natural materials that would make nice ladders.
I didn't want to use popsicle sticks for this particular garden because they would look out of place… I think they would have been too big and clunky (altho popsicle stick fairy garden accessories do work well in other gardens).
A DIY Polymer Clay Fairy Garden Ladder seemed like the perfect solution! (Polymer clay has been a favorite of mine for fairy garden accessories lately… I made tiny toadstools and fairy house doors with it also.)
These little ladders were really easy to make and they finish the garden off perfectly, don't they?
(THIS POST MAY CONTAIN AFFILIATE LINKS. YOU CAN READ OUR FULL DISCLOSURE POLICY HERE.)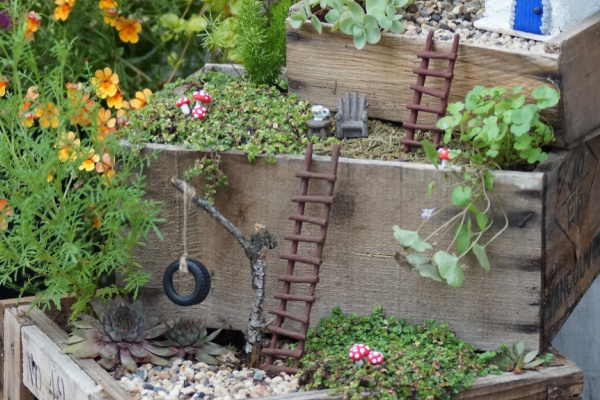 What You Will Need to Make a Polymer Clay Fairy Garden Ladder:
2-3 shades of polymer clay (I chose brownish)
liquid polymer clay
knife
a small brush (for texturizing)
How to Make a DIY Polymer Clay Fairy Garden Ladder
1) Twist a couple of colors of polymer clay together
I used a greyish-brown and a very red-brown. I wanted there to be definite visible texture to the color.
(I think a third color could have been added for more dimension, but I'm still very happy with how the diy polymer clay fairy garden ladders turned out.)
You could also make your ladders ANY color – wouldn't vivid purple or bright green be adorable in a fairy garden?
Whatever colors you choose, roll two long "snakes" of clay, twist them together, fold it over twist again.
Repeat until you're happy with how well the clay is mixed.
2) Divide in half and create more or less same-sized snakes of clay – texture with knife
You don't have to be overly particular about the snakes being identical. These are supposed to look like natural twigs after all, and a bit of wobble and some bumps give them character!
For texture, I found it worked well to just create tiny lines with a knifepoint.
Again, you don't have to be too particular!
3) Create rungs for the ladder by twisting, rolling and texturizing more clay
I rolled one long snake and cut it into somewhat equal-sized pieces. Again, I'm not going for perfection – Fairies don't want perfection!
I did add a dob of liquid clay where the rungs sit on top of the ladder… sides? (I don't have a clue what the word for the side of a ladder might be.)
4) Texture further with a small brush
You could certainly skip this step if you don't have a brush but the different texture (vs the knifepoint texture) really adds to the fairy garden ladders I think. I also like to use the brush to push the pieces of the ladder together more firmly!
5) Bake according to clay package directions
I used Sculpey clay and I baked my ladders for 15 minutes at 275 degrees.
I find it best to place the clay on some baking paper or aluminum foil to make it easy to move from surface to oven!
Have you made any polymer clay fairy garden ladders?
Show me in the comments!
You might also like:
How to Make Polymer Clay Veggie Baskets
Cute Polymer Clay Lanterns