I found these little birdhouses at the dollar store earlier in the summer, and immediately I thought (of course) "I HAVE to make fairy garden houses out of these!"
(I mean, what else do I think of when I see tiny anything? I LOVE building fairy gardens.)
So I bought two and then kicked around my kitchen for a month because I couldn't come up with the perfect way to transform them from bird homes to fairy homes.
(THIS POST MAY CONTAIN AFFILIATE LINKS. YOU CAN READ OUR FULL DISCLOSURE POLICY HERE.)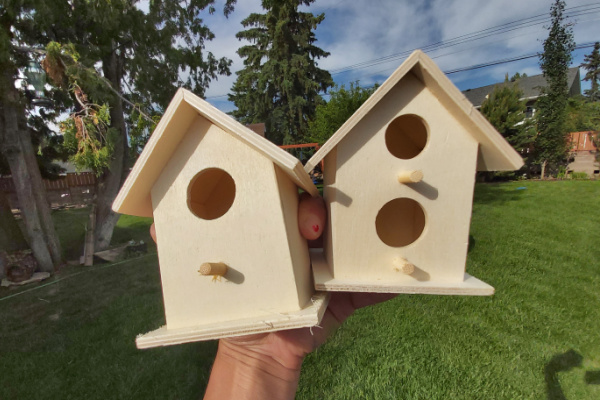 I had sort of thought I would try and tile them or somehow stucco them with little rocks… but the idea was just overwhelming. I don't have endless hours to craft – I have two small kids and a full time business, plus you know – other life to live… so craft-y type stuff often gets put on the back burner.
It occurred to me that a pretty quick way to make these bird houses into fairy houses would be to just cover them in concrete and call it a day!
So I shared this idea with my husband, and he was like… "well, cement won't just stick to wood. You have to put a screen behind it. It's called parging and you have to do it the right way if you don't just want it to fall off when it dries."
(My husband was a carpenter by trade for over a decade, so I know better than to just brush off his advice when it comes to building things. He's almost always right about building things. That's the irritating thing about people who go to college to learn stuff.)
This SUPER MUCH took the wind out of my sails, and the bird houses sat around the kitchen – as bird houses – a little longer.
I hate being defeated by stupid things like rules about having to put a screen between cement and wood, so one day at the hardware store I asked the guy behind the desk for some help finding this "cement screen stuff".
Basically it went like this:
"For lack of better explanation, I would like to parge some birdhouses. Can you show me where I can get the parging screen stuff?"
(Confused expression…) "Do you mean expanded metal?"
"I don't know, whatever they use to stick cement to wood when they parge homes."
"Expanded metal."
"Ok, well, I'd like to buy a foot or two of expanded metal please!"
"Well… it only comes in sheets. 15×3 foot sheets. So… that'd be enough to parge A LOT of bird houses."
(And I hadn't even mentioned to him that these were actually bird houses for FAIRIES, and just 4 inches by 2 inches.)
"Well, will you chop the sheets up for me so I can get them in my trunk?"
"Uhhhh, we can see about that, yes."
(And then I went home with enough expanded metal to parge all the bird houses I will ever want to parge. Ever. I gave some to my mom too.)
How to make a DIY concrete fairy house
What you'll need:
Tin snips
Old pail / plastic spoon (for mixing cement)
plastic knife (for spreading cement)
acrylic paint (optional)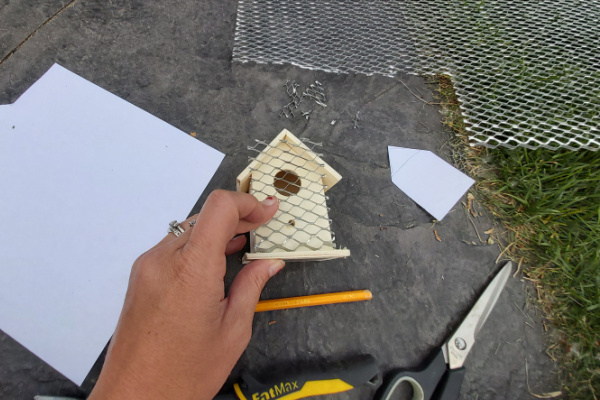 So it turns out expanded metal is SUPER tough to cut and also SUPER sharp. Anyone thinking about making tiny concrete fairy houses – or parged bird houses – should know this going in.
I traced (more or less) the size and shape I needed and and cut it out of paper, to give me some guidelines for where to start cutting.
Wire snips or tin snips must be used for cutting expanded metal – scissors won't work!
I cut the pieces pretty tight, so I think they would have stuck on all on their own… but I REALLY wanted this DIY concrete fairy house to last, so I put a couple dobs of gorilla glue in the corners and let it dry over night. (There's NO WAY the expanded metal is escaping from these houses now. Gorilla glue is forever. lol.)
I mixed up just enough dry cement in the bottom of a pail – using a plastic spoon because I know that projects like this get interrupted by kids and cement dries on my good spoons. (Right?).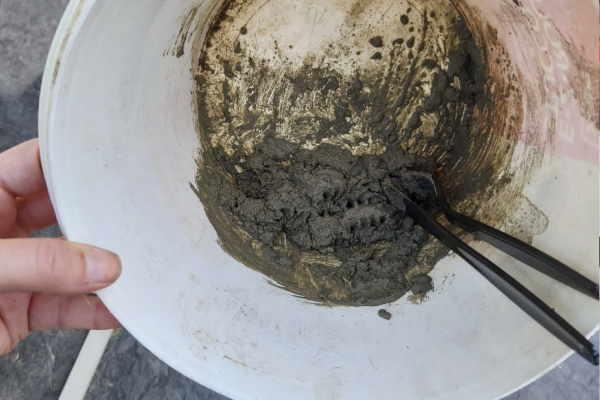 Then I squished the cement onto the expanded metal (again, using a plastic knife).
I honestly wasn't too picky about having a perfect finish on it – I wanted it to be rough and lumpy, because I don't think fairies ever go for perfection.
(I always envision fairies to be far to busy enjoying life to be perfectionists.)
As long as all the expanded metal was covered, and as long as the cement went all the way to the roof and right down to the floor, I figured it was good enough!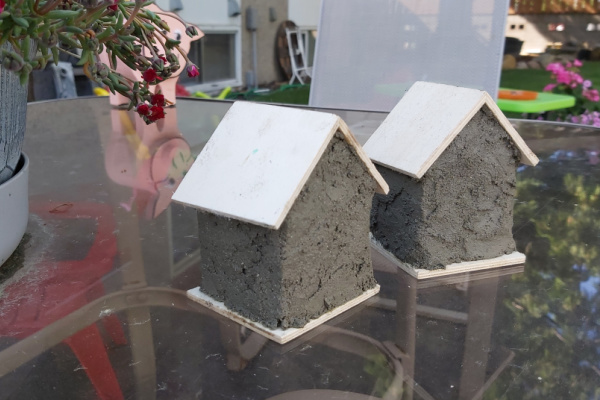 I had planned to leave the houses cement colored…. but they honestly were a little lacking. Fairies don't need perfection, but I DO think they like bright and clean!
So I painted them white… and I LOVE the "white-washed" look of the concrete!
After they were painted you could really see the concrete texture, and I think it really adds to the charm of the houses.
Believe it or not, these little cement fairy houses were sort of involved up to this point, and I was more than a little tired of the project (this happens to me all the time haha).
I wanted a quick, easy roof for them. (Here's a list of fairy house roof ideas if you're stuck for what material to use on your roof!)
I had some birch bark kicking around, so I cut birch bark slabs and stuck them on with gorilla glue.
Finally, to complete these fairy houses, I made simple polymer clay doors, and stuck them on with more gorilla glue.
(I love polymer clay for fairy doors because you can SO easily make them any color you want and they can be elaborate or simple.)
Looking at them now, I think they turned out fine, but I do wish I had taken more time to think about the roof and consider the best roofing materials for these houses, but I'm also glad they're done.
I  used these DIY concrete fairy houses in TWO fairy gardens this summer – see the one with the blue door in this wooden crate fairy garden, and the one with the red door in this succulent fairy garden!
I had PLANNED to use the tiny cement houses in the SAME garden (that's why I specifically made them different colored doors), but they just didn't fit together in any of the fairy garden projects I did this summer. (There just wasn't enough space in the containers for them. I focused on fairy gardens in containers this year, which means working with limited space.)
If you love to DIY fairy houses, here are 35 adorable fairy house ideas to inspire you!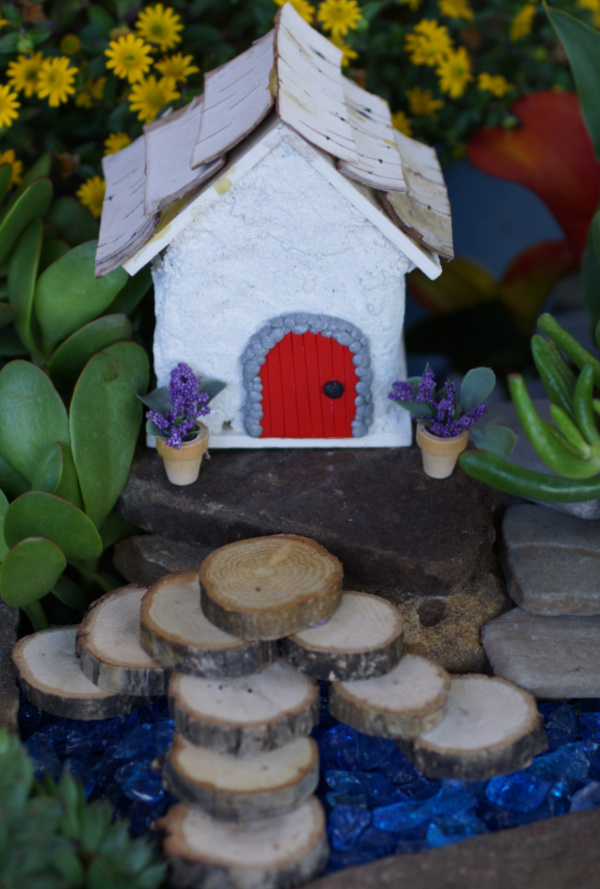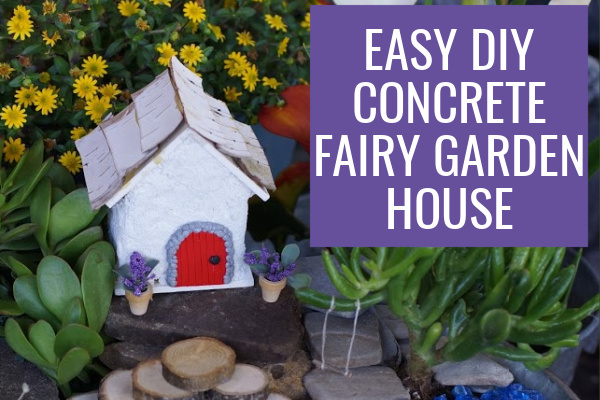 Have you made a DIY concrete fairy house? I'd love to see a picture!