The Ultimate Inspiration Guide for DIY Fairy Houses
If you've shopped for fairy houses, chances are you've been blown away by all the adorable options. There are some charming pre-made fairy house ideas out there. 
But of course, if you're like me, you probably love the look of DIY fairy houses EVEN BETTER. I really like using natural materials to built cute little fairy homes. I always feel like it looks as though the fairies have been hard at work, building their garden houses all by themselves.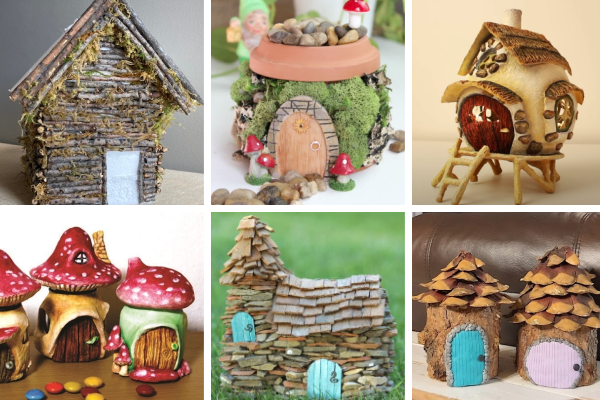 There's something really whimsical and magical about fairy houses made from sticks, rocks, grass, clay, and other materials. I love that they're one-of-a-kind!
Use these images as inspiration – to help you dream up your own perfect fairy houses. Watch for ideas that speak to you – things that you think look amazing (or easy enough to do – I like easy to do hahaha.)
If you're ready to make your own fairy houses, here are 35 incredible fairy house ideas to help you get started!
(I'm breaking this list of fairy house ideas up into three sections – because while all the house ideas are inspirational, it's important to consider that you need different ideas depending on where your garden is located and who is building it!)
(THIS POST MAY CONTAIN AFFILIATE LINKS. YOU CAN READ OUR FULL DISCLOSURE POLICY HERE.)
DIY Fairy House Ideas for Outdoor Gardens
If you're creating an outdoor fairy garden, these first houses are all perfect candidates. They are going to be more likely to stand up to the weather and the creatures than some of the other houses on this list.
Just in case you don't catch it below, my number one tip for creating an outdoor fairy house is to USE SILICONE SEALANT as an adhesive as opposed to hot glue or craft glue! 
Of course, you will also want to choose durable materials for the dwelling (and esp. the roof – here are my favorite roofing materials for fairy houses), but the adhesive is really key. Even if you make a house entirely of stones and twigs (very durable) without the right adhesive it will just collapse over time!
Here's some adorable (DURABLE) DIY fairy houses:
Concrete Fairy Houses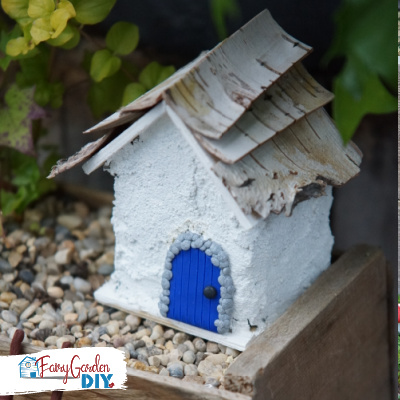 Among my more recent DIY fairy house ideas were these concrete houses made from converted birdhouses! I made the little doors out of polymer clay and then used birch for the roof. I really like how they turned out, and once I got the hang of working with concrete (on such a small project), they came together quickly. They have polymer clay doors and simple birch bark roofs. 
These houses don't even mind some hail!!
Stone Fairy House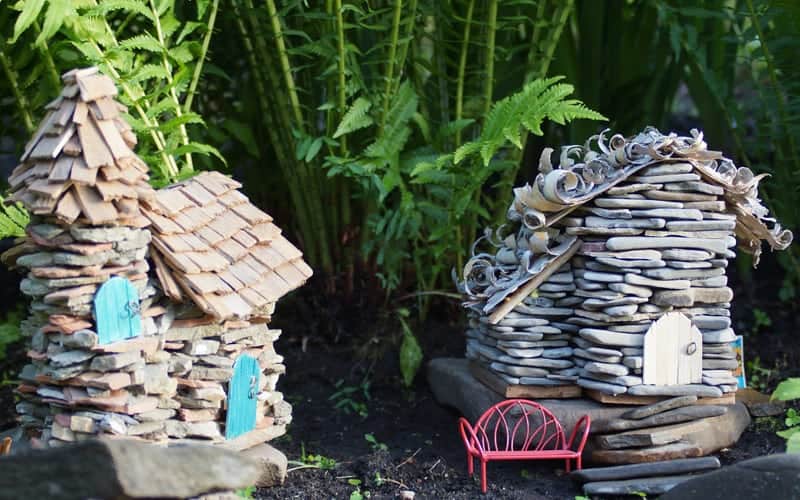 Stone houses are my favorite fairy houses to make. These hold up for the long term outdoors (think YEARS, with minor repairs over time), and they look so realistic and cool when finished.
Again Tthe trick is to USE SILICONE SEALANT as the glue to make the rocks stay together (I tried hot glue for the first one, and it didn't turn out so well). With the right adhesive, these stone fairy houses will hold up through all sorts of situations.
In building any fairy house, swap out silicone for other glue and your house is likely to last a LOT longer. 
Log Fairy Cabin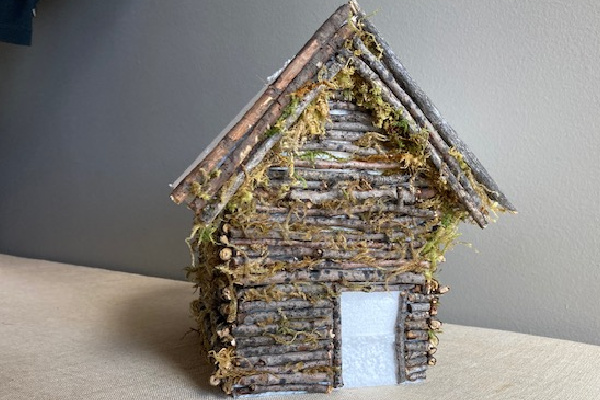 Ok, you can see that this is still actually a work in progress for me (It doesn't even have a door yet), but how cute is this little log fairy house?! I love that it looks like a little cabin! I'm making it to be able to withstand the elements (maybe not AS much as the stone houses, but it should last for at least a full season (or more) outdoors. (Thanks to…. SILICONE OF COURSE hahaha.)
I created a rectangle house shape with a roof out of Styrofoam, and siliconed the "logs" onto it. Then I pressed moss into the gaps while the silicone was still wet! 
UPDATE – I finished the twig fairy house – see:
(I LOVE IT!!)
When you build the log cabin, look for uniform-sized sticks to get a nice exterior. You can even paint the house (although the natural wood look is fun too). 
Twig Fairy House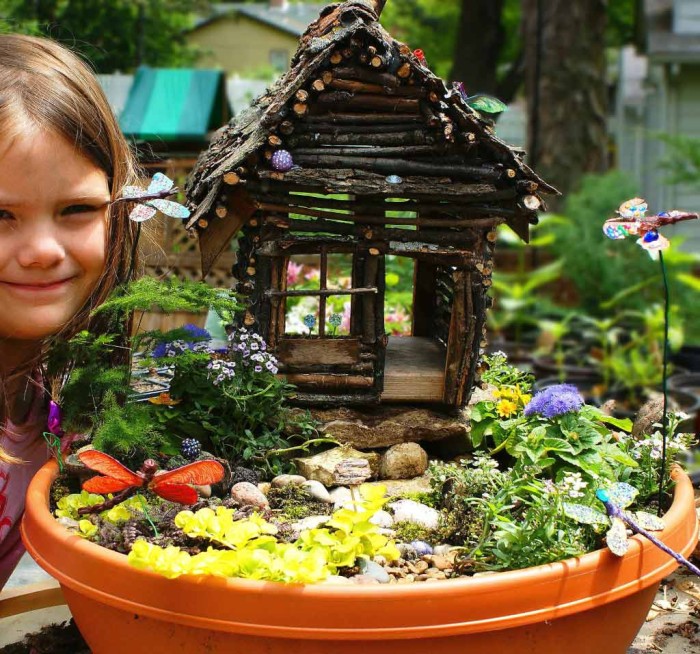 Cynthia from Yet Another Mom Blog (such a hilarious blog name!) created a sweet little fairy cabin to go in her container garden using small twigs. Similar to the one I am building, but this one is open inside and you could add furniture! AAGHHH! I love that!
If you have a container fairy garden, then simple DIY fairy houses are a great way to add whimsey and creativity to the space. The nice thing about container gardens is that you can move the pots indoors or under shelter if the weather gets bad, so you can enjoy your fairy garden all year round.
Twigs and Moss Fairy House
Over at the What's on My Porch blog, Stephanie made this fabulous fairy house using little twigs and bits of moss! I love the sweet, delicate design of this house, and it would look amazing with a little sleeping fairy tucked inside. This twigs and moss fairy house would be a perfect spot for a few air plants too. 
Embellished Popsicle Stick House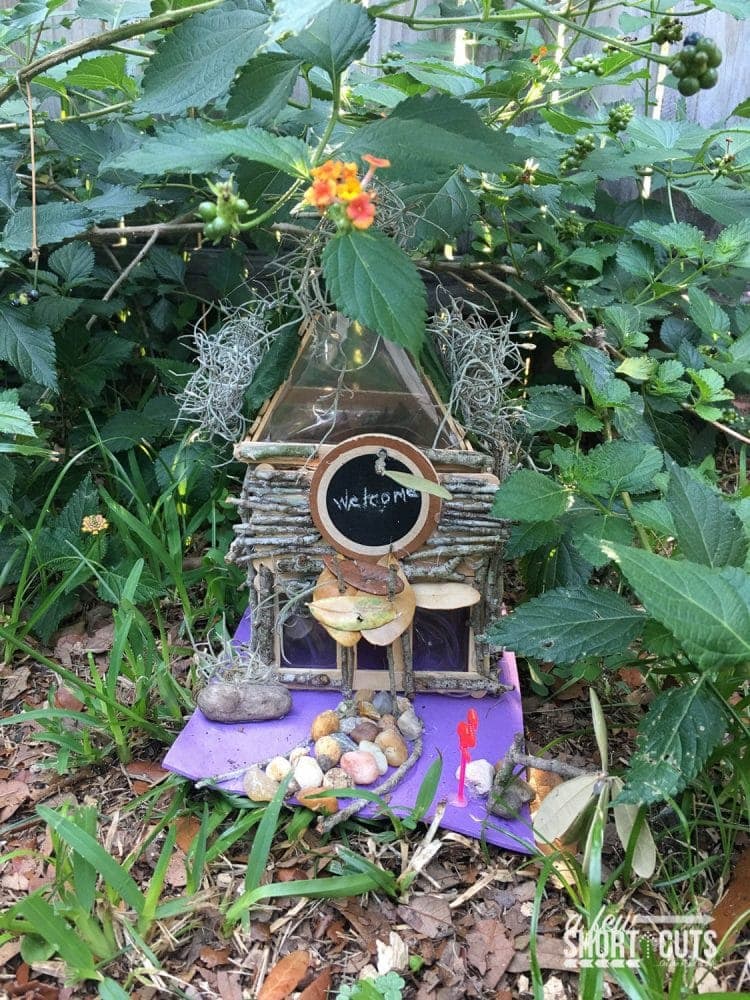 This fairy house stays sturdy because Amanda from A Few Short Cuts made the base out of popsicle sticks! The walls of the house are created from several sticks reinforced together and then covered with twigs, leaves, and moss. The popsicle stick house looks impressive (and you'd never know that it was made from popsicle sticks, would you?).
Plain Popsicle Stick House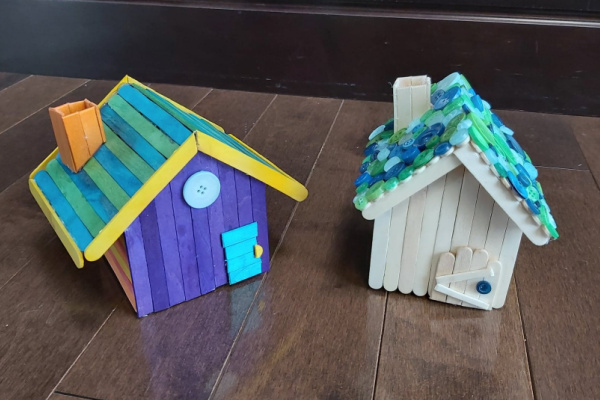 Popsicle sticks really are SO versatile. My kids and I made these ones!
You can make SO many things for a fairy garden with popsicle sticks.
Gourd Fairy House
IMAGE TO COME
I've seen cute fairy house ideas out of gourds, and I couldn't resist trying it myself. The great thing about using pumpkins and gourds to build a fairy house is that you don't need to "build" the actual house. Mother Nature has already created the home for you. All you need to do is add the doors and accessories. 
Dried gourds can absolutely be left outside- many people actually make bird houses out of them!
Tree Stump Fairy House
Creating a fairy dwelling from a an old log or tree stump is one of the SIMPLEST ways to make a fairy house! This is literally just a log with a potted plant on top – I had my husband cut the "door" out of it for me, but you could easily just attach a fairy door from amazon, or make one yourself out of popsicle sticks or polymer clay.
Add a few accessories and you're done!
If you're REALLY crafty you can carve a fairy house out of a tree stump – like these we saw on a visit to a farm park in England recently: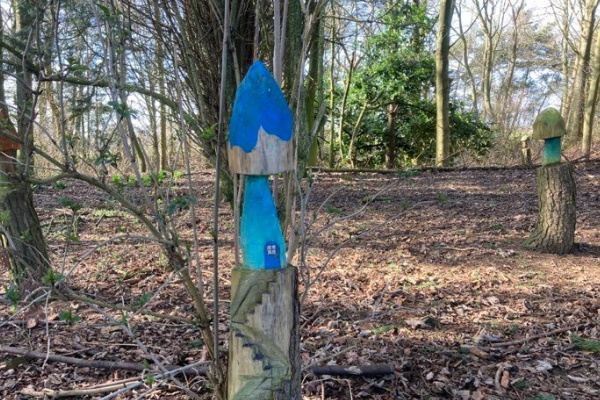 Log Fairy House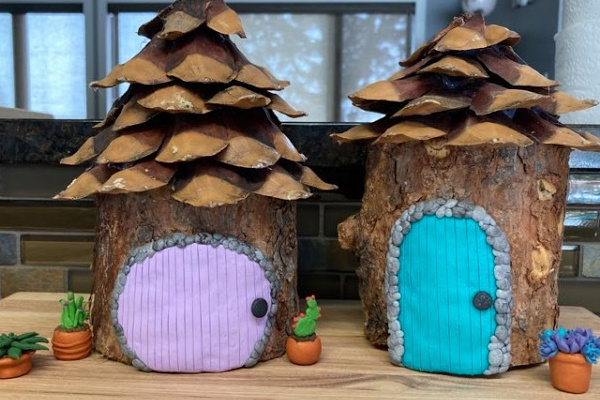 Similar to the tree stump fairy house, these tiny houses are made from small cut logs. I added pinecone roofs and polymer clay doors to them, and that is IT!
Faux Brick Fairy House
The faux brick fairy house was one of my first DIY fairy houses. I love how it looks like a little English cottage. It's held up pretty well, although of course the roof has faded to brown because it's a year old now.
This one DOES have to be protected from hail, but it does just fine with sun and rain. The weather can be tough on some of the bits and pieces. That said, the Styrofoam has been surprisingly resilient. I like fairy house ideas that are durable. 
Birdhouse Fairy House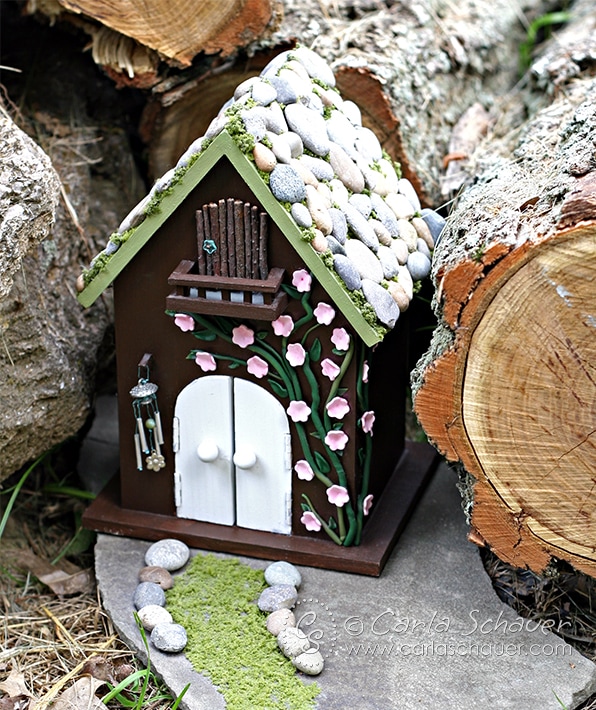 I squealed a little when I saw this darling birdhouse fairy house from Carla Schauer. The clay flowers on the vine, the sweet roof, and the precious tiny windchime (DEFINITELY have to make me one of those!) — they're all to die for! I love everything about this adorable fairy house, made from a wooden birdhouse. 
Planter Fairy House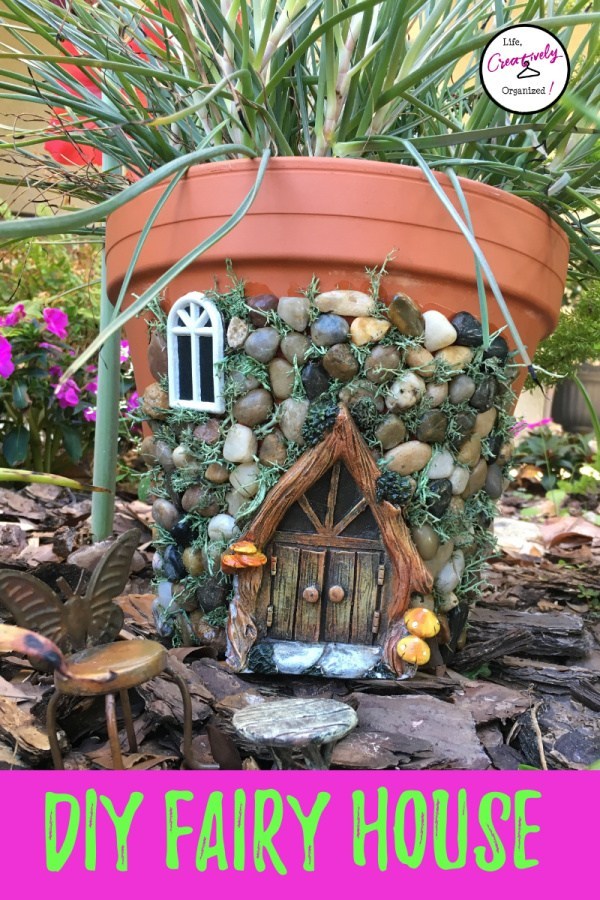 Rather than putting the "saucer roof" on this planter fairy house, Pam at Life Creatively Organized used a real plant to make the top of her fairy home. This fairy house is particularly fun because you can swap out the plants over time and try different "roofs" on your fairy home. Violets would be cute in the spring, marigolds in the summer, and even ornamental cabbage in the fall. 
You can also purchase planters similar to this, that are already created to look like fairy houses (but it's way more fun to DIY them imo).
Terra Cotta Planter Fairy House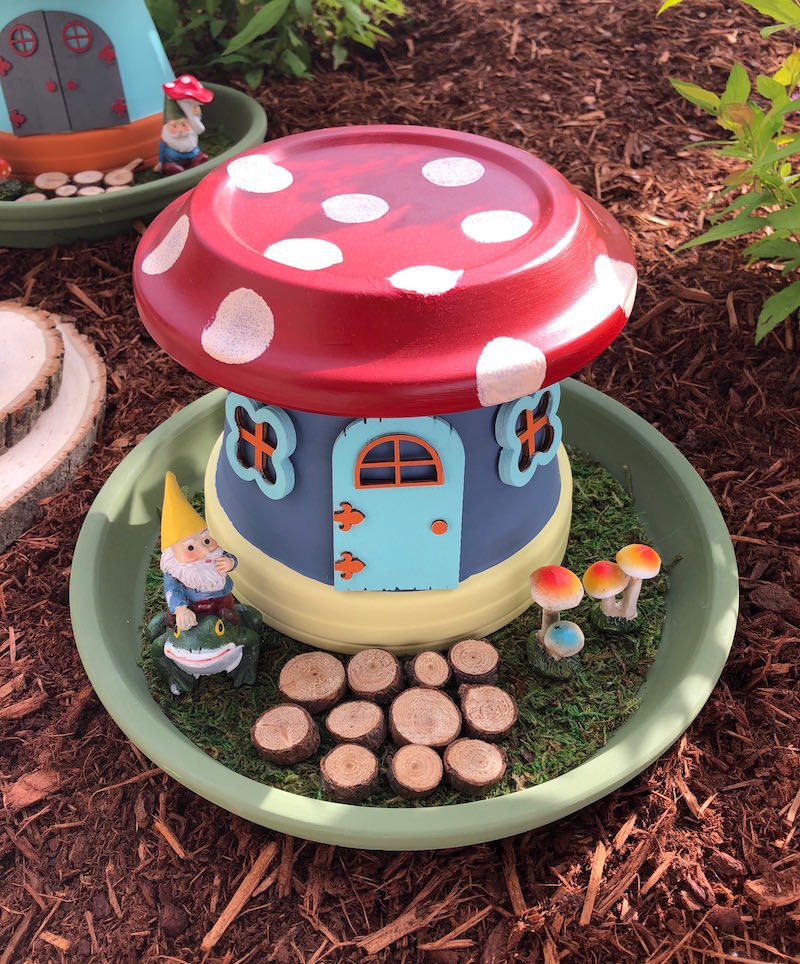 These little terra cotta planter fairy houses over at the Mod Podge Rocks Blog are so adorable—especially if you enjoy painting. I love the bright colors and the saucer roofs—such a creative idea for fairy houses! These would be adorable in a kid's fairy garden or a sunny flower patch.
Paint them with patio quality paint, so they last in the sunshine + rain!
Solar Fairy House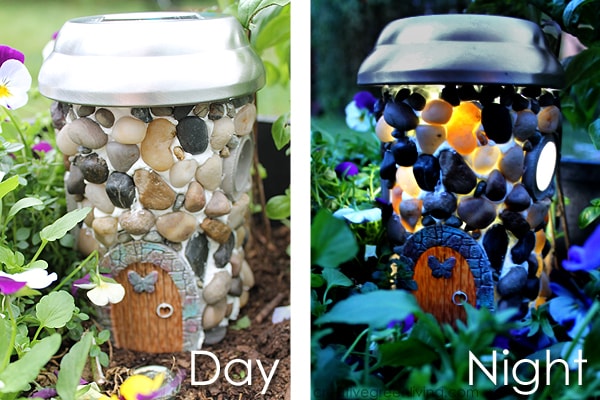 Imagine your garden lit up with these fantastic solar fairy garden houses! Using recycled materials including a solar-powered garden light, Carissa from Creative Green Living made this sweet stone fairy home. Everyone's garden or porch looks great with a soft lantern glow, and this fairy house is ideal for lighting guests' way in the dark. 
Wooden Fairy House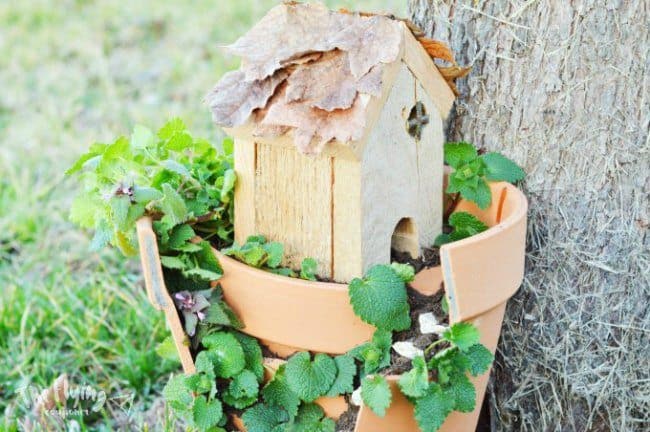 The Flying Couponer's simple wooden fairy house is made of scrap lumber pieces and perched inside a broken terra cotta pot. The broken pieces of the pot are refitted to create tiny fairy stairs, and with some simple assembly and creative leaf roofing, the little fairy house adds a touch of magic to the display. These little wooden fairy houses could be painted or left as-is, depending on your preference.
Tiny Polymer Clay Fairy House
I created a tiny polymer clay house for my fairy garden in a teacup display. I found that working with polymer clay is really satisfying. It's a great way to make a fairy house (or accessories) exactly how you want to. I used the clay to make these cute succulents and vegetables for my fairy garden too! 
If you're wondering if the polymer clay house should be in the "outdoor and durable fairy house ideas" section, the answer is YES! You can have polymer clay outside, no problem! It is actually a hard plastic when it's baked according to the directions, and you do not even have to seal it! It is water resistant. It may fad in the sun over time, so if that is an issue for you, put your fairy house in the shade.
Pumpkin Fairy House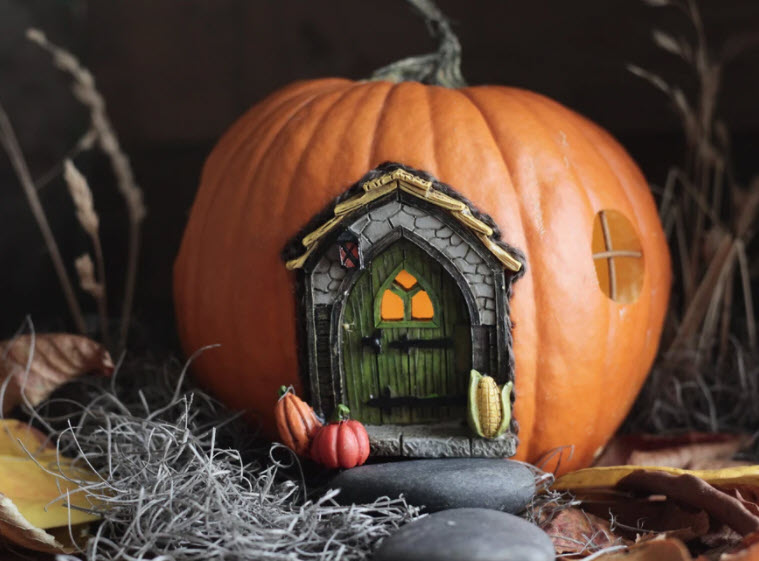 A pumpkin fairy house is a creative way to "carve" a Halloween pumpkin. It would be an adorable fairy house idea for your fall front porch and is perfect for the spooky season. Over at Smile Mercantile, they also included a YouTube tutorial to help you learn exactly how to make a pumpkin fairy house. 
This fairy house won't last forever, but it would be a fun way to decorate your fairy garden for fall!
Indoor Fairy House Ideas
If you're creating an indoor fairy garden, you can use much more delicate materials, and add some really spectacular details to your fairy houses! (Some of these would probably be fine on a covered porch as well, just somewhere they are protected from the elements!
Foraged Fairy Houses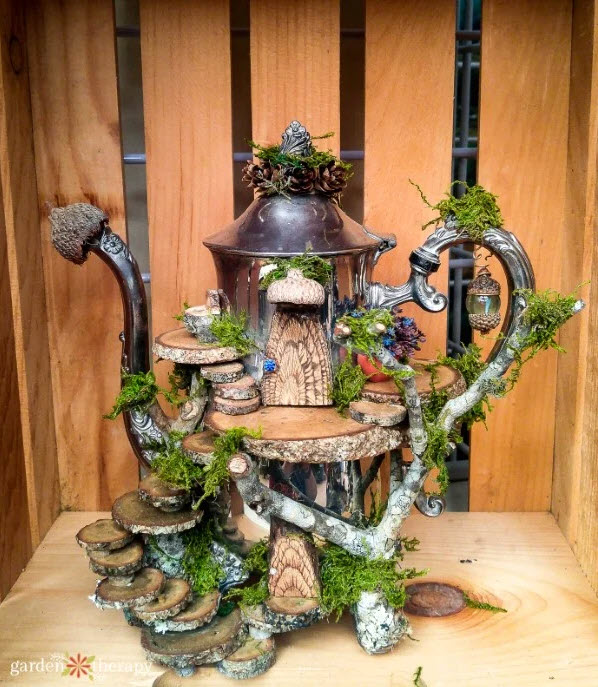 Over at Garden Therapy, these foraged fairy houses are just stunning. Stephanie takes everyday objects (like a teapot) and then uses bits of plants, sticks, leaves, and moss to create these super-realistic foraged fairy houses. I can imagine the little fairies discovering a discarded object and using it as their new dwelling. 
Fairy House Lamp from a Balloon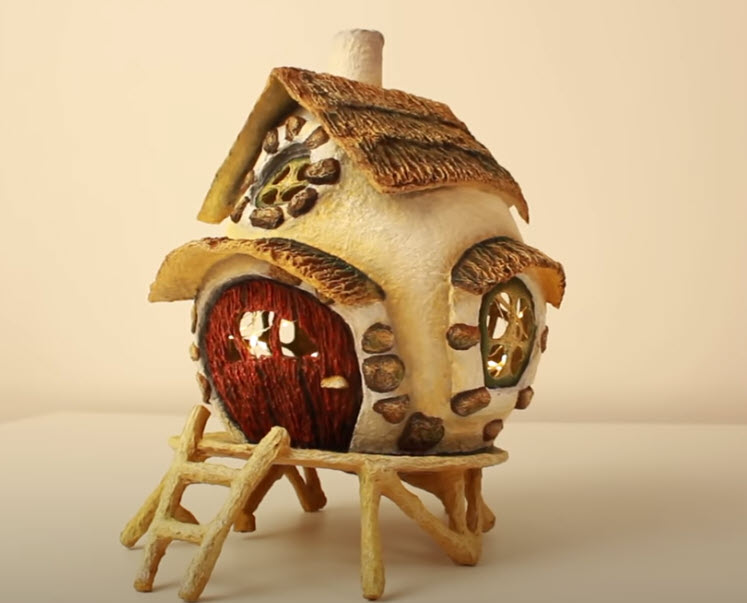 I was blown away by this incredible fairy house lamp created from a balloon! Diana from Creative Mom walks viewers through the fairy house lamp tutorial on her YouTube channel, and the results are stunning. I can't wait to try this one. She makes it look so easy, and it's one of my favorite fairy house ideas out there!
Cardboard Fairy Cottage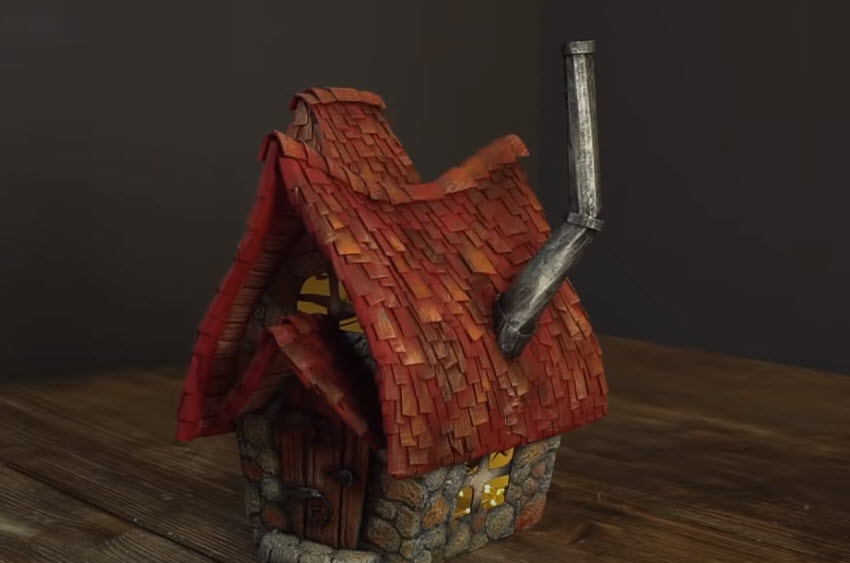 Don't miss this fabulous cardboard fairy cottage made from recycled pizza boxes! This fairy house would obviously be an indoor-only option, but the fanciful design and incredible paint job make it worthy of an art gallery if you ask me. My favorite part is the winding stovepipe chimney—so fun! 
Mushroom Fairy House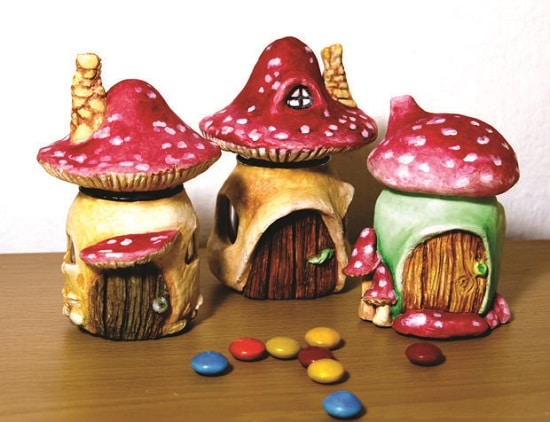 How fun is this upcycled jar fairy house idea from DIY n Crafts? Make a mushroom fairy house using clay around a baby food or spaghetti sauce jar! Using tin foil to make the roof shape really helps the house come together fast. Best of all, you can store little treasures right inside your fairy house. 
This DIY fairy house uses airdry clay, so I'm not entirely sure it would hold up outside… however, I think you could replace the airdry clay with polymer clay and then it might!
Flowerpot Gnome Home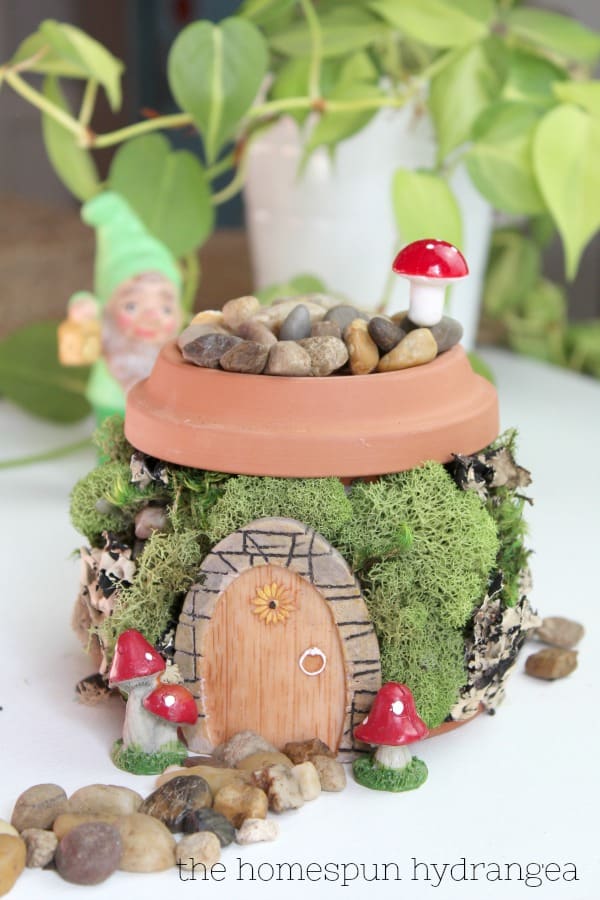 Gnomes need homes too! This idea for a flowerpot gnome home is a fun take on the flowerpot fairy house. For this version, Katie at the Homespun Hydrangea used more natural materials for a "found fairy house" look. Made with bits of moss, twigs, and rocks along with a purchased door, this little gnome house strikes a great balance of store-bought and DIY. 
You might also like: 40+ Cute DIY Fairy Garden Accessories
Fairy House Ideas for Kids
Fairy gardens can be an absolute BLAST with kids.
Their imaginations are so amazing, and creating a fairy garden with a child can be a way to make memories that will last forever!
Of course children won't have the patience for creating houses like the elaborate cardboard one pictured above. The below fairy house ideas are perfect for kids – simple, cheap + fun! (Most will still require SOME adult involvement!)
DIY Natural Fairy House
This natural fairy house tutorial is so fun—no glue required (unless you want to make a longer-lasting fairy house – and then of course you know what I think… USE SILICONE!). Your kids can create fairy houses like this with NO help from you! I love the idea of creating these tiny natural "pop-up" fairy houses in a park or forest. How fascinating would it be for another passerby to stumble upon some magical fairy houses made of twigs, leaves, rocks, and other found items?!
Pebble Fairy House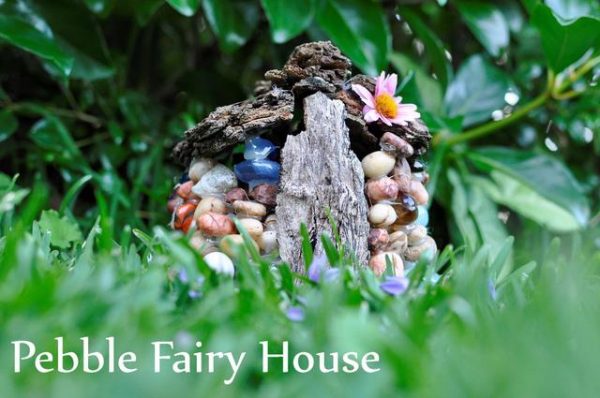 The pebble fairy house from Be a Fun Mum is super easy for teens or tweens to make themselves. Kelly does use hot glue to hold the pebble house together, so it's important to note that it won't hold up to hot outdoor weather, but you could swap out hot glue for silicone. These would be cheerful in an indoor container or an area with mild summer temperatures. 
Clay Pot Fairy House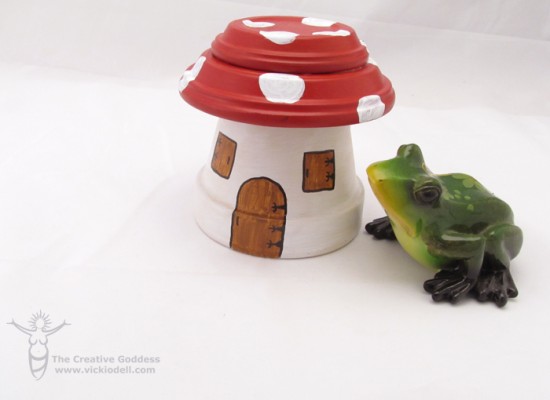 Here's another take on the clay pot fairy house idea from Vicki O'Dell, using a painted flowerpot and a saucer for the roof. I really like the bright white and red design—it's reminiscent of a Smurf mushroom house. It would be fun to paint the flowerpot fairy houses to match the colors and trim of your own home or to paint them to match surrounding flowers. 
Rustic Dollar Tree Fair House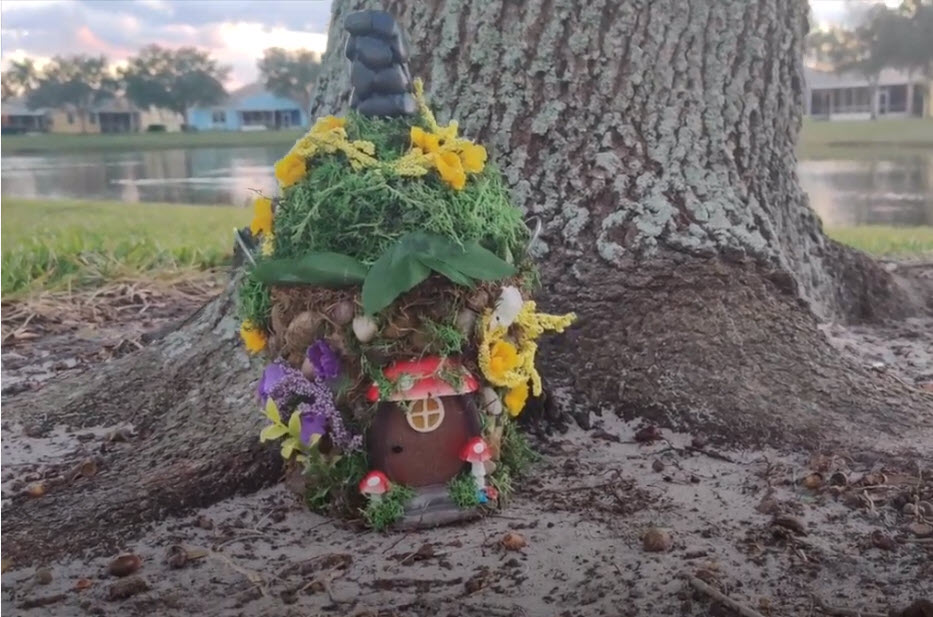 Think fairy house supplies are expensive? You can put together a really fantastic fairy house from items you find at the dollar store! This fairy house tutorial from Alli Crafts shows you exactly how to make a sweet and rustic fairy house out of some very common dollar store supplies. 
Log Cabin Fairy House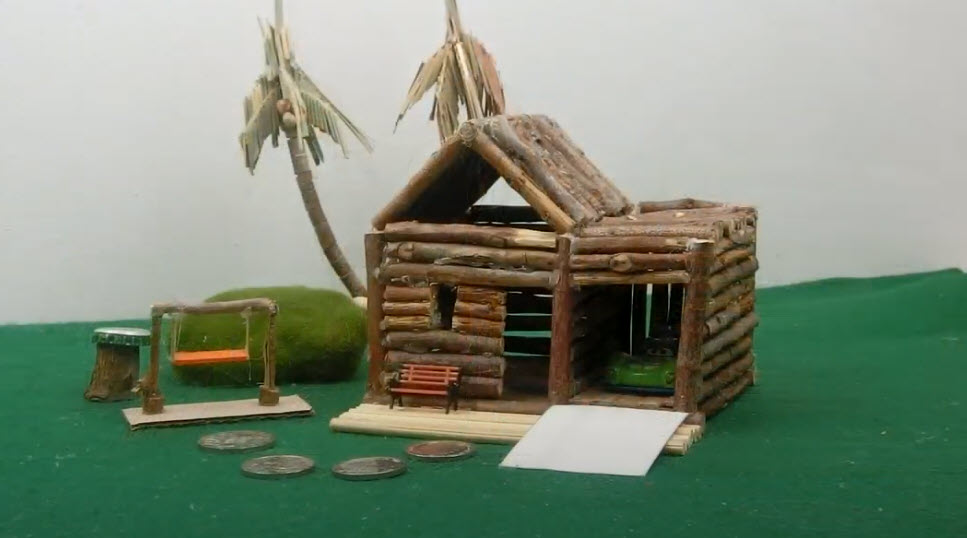 This fun, beachy fairy log cabin will be the perfect hideaway for your pixie guests. I really like the little garage and the cute palm trees that make this feel like an island fairy house. This fairy house was assembled with hot glue, so again, it would be indoor-only, unless you swapped out for silicone sealant as the adhesive. How cute would this be as part of the décor in a beach house?!
Painted Rock Fairy House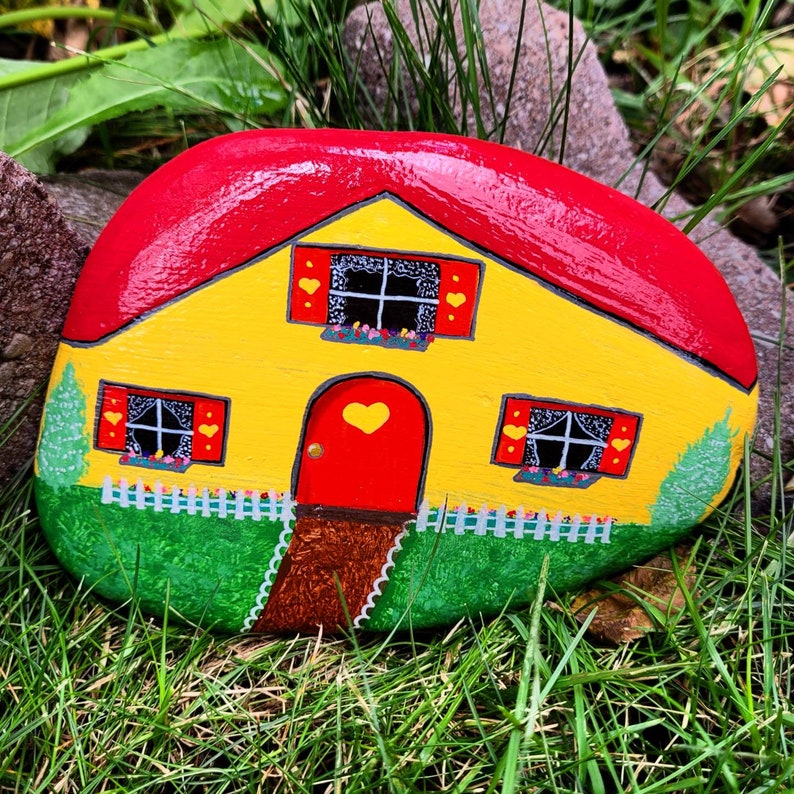 A painted rock fairy house is an easy fun way to create colorful, whimsical houses that (if you seal them) can last outdoors for YEARS!
This sweet little yellow fairy house painted on a rock is for sale on Etsy from RockArtByEva!
I love the heart details and the picket fence!
Yogurt Jar Fairy House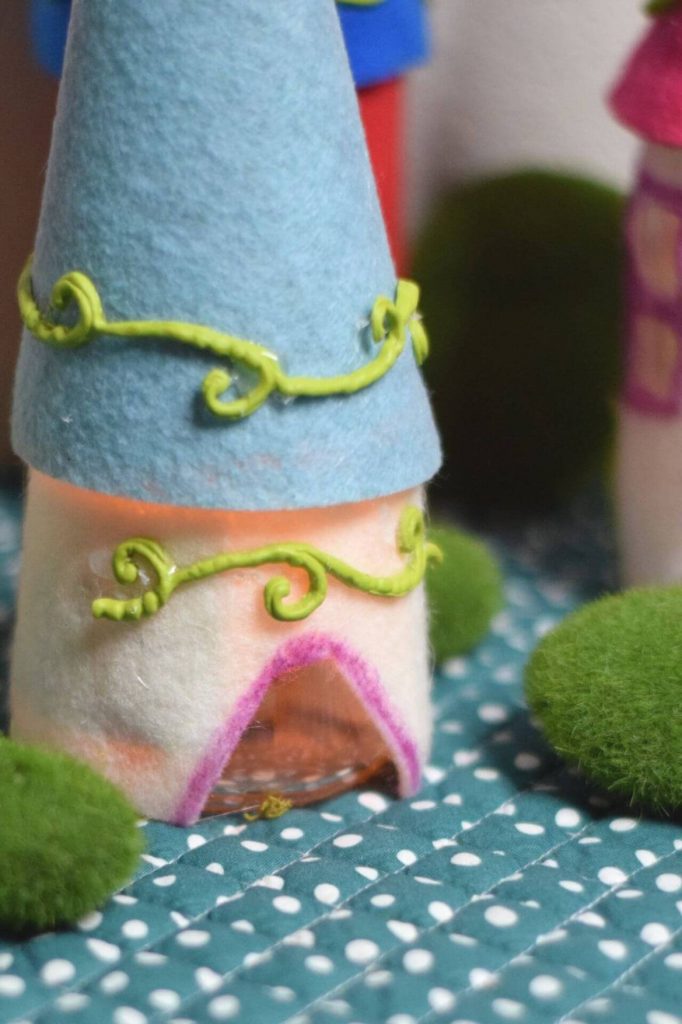 These precious tiny light-up fairy houses are made from yogurt jars and covered with felt. The TipToe Fairy put flickering lights inside each upcycled yogurt jar house to make the sweetest little nightlights I've ever seen. I like the look of the felt and those tall pointy roofs! 
Mason Jar Fairy House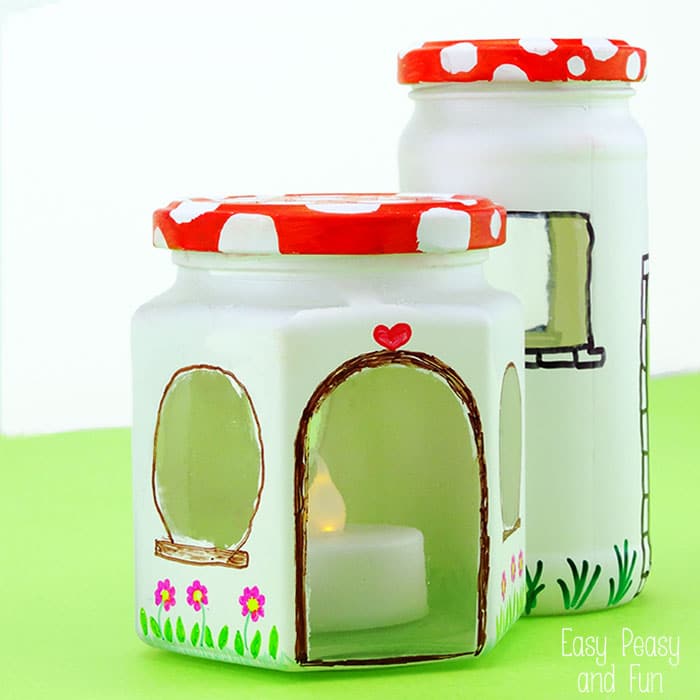 Over at Easy Peasy and Fun, Andreja made these precious light-up fairy houses out of Mason jars! Using just paint and markers, the jars are transformed with battery-operated tea lights and some creative design. These would be a great project for kids and could easily be made from recycled jam jars or other similar glass bottles. 
Toilet Paper Roll House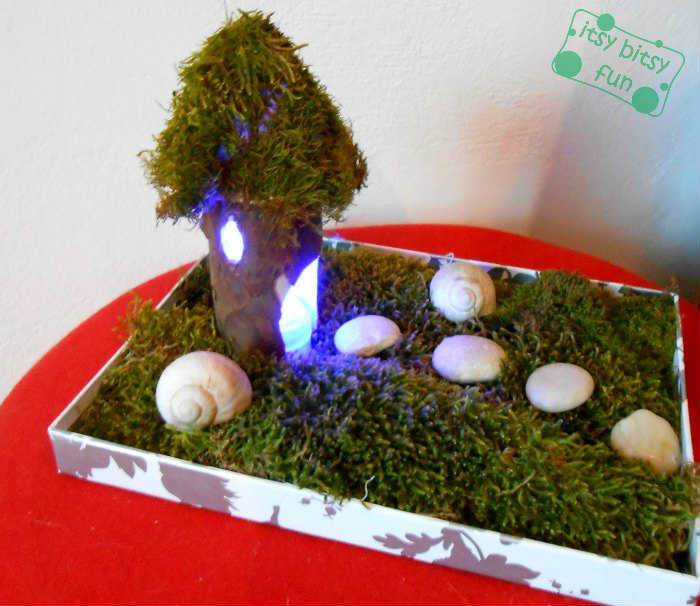 There are some incredibly creative fairy house designs out there. I am shocked at the simplicity of this toilet paper roll fairy house that looks like it came right out of an enchanted forest. The battery-operated tealight inside really makes it feel warm and inviting on the mossy carpet. You wouldn't think a toilet paper roll would make a great fairy house, but when you have fairy magic, amazing things happen!
Craft Stick Fairy House
Are you looking for a crafty fairy house that would be perfect for kids? Erika from Living Well Mom made this DIY kid's fairy house out of classic craft sticks, buttons, glitter, glue, and pipe cleaners. The results are bright and fun and will provide lots of creative play for your little ones. If you're looking for a kid's fairy house, don't miss this tutorial. 
Clay Fairy House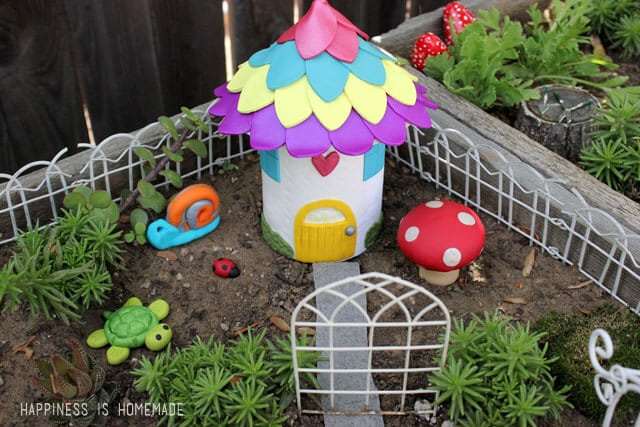 Using an upcycled tin can as the base for the house, Heidi at the Happiness is Homemade blog created a bright and colorful clay fairy house. I particularly love the layered "petal" roof and the cute round shape of the clay fairy house. It's a great way to let kids get in on the fun too, and with polymer clay, you can create all sorts of fun fairy accessories to accent your display.
Soda Bottle Fairy House
I really like upcycled crafts, so I was thrilled to find the soda bottle fairy house from My Pinterventures. Erlene came up with the fairy house idea from a regular plastic Coke bottle and then decorated the outside to look like a whimsical fairy home. It's so adorable! 
Dollar Store Fairy Houses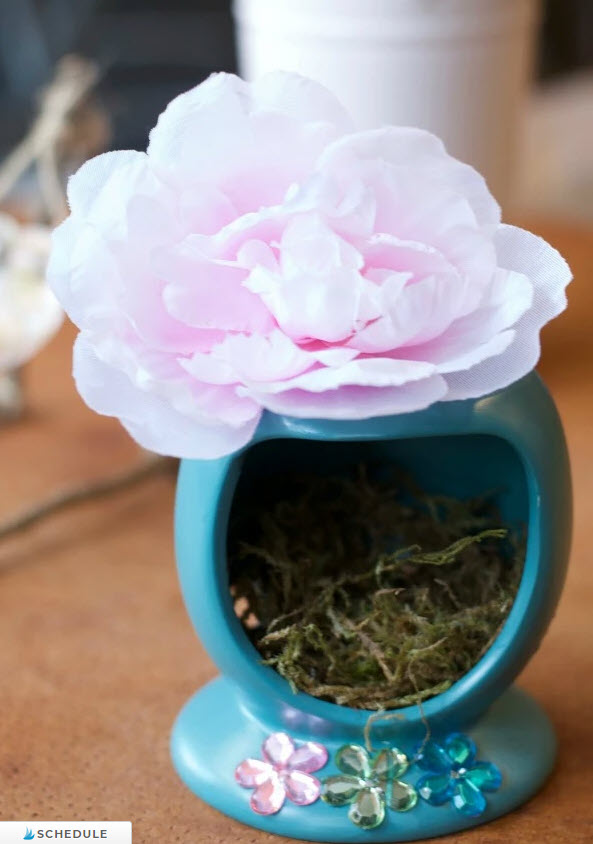 Over at Satsuma Designs, these dollar store fairy houses were made from fragrance diffusers. She made several of them by painting the diffuser and used them as a decorating activity for a kid's birthday party! I love this idea because each child gets to take home a magical, unique fairy house of their very own (and the project costs only a few dollars per kid).
Plastic Bottle Fairy House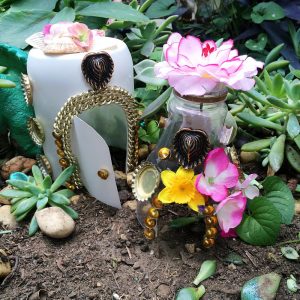 These plastic bottle fairy houses from Handy with Scissors remind me of tiny mermaid houses. It must be the shells and all the pretty jewels and gold. I think Ariel herself would be perfectly at home in these little houses made from upcycled plastic soda bottles, paint, and various crafty items like bottle caps and flowers!
If you're dying to make your own DIY fairy houses but aren't sure where to start, hopefully, these fairy house ideas gave you some inspiration. The essential part of fairy gardening is remembering to have fun! There are no rules and no mistakes. Play around with your fairy house ideas and see what magic you create. 
Share your best ideas for DIY fairy houses in the comments! I'd love to see what you come up with!