If there's any aspect of building a DIY fairy gardening that I have really struggled with, it's knowing what materials to use to make the fairy house roof!
Then I saw this question in a craft forum – "Can anyone suggest materials to use for the roofs of the fairy houses?", and I realized I wasn't the only one that's struggled with this.
I have created a ton of tiny fairy houses, tried SO many different roofing materials, and I definitely have a thing or two to say about which materials work best for creating a fairy house roof!
(THIS POST MAY CONTAIN AFFILIATE LINKS. YOU CAN READ OUR FULL DISCLOSURE POLICY HERE.)
Fairy House Roof Ideas:
Most of these fairy house roof ideas I've tried myself, but a few of them I've borrowed from around the internet and INTEND to try this coming summer. I've broken them into two categories – "natural" roofing materials and "man-made" roofing materials.
While I tend to favor natural materials because I love it when the houses look like the fairies collected all their building materials themselves… sometimes the man made options work AMAZING and give the houses a look you just can't quite achieve with natural materials.
Also, sometimes it's hard to FIND natural materials… and you just want to get your fairy house done.
Natural Fairy House Roof Materials
Pinecones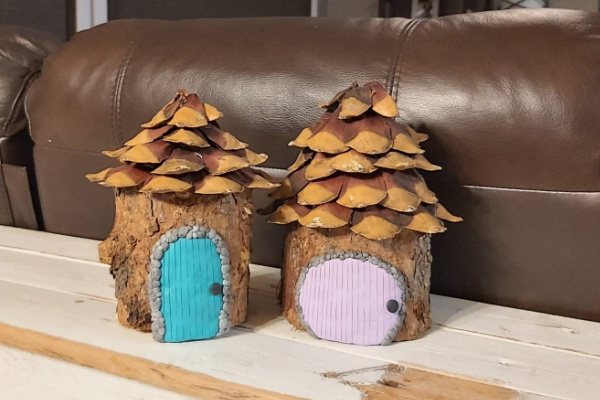 This is probably my FAVORITE natural roofing material for a fairy house.
I found this giant pine cone on Amazon, and pulled it apart with pliers to make "roof tiles". Then I hot glued the tiles together in a cone shape on top these tiny logs, and added polymer clay doors. (Easily one of the simplest fairy houses I've ever made!)
The pinecones were a little messy, with the sap… but I love how it turned out, and I think pinecones made such adorable whimsical fairy house roofs!
(The left over pieces can be used for other parts of fairy houses – like the house pictured below uses pine cone seeds for the door and steps.)
Moss
Moss is a gorgeous "natural" roofing material, obviously easy for the fairies to find and – honestly, not too hard for the humans to find either!
You can find moss in a forest, if you live near one, or buy it at most craft stores or even grab a bag from Amazon.
This cute little house above has a moss roof (the whole house is actually covered in moss, and I LOVE it!) I was worried that it wouldn't withstand the outdoors, but I placed it in a sheltered area for the whole summer and it did GREAT! (I did move it into a shed for the winter).
This moss is just affixed to the roof structure (made from thick tree bark) with hot glue.
Birch Bark
Birch bark is another great choice for fairy garden roof material, with it's whimsical "curls".
To create the birch bark roof above, I peeled the curly bits of bark off some firewood, and used wood glue to adhere it to a popsicle stick "frame" (pictured below).
I found that smaller pieces of birch bark were easier to place, and allowed me to give the house a "wilder" look, which I loved.
This roof only lasted about 2 years outdoors, but I live in a place where the weather is quite severe. I think it would have lasted just much longer if I had used silicone, and therefore I use silicone for all my roofs now when possible!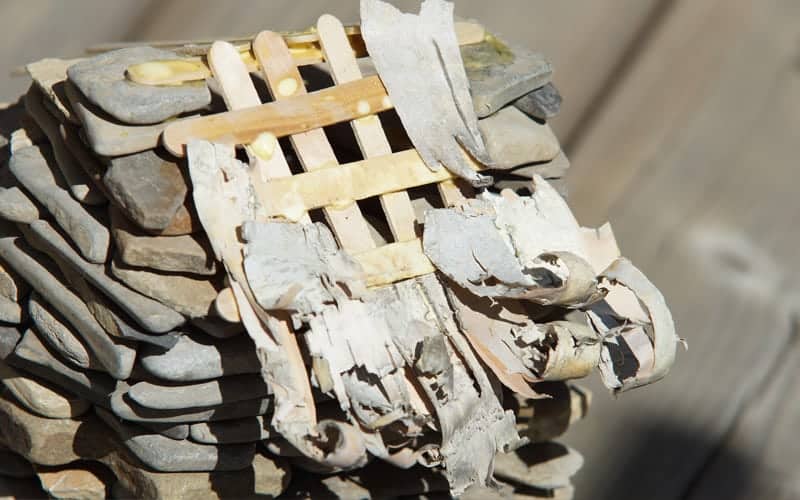 This fairy house pictured below ALSO used birch bark for the roof, but in a MUCH simpler way – I literally just cut strips of bark and glued them on the house with Gorilla Glue. (Gorilla Glue is a FANTASTIC adhesive, but use sparingly… it "expands" and escapes through all the cracks as it dries. You can see below, how it's creeping out of the roof in places. I believe it will be as durable as silicone, but I don't like the messy look it created… I intend to stick some moss around the edges of these roof tiles to cover it next summer.)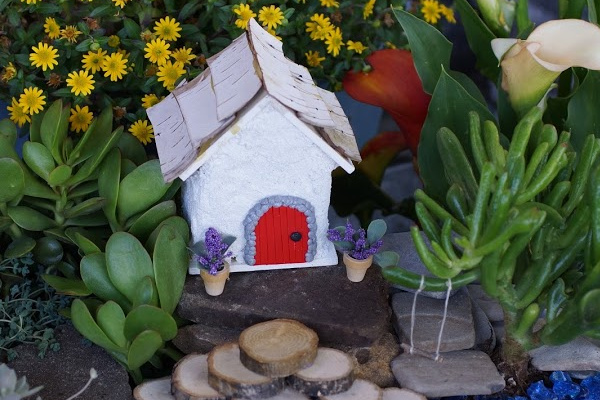 Spruce / Pine Bark
Honestly, ANY kind of tree bark!
This is such a different look than birch bark, so I just had to show you. My son suggested using bark for the roof on this little log cabin style twig fairy house, and it looks perfect!
Leaves / Grass / Plant stalks as fairy house roofs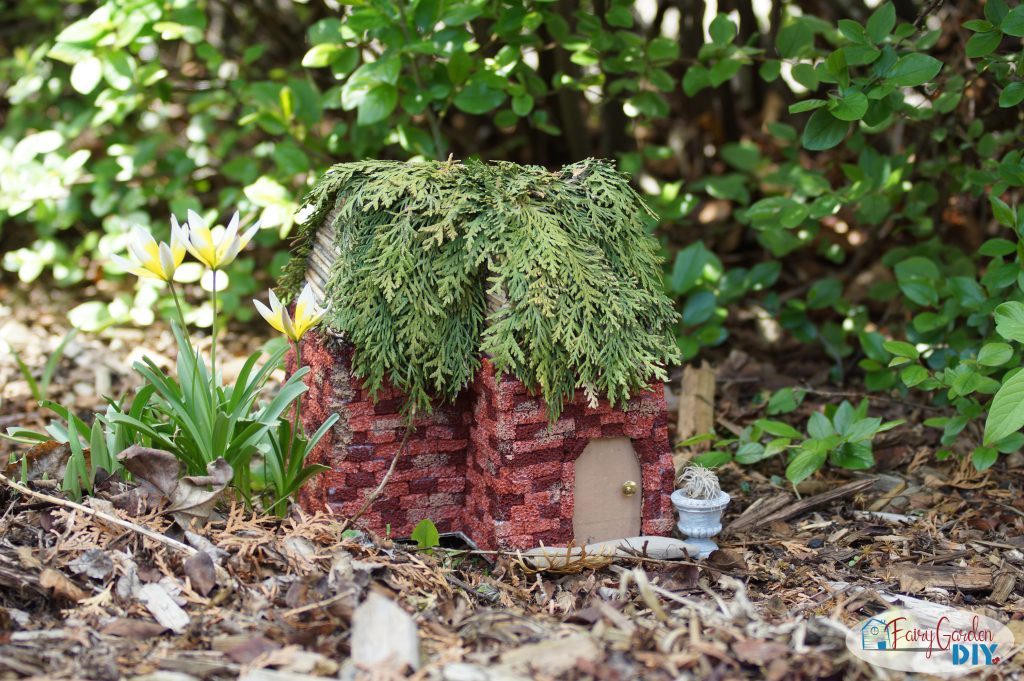 The roof for this fairy house above is created with stalks from a weed in my garden, and cedar tree "leaves" (I know they're not leaves, but they don't look like needles either… I don't know what to call them LOL.)
But you get the idea here – you can use any natural plant "stuff" to create a roof for a fairy garden! The one thing to be aware of, of course, is that whatever you use will dry up + fade if you use it when it's "fresh".
You'll want to choose something that won't become OVERLY brittle when it's dried (like flower petals for instance. I would not use flower petals unless you intend to shellac it somehow.)
This particular roof faded to orange-ish (I will get a picture of how it looks now and add to this post when I get the house out of the shed next summer.)
Below you can see how we created the roof. It was SUPER simple – we stacked "stalks" (I don't even know of what plant) to make the gable ends, and filled in the roof face with cedar tree… leaves. (lol).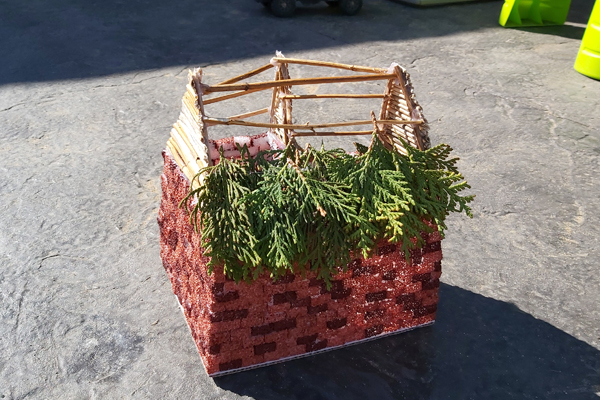 Seashells
Seashells would be super fun roof for a beach themed fairy garden.
I'm going to do a beach-themed fairy house this summer with seashells for the roof… until then, check out this cute seashell roof fairy house here!
Man-made fairy house roof materials:
Cedar Shakes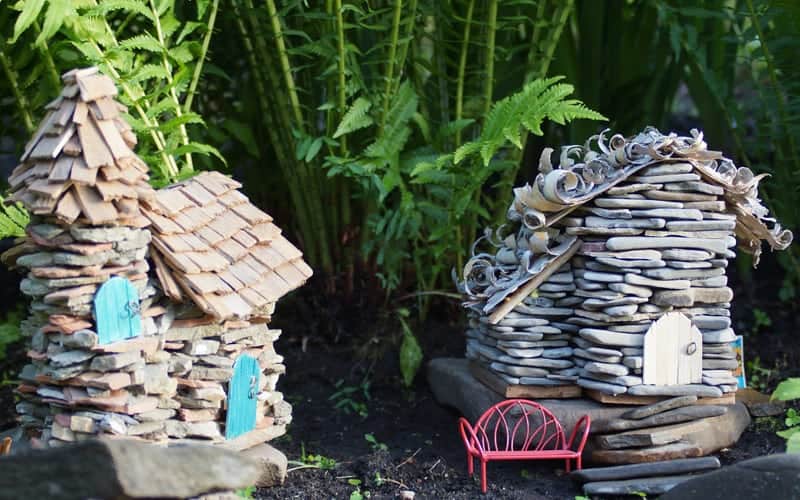 My grandparents took the old cedar shakes off their home a few years ago, and we saved them for firewood. (Or, at least, I let my husband think I was saving them for fire wood LOL.)
For this fairy house pictured above (on the left, with the blue doors), I used cedar shakes for the roofing material.
I used tin snips to cut the thinner bottom half of the shakes into fairy house roof sized cedar shakes, and then used silicone to attach them to a frame made from popsicle sticks – for the flat roof. For the cone shaped roof, I just piled them on top of each other.
I like to use silicone to attach my roofing material where possible, because it's so weather proof. The cedar shake + silicone roof has been one of the most durable fairy house roofs I've ever made, lasting more than 5 years outside before needing repairs. (I can't say the same for the birch bark roof, also pictured above.)
Polymer Clay
In the image above, the entire fairy house is made of polymer clay, but of course you could create just the roof with polymer clay as well.
Clay gives you so much room to be creative – you could do almost anything with it!
It's really very easy to use as well.
Buttons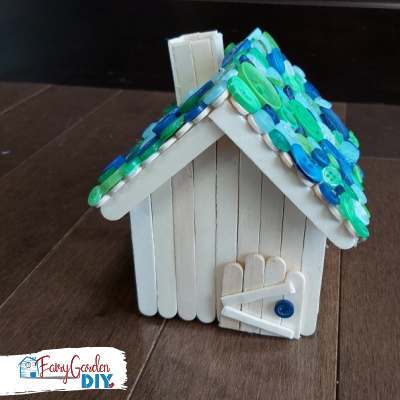 I used buttons to make a cute roof for this super simple popsicle stick house… they are so whimsical and quirky!
Burlap
Here's one I literally never would have thought of on my own… you can use burlap (or any other outdoor fabric, really) for a VERY simple fairy house roof material. I got this idea from this cute fairy garden tutorial at Diva of DIY.
Cork
I don't have an image to show you for this one yet, but I will make one!
Until then, you can see here a cute fairy house with a cork slice roof! –
Copper sheets
This would probably be one of the more expensive materials (see price for 4 inch X 10 inch sheet) to make a fairy house roof from, but definitely worth considering if you want a roof that has a bit of "magic" to it – and one that will LAST forever!
You could cut the copper to any size tiles you wanted, and I would bend the corners just a little to make it look "weathered".
Tin
If you have scraps of tin laying around, this would be a great option also!
Be careful cutting tin… it cuts fingers!
Popsicle sticks
Last, but not least… popsicle sticks can make a GREAT fairy house roof. You can leave them plain, color them with stain or shoe polish… or you can paint them bold and bright!
You can cut them into short tiles, or use them long – let your imagination go crazy!
You can make SO many things for a fairy garden with popsicle sticks!
What are your favorite things to make a fairy house roof?
If you have other suggestions for what to make a fairy house roof from, I'd love to hear it… I'm always open to trying new things!
(Like I think beads might be fun… I'll try one with beads this summer.)
Share your fairy house roof ideas with me – send pictures!!