Outdoor Fairy Garden Container Ideas You'll Love!
An outdoor fairy container garden is a delightful way to add whimsy and magic to your yard – if you're ready to get inspired… Here are 20 outdoor fairy garden container ideas that will blow you away!
The great thing about using containers for your fairy garden is that you can move them and rearrange them on a whim.
You can also protect your fairies from bad weather. Using a container allows you to pull the fairy garden inside if there's a storm. Depending on the container, you can even bring the fairy garden inside for the winter and enjoy your garden all year round.
Creating an outdoor fairy container garden is an excellent project for beginners. Because you're working within a set amount of space, it's easy to maintain. These little gardens would look fantastic in any corner of the yard, on a porch, or a patio.
(THIS POST MAY CONTAIN AFFILIATE LINKS. YOU CAN READ OUR FULL DISCLOSURE POLICY HERE.)
23 Outdoor Fairy Garden Container Ideas to Inspire You
You can create an outdoor fairy garden in LITERALLY ANYTHING. But sometimes seeing pictures really helps to get the imagination working.
Depending on what you want to plant, or how much room you have, some of these will be more appropriate for you than others. Keep in mind that larger plants need more room for the roots, and no matter what you are planting you should consider drainage!
I've complied this list of images of my favorite fairy garden containers to get you started – and as I make more fairy gardens, I'll be sure to add to it!
If you're looking for more fairy garden inspiration, don't miss our list of ADORABLE FAIRY HOUSE IDEAS to get your imagination going! 
1. Old Wooden Fruit Boxes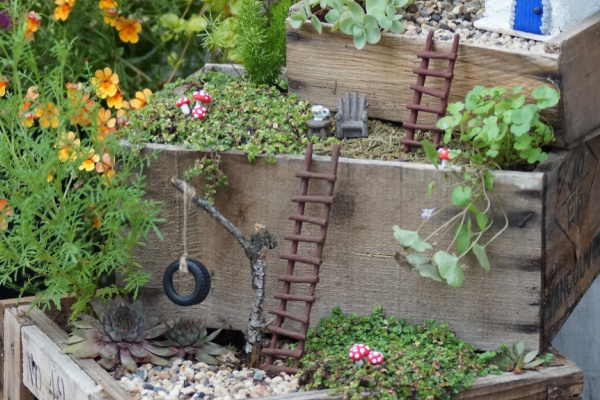 Stacked crates or old wooden fruit boxes makes excellent outdoor fairy garden containers. I got these old boxes at an estate sale, I KNEW how I wanted to use them!
If you're into cottage décor, a cute fruit or vegetable crate might be a nice touch.
Go ahead and leave the labels on. It adds to the charm and make it appear as though your fairies decided to set up a house in a "found" space.
If you plant inside the crate, be sure to put down a tray if there are wide spaces in your container's bottom. Add a layer of gravel or small rocks for drainage, then go ahead and fill up your crate with dirt. From there, you can nestle in your plants and tuck in your fairies. To learn how to set up a container garden, read my tutorial on how to set up a fairy garden.
2. A Broken Pot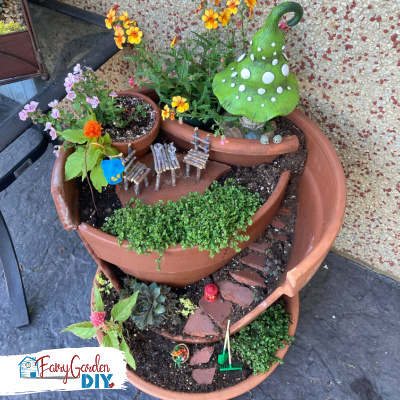 Broken pot fairy gardens are maybe some of my all time favorites! I made this one recently and I actually had to purchase a pot to break, but it was worth it!
Broken pots make much better outdoor fairy garden planters in my opinion because I find the water can run out of them where there are gaps and angles, and wash dirt onto your floor.
You want to go with the largest pot you can find, because they get crowded very quickly.
3. Wheelbarrow
Look at these adorable wheelbarrow fairy gardens!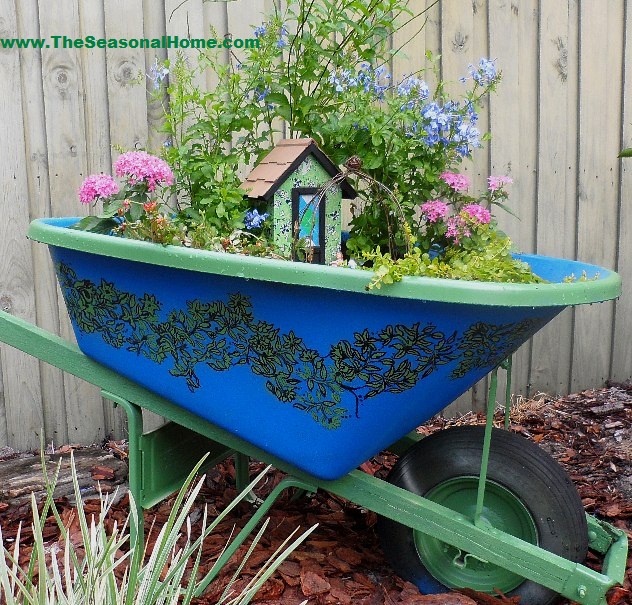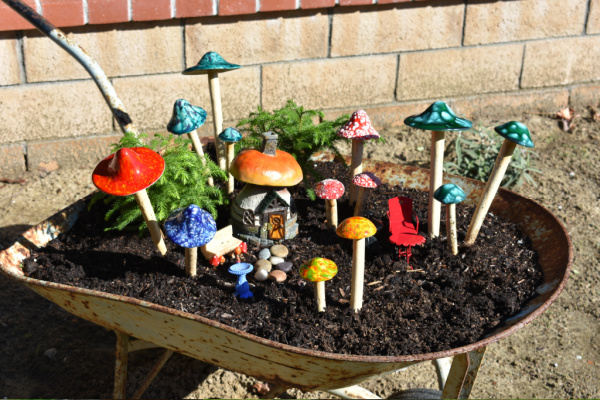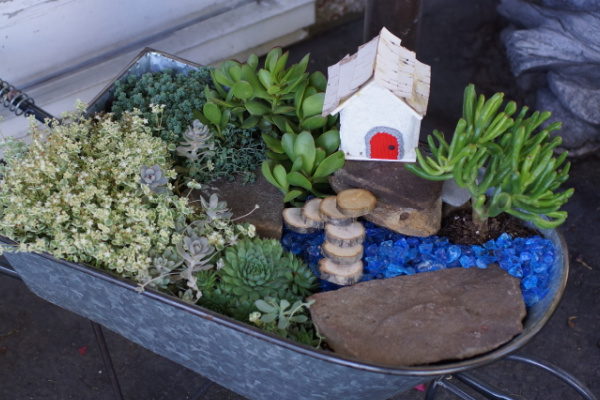 (Wheelbarrows make the perfect outdoor fairy garden containers, and it's good to see lots of examples! I found the first one at theseasonalhome.com, the second one from shutterstock, and the third is one that I made this past summer!)
If you want to be able to move your fairy garden, a wheelbarrow is a great option for a container. You can often find vintage wheelbarrows at antique stores and flea markets. The rust adds to the charm. (I actually have a rusty vintage wheelbarrow from my grandparents farm sale I plan to make an outdoor fairy garden with next summer!)
Using a new wheelbarrow is also an option (as I did with the smaller one).
It will weather over time, especially if you plan to leave it in the garden all year long. Look for a metal wheelbarrow without a logo on the side. Many wheelbarrows are available in bright, cheerful colors, which will look amazing with some colorful, cute fairies.
4. Round Washtub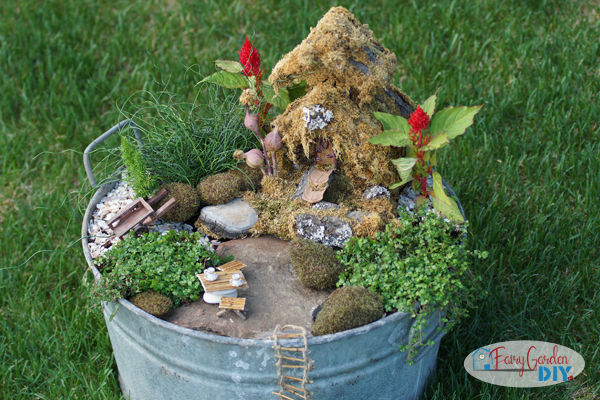 Metal washtubs make an excellent container for outdoor fairy gardens (as well as herb and vegetable gardens of any sort). I love working in the washtubs because they have plenty of room for fairy gardening, plus they add height to your work surface, making it easy to plant.
Kids also love washtub fairy gardens because it's right at eye level—perfect for viewing all the charming little pixies' activities. I've created an easy tutorial to show you exactly how to make a washtub fairy garden, including choosing the plants. The galvanized washtubs on Amazon are inexpensive and ready for planting.
5. Square Washtub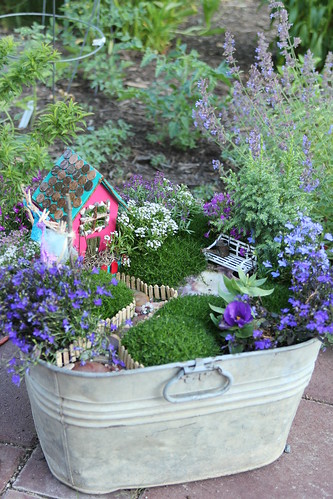 When Michelle from The Burgh Baby's daughter requested a Tinkerbell house after a Disneyland trip, this smart mama got creative. How cute is this bright pink fairy house with the penny roof? As I've said before, I adore the idea that fairies build their own homes, so coming up with DIY fairy décor fits the look.
If you're wondering how to make a fairy house, I've created a few (and learned some tricks and tips along the way). Many people are nervous about producing their own fairy houses from scratch, but I promise that you'll be hooked once you make one. You can create your own Tinkerbell house as the perfect addition to your outdoor fairy container garden.
6. Birdbath
A birdbath makes a classic outdoor fairy container garden. Over at Curly Crafty Mom, she made a darling little fairy garden in a concrete birdbath. The mermaid tears and tiny accessories really complete the look of this cute container garden.
Birdbaths can be a bit shallow, so succulents and mosses are good choices for these types of container gardens. When I created a fairy garden in an older birdbath in our yard, I added a "beach" made of sand to take up some plant space. You don't want plants that need room for a complex root system. As you set up your fairy garden in a birdbath, be sure to put down a layer of river rocks or gravel for drainage.
7. Old Tire
Honestly, I would never have considered this myself if I hadn't seen photographic proof that an old tire can make a sweet outdoor fairy garden container! This image is purchased from shutterstock, so I don't personally know who built this cute little fairy garden, but I love it!
8. Window box
If you're luck enough to have a built in window box at your home, you'd be CRAZY not to use it for a fairy garden (at least, in my opinion lol.)
This is another purchased stock image, because sadly, I am NOT lucky enough to have a built in window box or garden.
9. Metal Bucket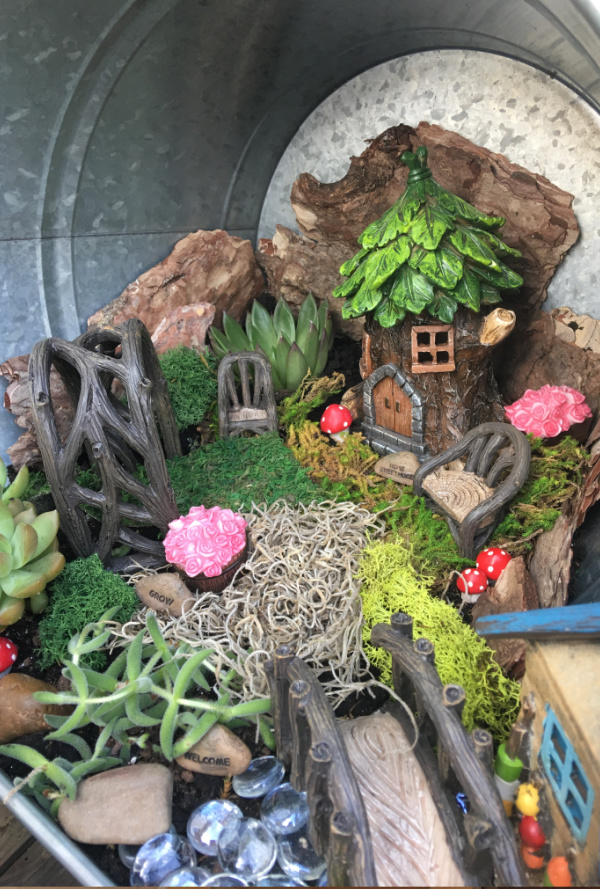 This is such a creative way to use a metal bucket as an outdoor fairy garden container! Laid on it's side, the bucket provides a cozy enclosed space for the fairies to hide!
10. Half Whiskey Barrel
Should you see a half wooden whiskey or wine barrel at a flea market, pick it up! (I once got 4 for 100$, and I felt like that was a steal lol.)
You can do so many projects with these wooden barrels and they make excellent containers for fairy gardening. You can also find new barrel-style planters online and at your local garden center, if you're not quite as lucky as I am at garage sales..
Over at My Frugal Adventures, Charlene created a darling fairy display in a wooden wine barrel. Her fairy container garden includes lights and some really sweet accessories that her kids loved putting into place. Fairy container gardening is a great family activity that your kids can use to stretch their imaginations!
11. New Red Wagon
How sweet is this fairy garden in a little red wagon over at Cottage at the Crossroads? I adore the fairy crossing sign—such a cute touch! Plus, the "Airstream" fairy trailer is really fun. It's the perfect fairy garden for summer.
If you want to use a newer red wagon for your fairy garden, you can easily move the garden indoors during the winter months. The wheels make it even easier than carrying in a standard container garden. Again, keep in mind that a wagon is a shallow container, so look for fairy garden plants with minimal root systems (and be sure to include drainage).
A wagon would be such a fun planter for a child's fairy garden!
12. Vintage Wagon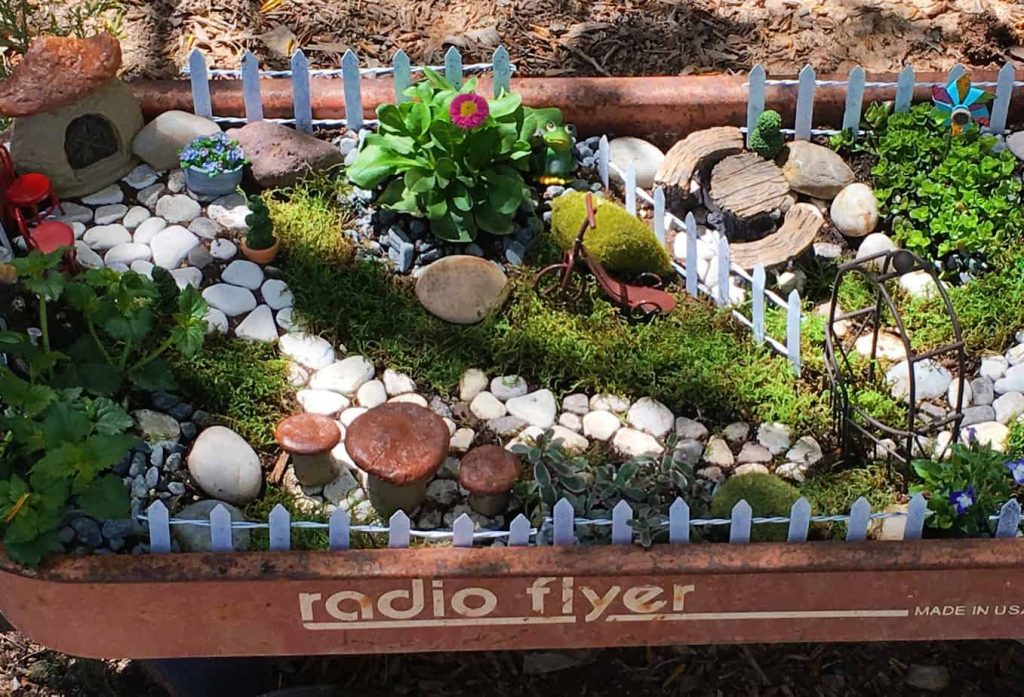 Your fairy garden container doesn't need to be new to be adorable.
In fact, antique containers can offer a lot of charm and whimsey to your fairy garden look. I love the idea that the fairies have repurposed an old broken-down wheelbarrow, or in this case, a wagon, to create their home.
At Norine's Nest, an antique radio flyer is transformed from a rusty old toy to a magical tiny fairy display. With rock pathways and darling little houses, the fairy village looks terrific in the wagon. Fairy gardens are all about the details, so add little touches like homemade mini flower pots. You can create many of the accessories on your own.
13. Old Toolbox
Image to come soon!
Years ago, I found a bright red tool box on the side of the road. It had obviously fallen off a truck (it was full of wrenches and badly dented).
I advertised it in the paper for a week, and when no one claimed it, I put it at the back of the garage – and I haven't thought of it since. (My husband confiscated all the wrenches. lol).
It occurred to me the other day it would make an AMAZING little outdoor fairy garden planter. I can't wait 'till next summer!
14. Herb Planter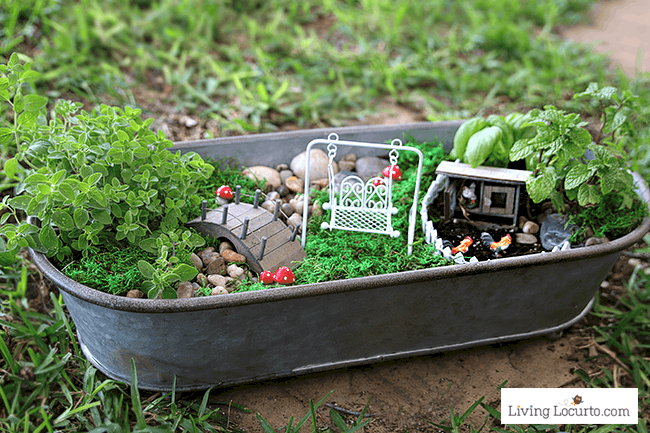 At Living Locurto, Amy made an incredible edible fairy garden! Using herbs in your fairy container garden is such a smart idea! Herbs often spread wildly in the yard, so keeping them corralled in a container is good anyway. Many herbs are small in stature and look perfectly appropriate for fairy villages.
In Amy's garden, she included a swing, bridge, and mushrooms. If you'd like to add a pop of color, you can easily add a few polymer clay mushrooms to your display. I've created a tutorial now that I've been making these little fairy toadstools for a while. I find that the cute, small, colorful mushrooms look great against the leafy green herbs.
15. Wooden box from a craft store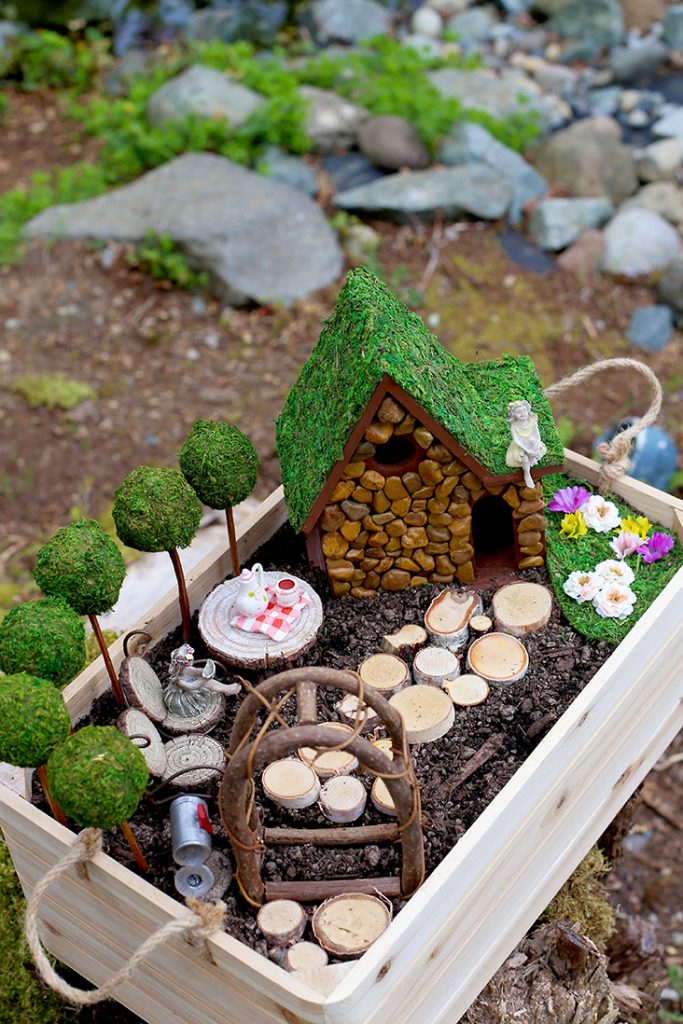 Over at Sew Much Ado, she made the MOST amazing little fairy house with a green mossy roof. I really love the rock house and the unique shape of her design. I also love the newer wooden crate she used as a fairy garden container.
You can find similar wooden crates at craft stores, home goods stores, and online. I like crates because you can paint them, stain them, or leave them as-is, depending on your personal preference and style. A more rustic look may fit your fairy garden, or you may prefer a bright, cheerful color with a shiny finish. It's all about what looks best to you!
16. Grapevine Ball (one of the more unique outdoor fairy garden container ideas!)
At All Things Heart and Home, a string of fairy lights transforms a grapevine ball into a magical fairy garden container. Grapevine balls are inexpensive and add a natural touch to your outdoor décor. They look great grouped on a porch or hung from a tree.
With a little moss inside the grapevine ball, you can create a cozy container for your fairies. Add some air plants or a shallow root plant like a staghorn fern. You could even hang several grapevine balls with fairies and plants grouped to create an attractive vertical container garden.
17. Flowerpot
Tinker Lab offers a simple tutorial for fairy gardening with kids using a wooden flower pot or bucket. Choosing a sturdy pot or container will let kids get in on the action and learn how to garden. If you're creating an outdoor fairy container garden with kids, start with simple, easy-to-grow plants like petunias, marigolds, or pansies.
Look for kid-friendly fairies that can handle some wear and tear. Sturdy fairies are also important for outdoor displays because you'll likely see some fading from the sun and water. If you're concerned about the fairies getting broken, there are even super kid-friendly plastic fairies that would look cute in any fairy garden display.
18. Water Table
Are you looking for an outdoor fairy garden idea for your kids? Maybe you have boys (or dinosaur-loving girls)? Don't miss this fantastic converted water table from No Time for Flash Cards. How cool are the prehistoric displays with the succulents and other plants? Using a kid's sensory water table as the container is genius.
When you create a fairy garden, you don't need to stick with fairies only. Some kids prefer jungle animals, dinosaurs, or dragons. Hobbits and gnomes are other popular options. Fairy gardening means finding what seems magical and exciting to you.
19. Old Trunk
I know I know, there's no fairies in the above picture… but this image actually makes my heart ache a little bit because where I grew up THERE WAS AN OLD TRUNK LIKE THIS behind an old house.
Ohhhh, what I would give to go back in time and rescue it and make it into an amazing outdoor fairy garden container.
It was in far to rough shape to bring it IN, (which I guess was why it just sat outside for all those years) much like the one pictured above. But it could have had loads more good years as a home for fairies. Hindsight, and stuff.
20. Old Work Boots
Another image with no actual fairies… but it DOES get your imagination going!
I wouldn't want to use work boots as an INDOOR fairy planter, because honestly I see issues with containing the dirt as the plants grow.
But wouldn't it be cute to place a little ladder up to the top of the boots, and set up a table and chairs for tea in one of them?!
21. Log (or Faux Log)
Image to come!
What about setting up your outdoor fairy container garden in a hollow log or faux log? I saw this faux log planter and thought it would make a darling spot for fairies. If you're lucky enough to have a hollowed-out tree or log in your yard, you can plant right inside!
What should you plant in your fairy garden? Well, any outdoor-friendly plants will do, but if you're using a log planter, I would plant mosses and ferns. Think of the plants that would naturally grow in a forest on an overturned stump or log.
22. Plant Saucer or Draining Tray
A shallow plant saucer (the dish thing that goes under your plants to keep water from running everywhere) makes an IDEAL fairy garden container.
When using a shallow container, choose plants that don't need a ton of "root room" – like succulents!
23. Old bed frame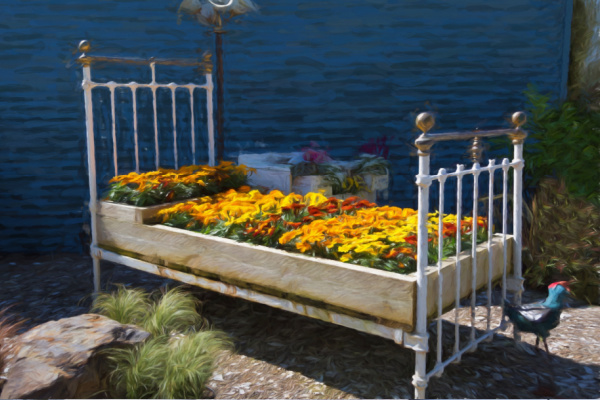 This is another one I would never have thought of myself, partly because I'm one of those people that tend to think (large) older pieces of furniture shouldn't necessarily be repurposed into garden containers.
You know, like, I have no old toilets or bathtubs in my yard.
Maybe this is partly because my yard really doesn't have ROOM for a giant bed in any corner of it… but I have to admit that when I saw this picture I thought it would make a pretty cool out door fairy garden space for anyone who DOES have the room.
You know, if you're into old furniture in the yard.
24. The base of a tree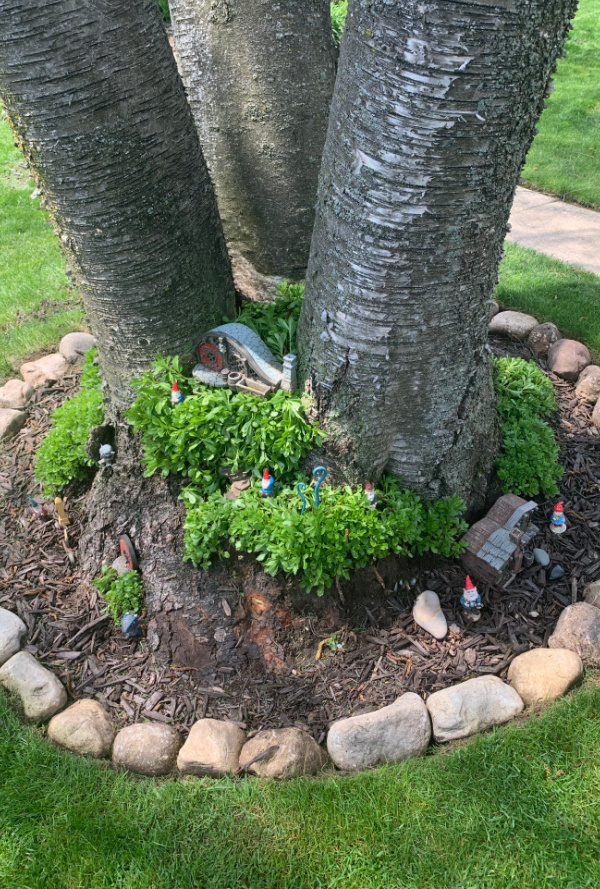 If you're lucky enough to have a tree or two in your yard, you can literally build a fairy garden right around the bottom of it!
Hopefully, these outdoor fairy garden container ideas helped inspire you to experiment with your own fairy display. The options for containers and garden ideas are endless. Have fun with it and play around. Fairy gardening allows you to be a kid again!
Looking for more ideas? Many of these indoor fairy garden container ideas can also be used outdoors, of course!
Don't forget to check out our list of 35 ADORABLE FAIRY HOUSE IDEAS to make for your garden! 
What are your favorite outdoor fairy garden container ideas?