Fun DIY Fairy Garden Ideas for Kids
I love working on fairy gardens with my kids. When they first discovered what fairy gardens are, they were instantly fascinated! It's something that we do together often, and it's a great creative experience. It's also an awesome way to pass slow summer days. If you're looking for inspiration for an awesome project to keep your kids busy this summer, this list of fairy garden ideas for kids is for you!
(THIS POST MAY CONTAIN AFFILIATE LINKS. YOU CAN READ OUR FULL DISCLOSURE POLICY HERE.)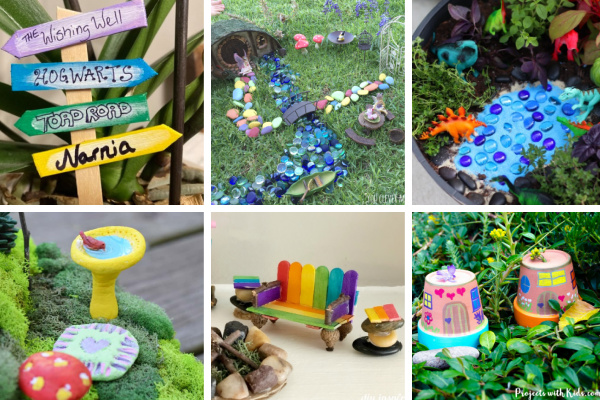 I've talked before about how to make a fairy garden for a child. You can purchase a kit, take a "hybrid" approach (do some DIY and buy a few items), or go full-out with a totally DIY fairy garden.
Of course, I recommend as much DIY as possible – it's so good for them! 
I think DIY fairy gardens are unique, expressive, and magical. They feel like the fairies built them themselves. I love making my own fairy houses and have found tons of ideas and inspiration for building your own fairy dwellings with kids!
If you're ready to set your kids loose on a fairy garden building spree, here are 35 fun DIY fairy garden ideas for kids to inspire your next great project.
Allow your kids to do as much of the fairy garden building as possible independently (or with minimal adult involvement, depending on your kiddos' ages) – it's so amazing to see what they create! 
Fun DIY Fairy Garden Ideas for Kids
Making a kid-friendly fairy garden isn't hard – but it is a little different than making a garden without kids!
There are tons of ideas out there, and kids are often amazingly innovative. I'm always surprised at the inspired ideas my kids come up with for pretend play and creative activities. Fairy gardening helps them stretch their imaginations and have fun. 
You may want to choose a theme for your Kid's fairy garden – like some of these examples:
Farm Theme Fairy Garden 
Depending on how "into" fairies your kids are, you may want to choose a variation on the typical fairy garden. This farm-themed homemade fairy garden from Kid Friendly Things to Do is adorable with the red barn and little hay bale. Kids could easily paint the barn themselves and stock the garden with any plastic animals they happen to have on hand. 
Dinosaur Theme Garden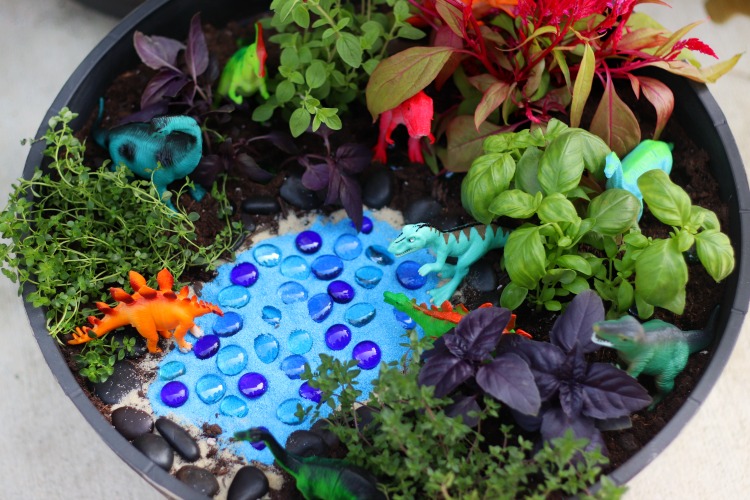 Maybe you have a son (or a daughter who's not into fairies)—a dinosaur garden offers the perfect alternative to the traditional fairy garden for kids. I love everything about this dinosaur fairy garden for kids at Glue Sticks Blog. The idea of using playdough and marbles to create a waterway is brilliant. The garden looks so cute with all the little dinosaur friends climbing around. If you're looking for fun homemade fairy garden ideas for kids, don't stop with fairies! Branch out!
Beach Theme Fairy Garden for Kids
Do you have some seashells around the house? Perhaps some aquarium gravel? Let kids create their own fairy garden mermaid lagoon! This unique take on fairy gardening from The Homespun Hydrangea features a beachy mermaid lounging on the sand. Mermaids are fun fairy garden members because they let kids get into an array of different substrates like sand, pebbles, and marbles. 
Once you've determined if you will have a theme or not, you can choose a container.
Fairy Garden Containers for Kids
One of the questions with fairy gardening is always "what should I put my fairy garden in?" – well, kids is they aren't picky. You don't need a $70 planter to create a kids fairy garden! You can use basically ANYTHING you have lying around, or upcycle something fun… like an old wagon or water table!
The two thing I think all parents should consider when choosing a fairy garden container is a) choose something that's not tip-y (my children have destroyed by knockin' over TWO of my fairy gardens LOL) and b) if you're using live plants, something with DRAINAGE. Kids love to water plants hahaha.
Below are some container ideas to consider when building a fairy garden for kids:
An old wagon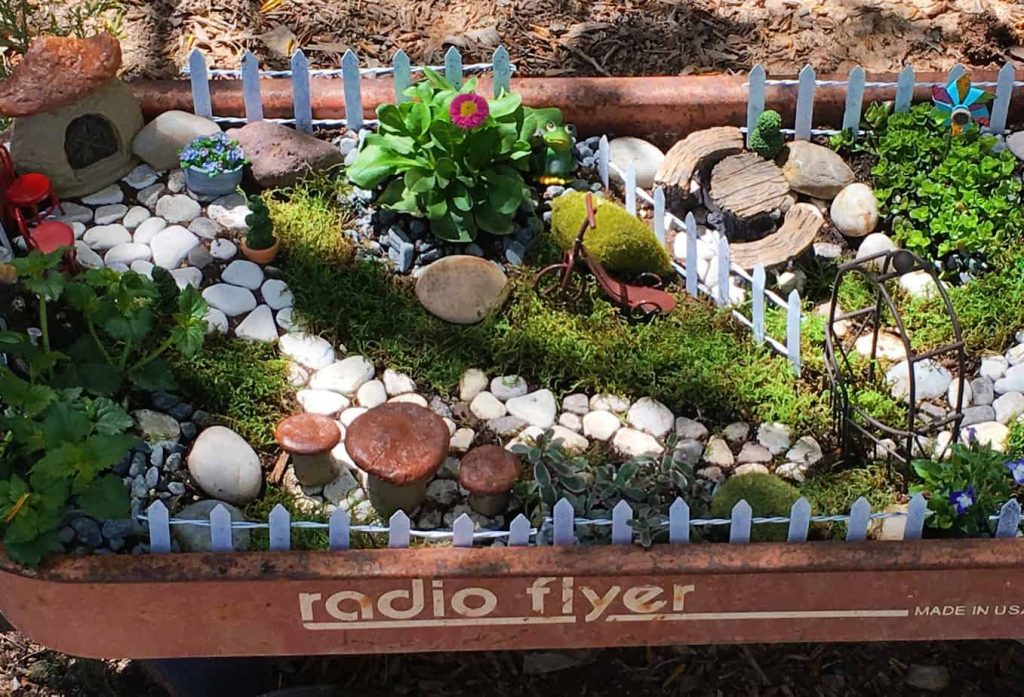 At Norine's Nest, an antique radio flyer is transformed from a rusty old toy to a magical tiny fairy display. Don't be disappointed if your child's fairy garden doesn't look QUITE the professional – I just wanted to show you the perfect container idea here!
An old water table
At Twitchetts.com, you can see another PERFECT container for a kid's fairy garden – an old water table. (I love that the water table is raise, which means they can play standing and if you use a hardy ground cover like creeping thyme, it will spill over the edge as the summer goes on, for a truly "magical" effect!)
Enchanted Fairy Planter
Kid-Friendly Things to Do also has a more traditional "fairy house" in this cute planter made from a terra cotta pot. Creating a fairy house out of a flowerpot is fun for kids because they can plant flowers right in the pot. Be sure to choose kid-friendly flowers and plants (check out the best flowers for fairy gardens here). Marigolds, petunias, Johnny-jump-ups, alyssum, and mosses are all nice kid-friendly starter plants to try.
Of course, I also think the no rules kind of theme is great too… let them put WHATEVER they want into their gardens! You'll be amazed at what they come up with!
Rubbermaid Bin Container Garden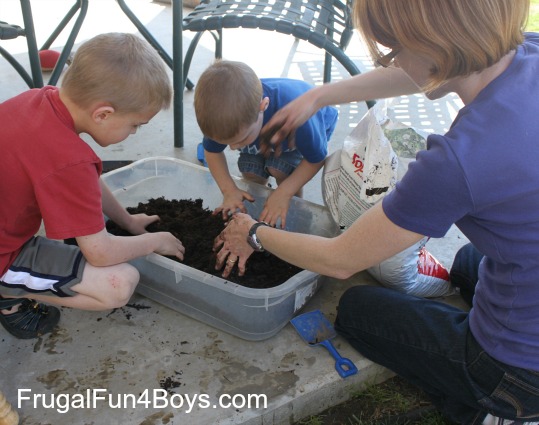 Consider a Rubbermaid storage bin if you're looking for a big container to use for a kid-friendly fairy container garden. With a few holes and rocks in the bottom for drainage, a storage bin makes a terrific base for a big, fun fairy garden for kids. Add plants, dinosaurs, Legos, and other toys to create an awesome miniature jungle.
Tupperware Fairy Garden 
With this Tupperware fairy garden, you don't have to worry about leaks or spills. Kids can play around in the dirt, moving plants, and changing up their fairy decorations. In this display, the fairy homes are made from popsicle sticks, but these containers would work for any fairy village building. 
Upcycled Food Container Fairy Garden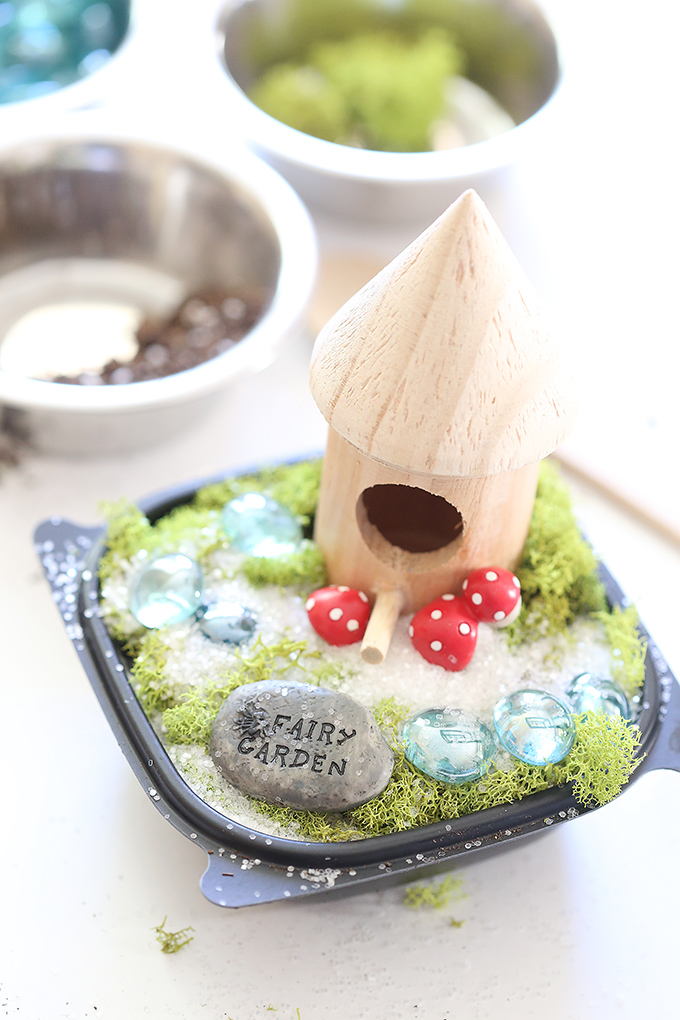 I love upcycled crafts, and Vanessa over at See Vanessa Craft has a great idea for a DIY fairy garden for kids—use a recycled plastic takeout container! She uses a small wooden house, rocks, moss, and other decorations to turn what would ordinarily be trash into treasure. This cute upcycled fairy garden for kids is a perfect way to reuse your next plastic takeout tray.
An Old Planter 
Rachelle at Tinker Lab shows us how building a fairy container garden for kids can help foster an interest in plants and growing. Her simple natural fairy garden is an easy, kid-friendly setup. She uses small, soft moss to create a grass-like feel for her fairy and the accompanying accessories. 
Succulent Dish
Friends who live in warmer climates shouldn't miss out on fairy gardening fun! You can make an adorable kid-friendly container fairy garden using cacti and succulents. Depending on the level of your kids' involvement in (and future playing with) the garden, you may want to avoid cacti with sharp needles. This cute dessert fairy garden from Glue Sticks Blog features kid-painted birdhouses converted into cheerful fairy dwellings. 
Dollar Tree Bowl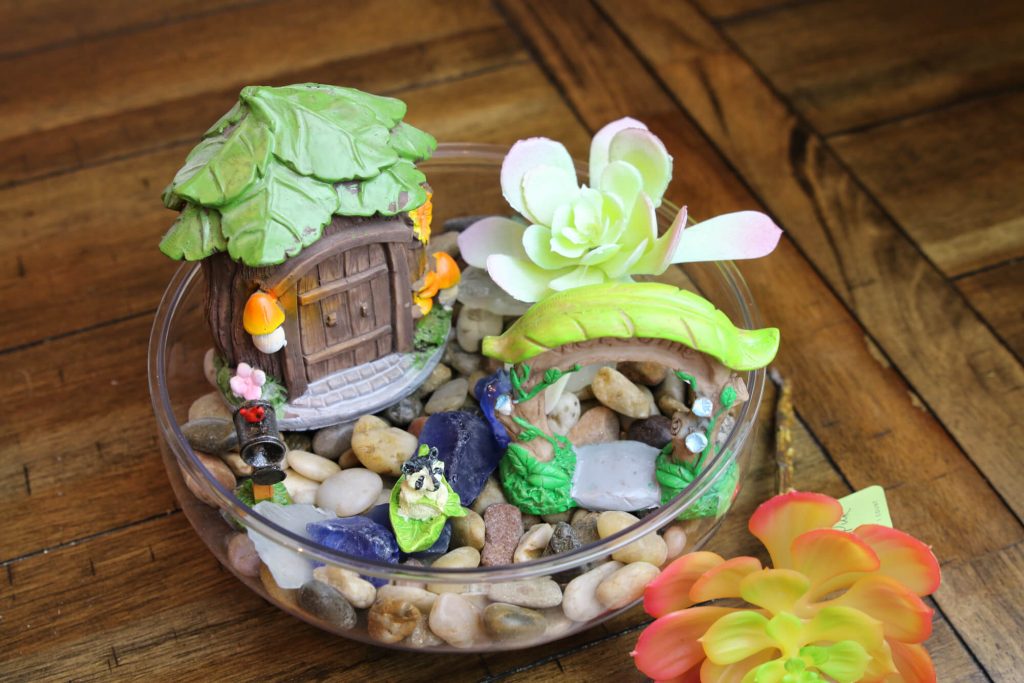 Have you looked for kid-friendly fairy garden items at the dollar store? This bowl garden is an inspiring fairy garden idea that kids can easily put together and arrange independently. Using rocks, small fairy accessories, and a glass bowl, this fairy garden is beautiful while still being inexpensive.  
Easy Fairy House Ideas for kids
After you choose your container and your theme (or decide that there ARE NO RULES and the theme is just FUN lol) you may want to make a house!
The fairies need somewhere to live after all.
Here's some really simple fairy house ideas for your kids to DIY:
Painted Pot Fairy Houses
Flowerpots make excellent fairy garden containers for kids, but when you flip them over, they also make darling fairy houses. These simple painted flowerpots from Projects with Kids allow kids to get creative and imaginative with their house painting. You can use a cohesive color scheme if the houses are grouped together, or let kids run wild and see what they come up with!
Toadstool Houses from Clay Pots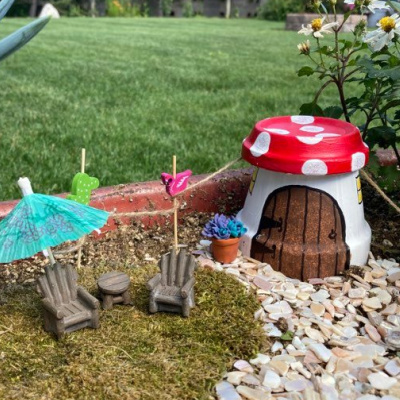 My kids and I made these clay pot toadstool fairy houses this summer and they LOVED painting the pots!
Easy Birdhouse Fairy Garden for Kids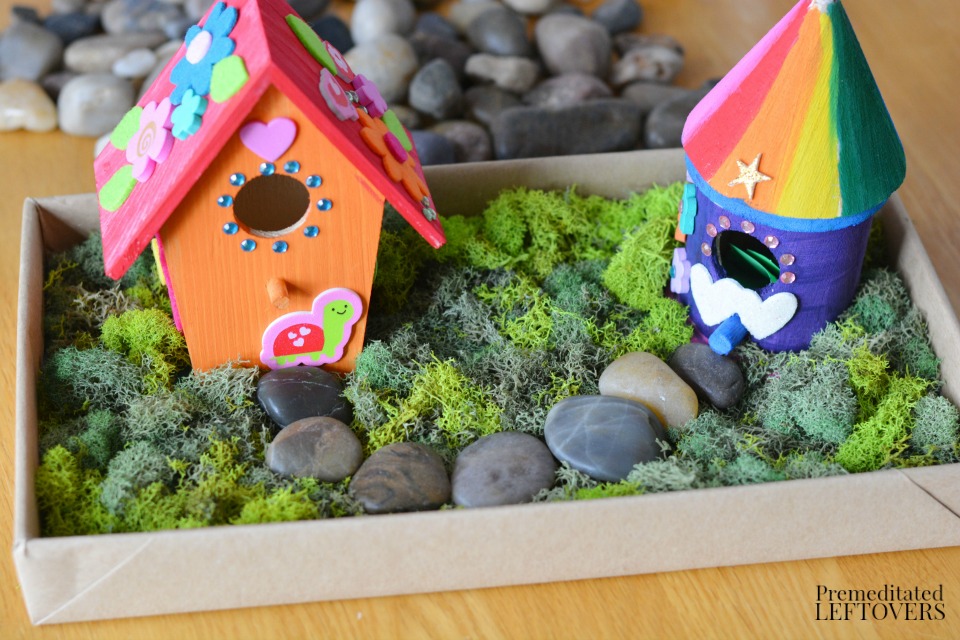 Alea at Premeditated Leftovers shared a bright, cheerful birdhouse homemade fairy garden for kids. Birdhouses are great bases for fairy houses. I used a pair of cute wooden houses to make my simple concrete fairy homes (which may be a "mom-involved-project").
I find that the wooden houses are the right size, and with a bit of paint and alteration, they make charming fairy garden homes. You can get pre-made birdhouses at the dollar store in all sorts of shapes!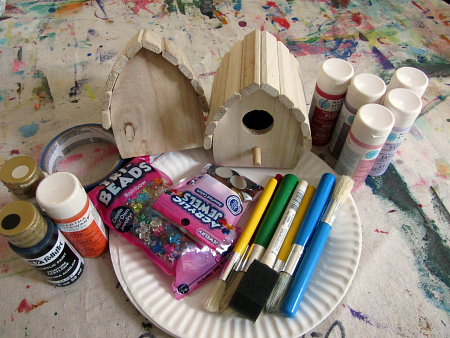 Some kids love to paint and decorate. If that sounds like yours, a wooden birdhouse can make an excellent base for a painted fairy house. Use acrylic paints, glitter, flowers, and any other decorative items you like to help kids create a simple-but-sweet fairy house.
Popsicle Stick Fairy House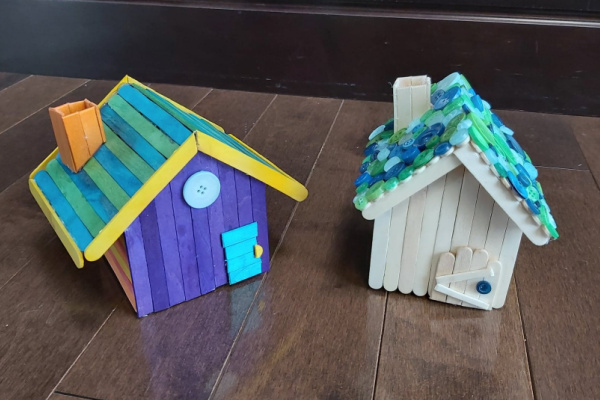 My kids and I made these easy craft stick fairy houses, and they turned out so cute! My kids love the colored craft sticks more than the plain ones, of course.
Paper Mâché Fairy House and Garden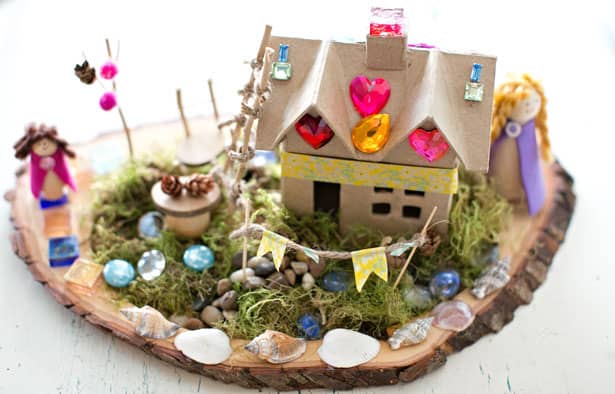 This magical fairy house from Hello Wonderful was created as a birthday activity for a 5-year-old. Using the sweetest tiny paper mâché houses and peg dolls, these indoor fairy gardens are totally adorable. Kids decorate them using markers, stickers, felt, and bits of moss. The peg dolls make darling miniature fairy princesses for a very enchanted (and enchanting) kingdom. 
Milk Carton DIY Fairy Houses for Kids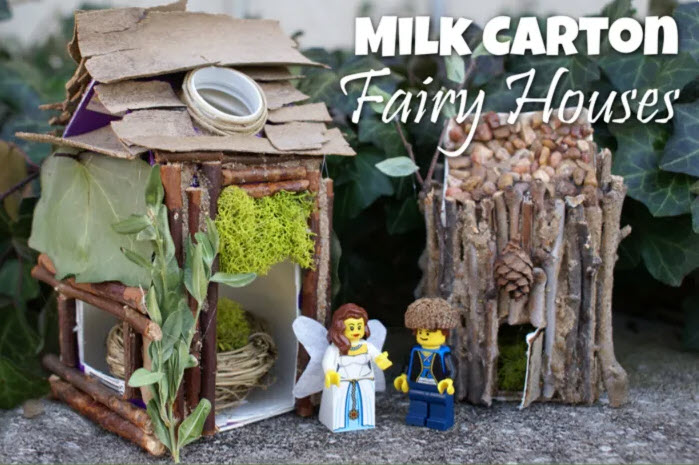 Denise at STL Motherhood shared mini fairy houses made from milk cartons, sticks, leaves, and rocks. Milk cartons make a perfect size and shape for fairy homes, and kids will love finding all the twigs, moss, and other items to decorate their house. Tacky glue holds these cute houses together (but keep in mind, they will probably be best for indoor play).
Nature Fairy Garden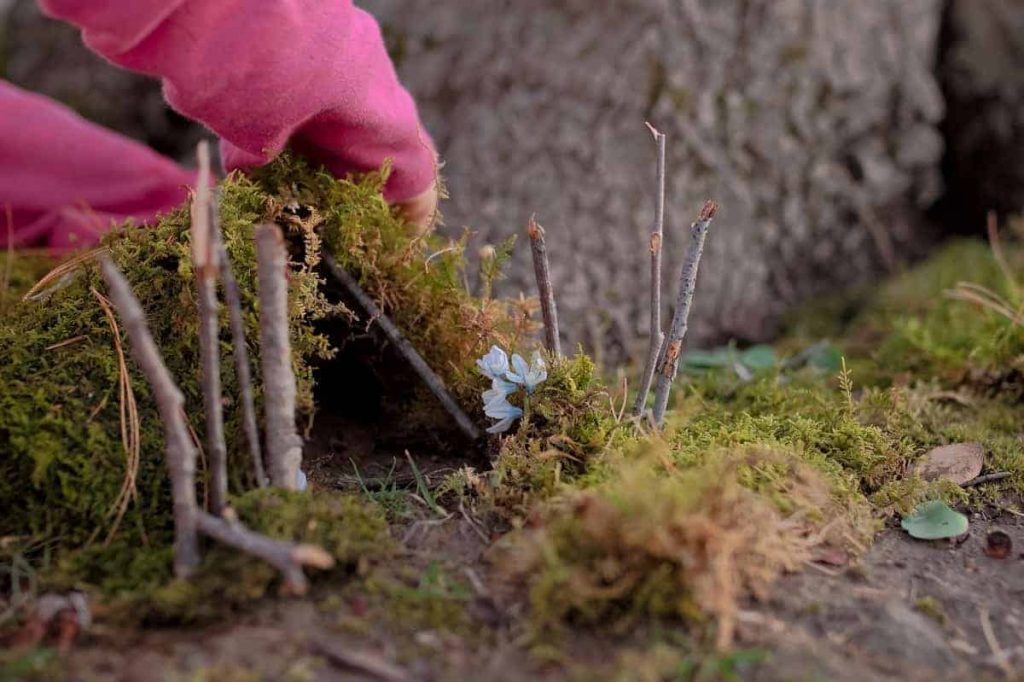 Over at Run Wild My Child, Sara walks us through her daughters' completely natural fairy dwellings. Using found twigs, moss, leaves, pinecones, rocks, and sticks, they create magical forest houses for their fairy friends. I really like the idea of using all-natural materials for a fairy dwelling—it seems completely plausible that fairies built these houses straight from the natural flora. 
Natural Fairy Garden 
Little Owl Academy has an adorable tutorial on building a DIY fairy garden for kids without spending a lot of money. They used twigs and flat stones to make the cutest tiny fairy home and then created a pathway with wooden discs. If you're wondering how to get started with a kid-friendly fairy garden, this post offers a good plan. 
Concrete Block Fairy House
Sometimes you see a DIY fairy garden idea for kids and go, why didn't I think of that?! I really like this concrete block fairy house from Pinspired to DIY. This fairy house is a bit more involved than some others, so it may need to be a "Mommy and Me" activity, but the results are adorable and something you will both be proud of!
(You could totally use this idea with a brick, for a much small house – or make a whole villiage of brick sized smaller houses!)
Polymer Clay Fairy House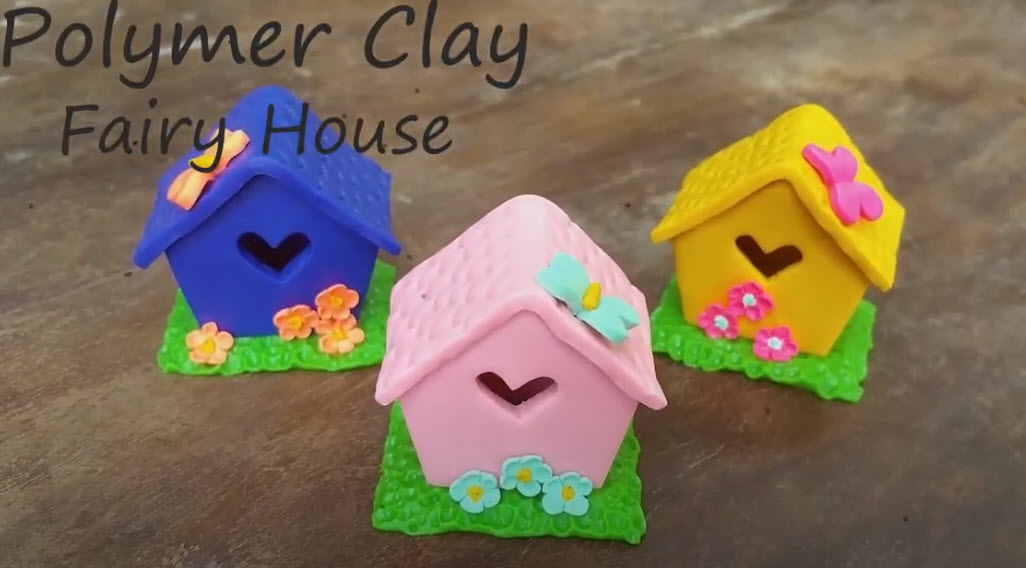 These simple tiny fairy homes are made of polymer clay, as explained in an easy-to-follow tutorial for kids. If your kiddos are getting savvy with polymer clay building, they will love taking it to the next level by making adorable fairy houses. These are charming and colorful—perfect fairy garden accessories for kids!
Paper Gnome Houses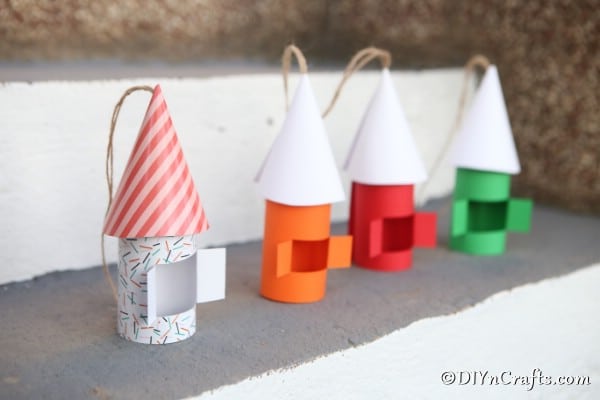 If you're looking for a very simple fairy project for kids, these paper gnome homes are really cute and easy. You can make them as ornaments to hang from a tree (Christmas or as a fun way to add color around your garden). Using colorful paper, they come together quickly and make cute homes for any miniature toys. 
Of course, these houses are not long lasting like a cinderblock house, but still fun for the day!
DIY Fairy Garden Decor Ideas for Kids
Once you've put together an amazing fairy garden, creating fairy décor becomes quite addicting.
Making miniatures is a fun pastime for kids (and adults too, of course).
If your kids are looking for ways to accessorize their fairy village, don't miss these easy DIY fairy garden decorations for kids!
Use Popsicle Sticks to Make
Rainbow Fairy Garden Furniture
I've already shared some of the best fairy garden popsicle stick accessories, which I think are absolutely ideal for kid's fairy gardens, but here's another adorable example of popsicle stick décor!
Using rainbow craft sticks, Dinah at DIY Inspired explains how to make a variety of kid-friendly fairy garden accessories. These are so bright and cute and simple enough for a range of age groups. Older kids can make their own interpretations of these fairy garden swings, benches, and other accessories. 
(Use wood glue or even plain old white glue if you want to avoid the hot glue gun!)
Paint Rocks to Decorate Your Fairy Garden
Fairy garden painted rock ideas – bugs, snails, frogs, hedgehogs, fairy doors, mushrooms, tiny houses… basically, anything you can imagine in a fairy garden can be painted on a rock!
Kids love painting rocks and it's wonderful to see their imaginations come to life.
Personalized Fairy Signposts
I made these with my kids just the other day! I this is the one I made, for the site, but both my kids painted their own signposts and were allowed to choose which places we pointed the directions to!
They absolutely LOVED this, and you can personalize it for them – point the signs to grandma and grandpa's house, to their bed swing set, or the setting of a favorite book!
Make a Fairy Table and Chairs (with Twigs + Bottle Caps)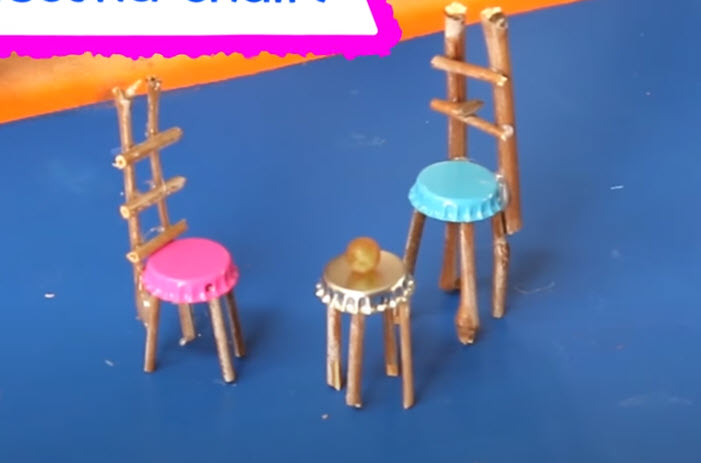 This mesmerizing YouTube video shares fairy hacks for kids. The video is adorable and provides easy-to-follow instructions to make a kid-friendly fairy door, a charming bottlecap chair, and a natural fairy house from bark and moss. 
Again, the video uses hot glue (the patio set is made by an older child) so either plan to help, or use white glue!
Make Salt Dough Fairy Garden Accessories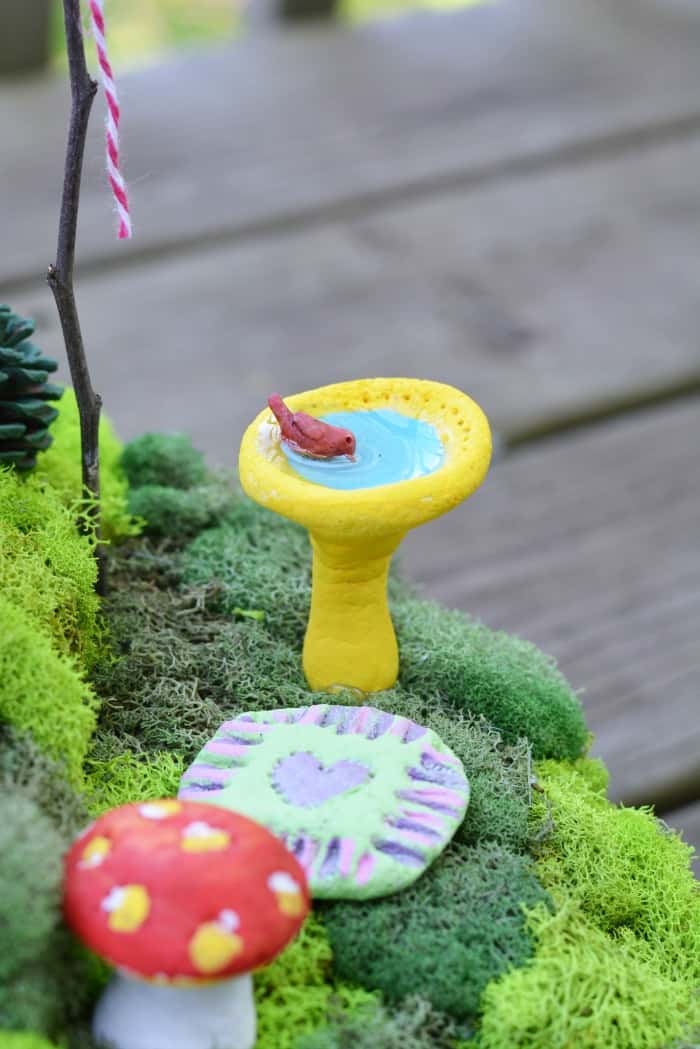 You can make a variety of cute fairy items using salt dough. I love the little birdbath Jody made at Mommy Moment! It's so cute. The mushrooms are also a lot of fun and would make cute fairy chairs or tables. Salt dough is easy for kids to work with, cheap to make, and allows for a lot of creativity.
Kids can paint their fairy accessories after they harden!
Make Fairy Garden Paths and Waterways with Decorative Marbles + Stones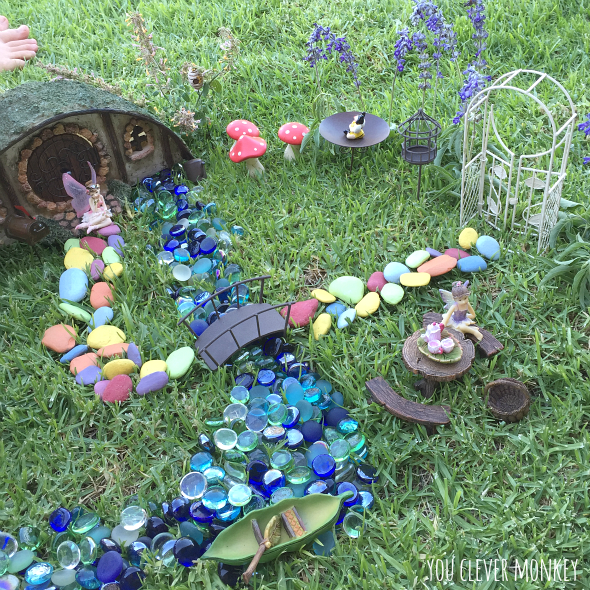 Over at You Clever Monkey, Nichole shares a variety of fairy garden play ideas for kids, including ways to use sorting skills to make waterways and fairy paths. I love how the blue marbles create the look of water and provide a chance for activity play in the fairy garden. 
Make Miniature Garden Tools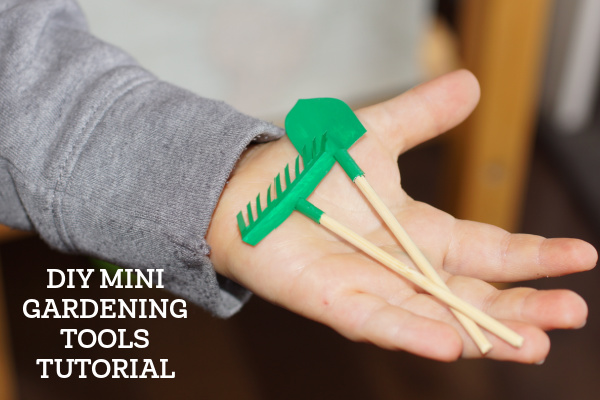 My kids and I were surprised at how easy it was to make miniature garden tools for our fairy garden! We created a shovel and rake from an aluminum can and some skewers. The whole project took around 20 minutes, and the payoff is adorable. My kids loved these little miniature garden tools for our fairy garden!
For this fairy garden décor, I did use cut aluminum cans, so this is an adult-help-required project.
Try Polymer Clay to Fairy Garden Accessories with Kids
If your kids are new to polymer clay, it's a good idea to start with some simple projects.
Toadstools (or mushrooms) are an excellent way to get used to working with polymer clay, and they look fantastic in any fairy garden. Kids will love creating all these little magic mushrooms to add color to their fairy gardens. 
Make a Polymer Clay Fairy Door
Fairy doors might be one of my all-time favorite kid-friendly fairy accessories to make. With a little sculpting from polymer clay, they turn anything into a magical tiny house. Put a small door at the base of a wall for a mouse house. Add them to a tree to show that gnomes reside there, or use the polymer clay doors with other items to complete the look of any DIY fairy house. 
Clay Plants and Succulents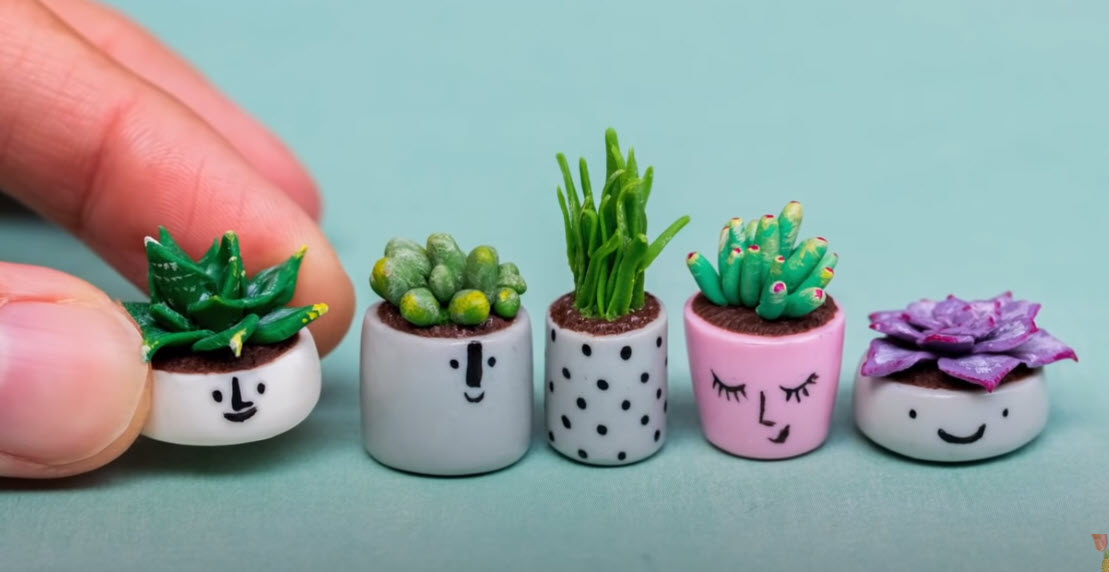 Older kids may want to make more intricate fairy garden accessories. These planters are adorable, and following the YouTube tutorial can help kids create more involved miniature items to decorate their fairy gardens. I love the cute smiles on the planters!
Try Air-Dry Clay for Making Fairy Garden Accessories
In this fairy garden tutorial, kids can learn to make clay fairy garden animals and cute accessories. This tutorial uses traditional modeling clay that is air-dried and painted after. The little owl and hedgehog are very sweet and would make great additions to any fairy garden.  
Light Up LED Fairy House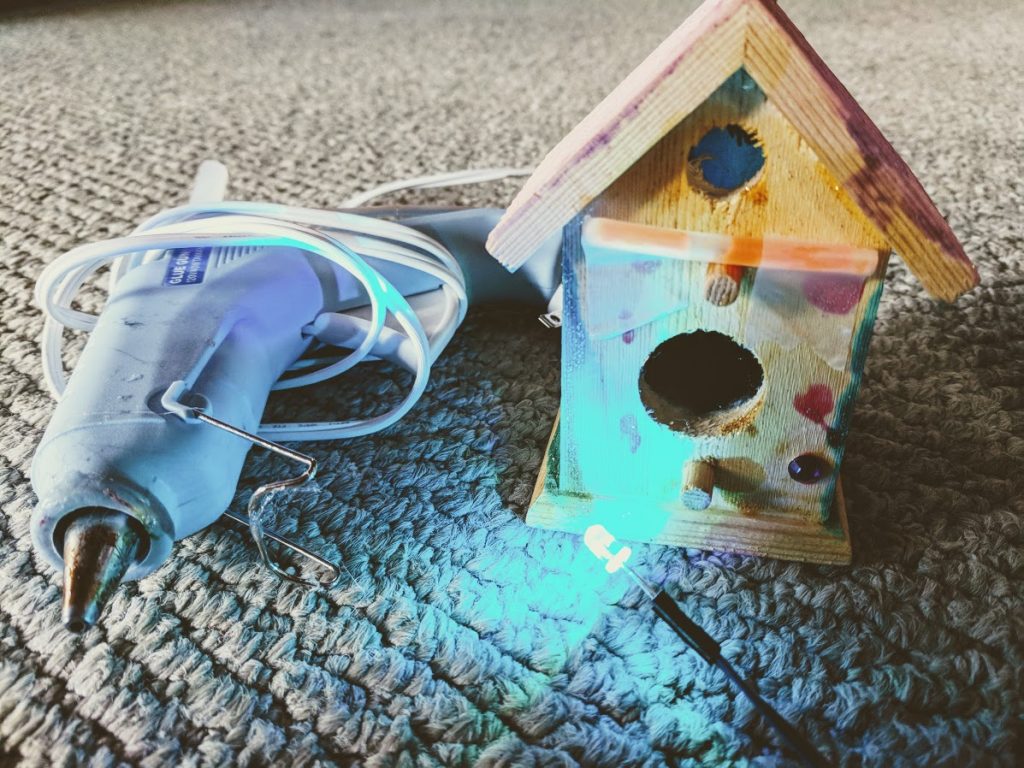 Older kids will love this STEM-friendly LED fairy house lantern from Rosie Research. This fairy STEM project helps kids understand how LED circuitry works and allows them to be creative and imaginative as they decorate a fairy house (their own or a premade wooden birdhouse). Such a cute idea and a fun way to get kids interested in engineering. 
Use Playdough for the Base of a Kid's Fairy Garden 
Colored playdough makes an excellent base for setting up a fun fairy garden for kids.
Over at Mama Papa Bubba, they used a tiny wooden "birdhouse" as the fairy home and playdough to create the landscape. The dough is great for holding items like marbles, silk flowers, and other decorations for the fairy display, and if your fairy garden is likely to be packed around quite a bit, it will keep it all in place! 
Throw a Fairy Garden Birthday Party (and put some of these fairy garden ideas for kids to use!)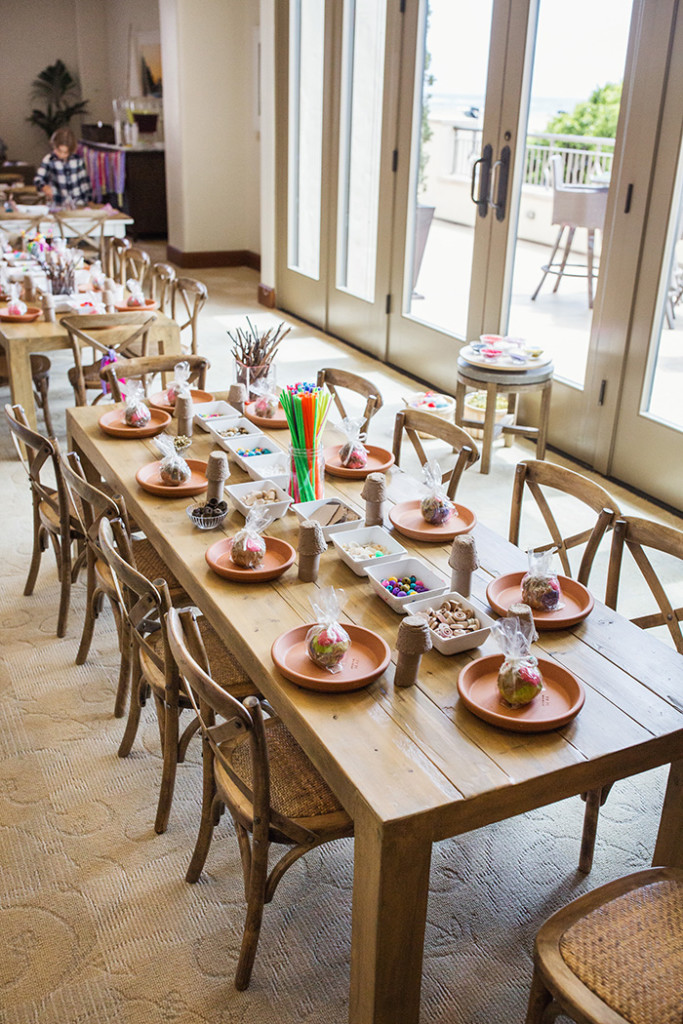 If your kids get right into the whole fairy garden thing, consider throwing them a fairy garden birthday party!
Using planter saucers, toilet paper rolls, and planting cups, Meri Cherry makes the cutest fairy gardens for a birthday party activity. These are seriously adorable, with lots of bright and cheerful felt decorations, sticks, rocks, and natural elements tucked in. She takes simple materials and turns them into a magical fairy display. 
There are so many cool DIY fairy garden ideas for kids.
If your kids are interested in fairy gardening (or you are interested in fairy gardening and want to get kids involved, too), take time to check out all these great tutorials and posts. Fairy gardening is a great way to help kids build fine motor skills, stretch their imaginations, and help them get away from screens and out in nature!
What are your favorite kid-friendly fairy garden projects? Please share in the comments; I'd love to hear your ideas!