When it comes to magical creatures from fairy tales, the fairies are always a favorite with kids. And it's no wonder—fairies are beautiful, have magical abilities, and they can fly. What's not to love? If your children have gotten super into fairies after making a fairy garden, we have loads of easy fairy crafts for kids that they'll love.
They're whimsical, fun, and easy for kids of all ages. This list of fairy projects includes DIY fairies, wands, houses, gardens, and accessories that are perfect for playdates or to entertain the kids on a rainy afternoon.
Read through this list with your kids, pick a few projects to work on, and get started on one this weekend. Crafting is a wonderful way to spend time together as a family.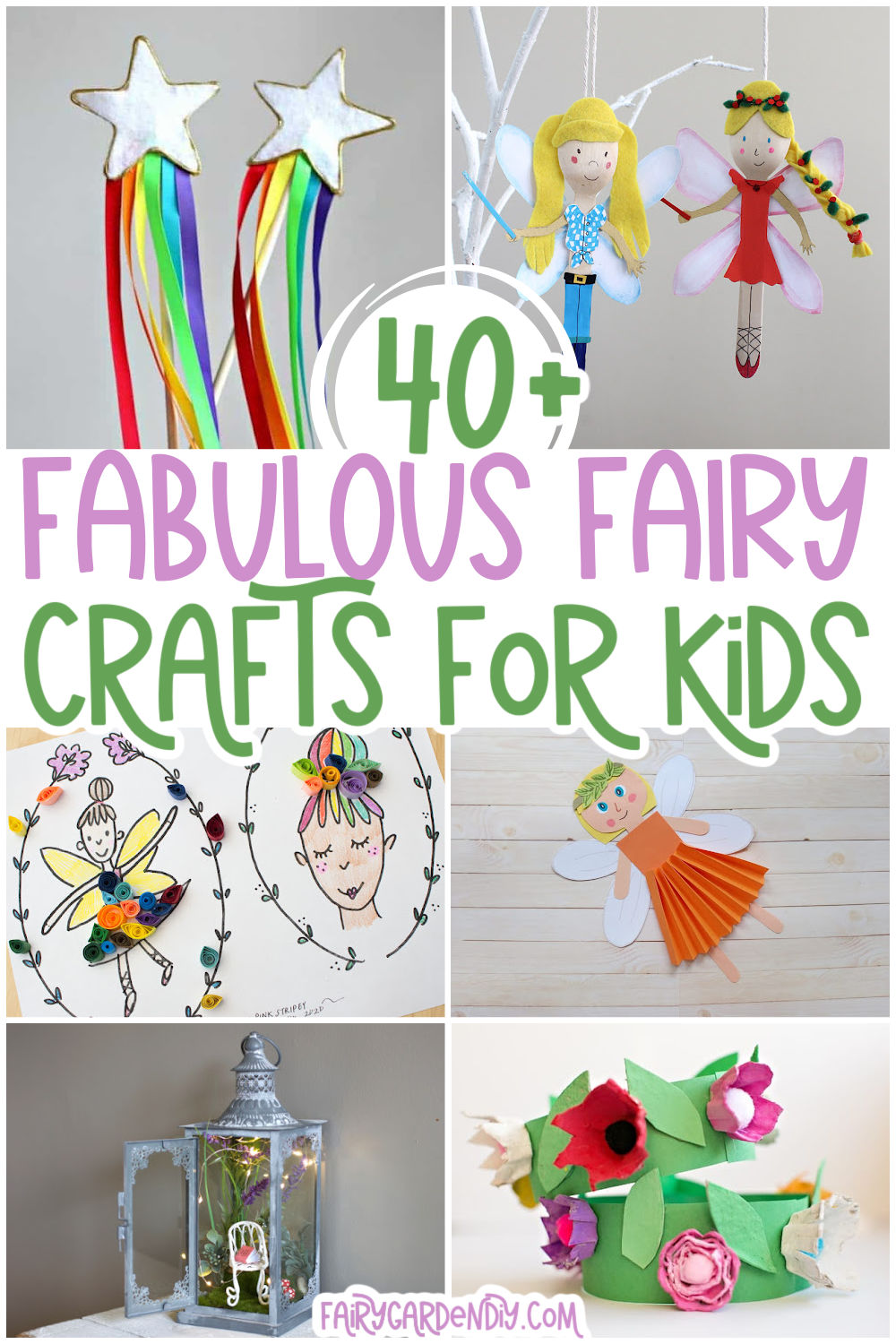 Easy Fairy Craft Ideas
While playing with fairy toys is fun, making your own fairies to play with is even more so. The good news is that you can make fairies out of the most ordinary materials. From popsicle sticks to pine cones, you'll find lots of whimsical fairy crafts for kids here.
Spoon Fairy Ornaments
Turn ordinary wooden spoons into whimsical spoon fairy ornaments to decorate your tree or just to play with. These ornaments from The Craft Train are based on the Rainbow Magic fairy books, but even if your child hasn't read them, they'll love these delightful fairies. Add paper wings, felt hair, a sparkly dress, and a few other touches to make some of your own.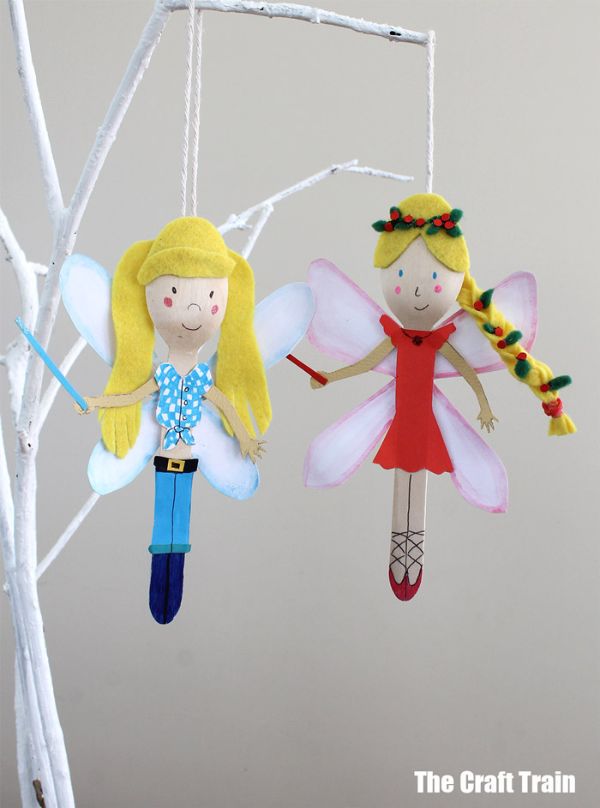 Quilled Paper Fairies
Any child who loves fairies will adore making these quilled paper fairies from Pink Stripey Socks. Print out the doodled fairy template (or draw your own), and get to work rolling and curling paper into circles and loose coils. Use the quilling pieces to fill in the fairy's dress or to add flowers to her hair.
Fall Fairy Paper Craft
Get into the spirit of the fall season with a lovely fall fairy constructed only with paper. Grab the printable template for this simple craft from In the Playroom to make one with your fairy fan today. The accordion fold on the skirt gives a 3D element to this craft, making it so much fun.
Craft Stick and Cupcake Liner Fairy
Easy Peasy and Fun has a tutorial for the most adorable cupcake liner fairy. The face, wings, and top are made with paper, while the ruffled skirt is made with a cupcake liner. Pipe cleaners become arms, and a cute little pom pom at the bottom serves as her ballet shoes. Isn't it darling?
Fairy Rock Art
Share your love of fairies with the rock-painting community. This painted fairy rock from Everyday Best is quite simple to draw and decorate, though younger children may need a bit of help with the outline. Paint pens work best for coloring in fine details on rock paintings, and outlining with a black paint pen makes the painting stand out. Make a few extra fairy rocks to hide in a local park for others to find.
For kids who love painting rocks, check out these ideas for decorating your fairy garden with painted rocks, and this post on fairy house painted rocks.
Winter Fairy Peg Dolls
What could be more beautiful than fairies in the snow? These winter fairy dolls from Rhythms of Play perfectly capture the sparkly, magical colors of winter. They'd make gorgeous ornaments for a fairy-themed Christmas tree, but they're lots of fun to play with, too.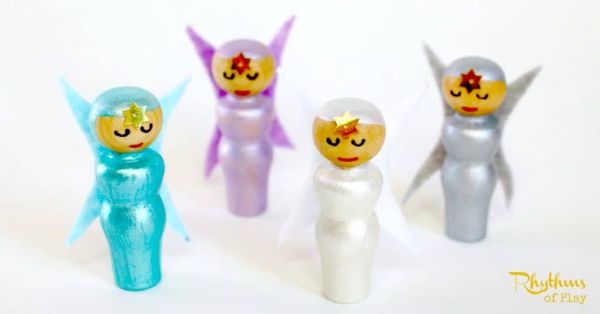 Craft Stick Fairies
Find some jumbo craft sticks, tissue paper, and sparkly gold craft paper to make these fetching craft stick fairies from Artsy Craftsy Mom. Stick them in a flower pot, add a string to the back to make them into ornaments, or use them as puppets to play with.
Pine Cone Fairies
When fall arrives, gather some pine cones, leaves, moss, and other natural materials to make these rustic-looking pine cone fairies from Kids Activities Blog. You'll also need some wooden beads for their faces. However, if you can find some acorns or chestnuts outside, you can use those for your forest fairy crafts instead.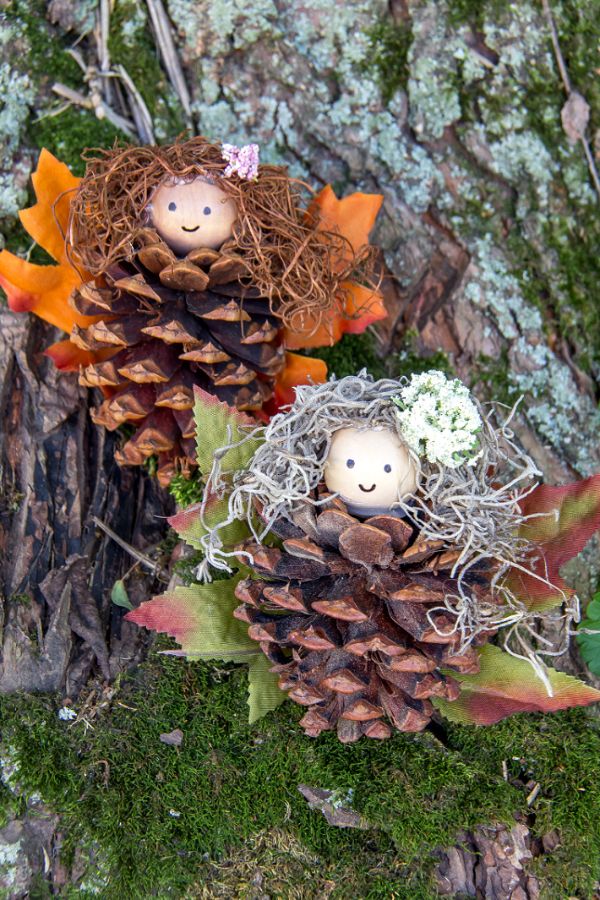 Clothespin Fairies
Turn wooden clothespins (or clothes pegs) into fabulous flower fairies! Use the petals and leaves from fake flowers, along with some Washi tape, to make their dresses, wings, and hair. Draw on a face like the one at Crafty Little Gnome, and you're done with this easy DIY. Your clothespin fairies are ready for playtime.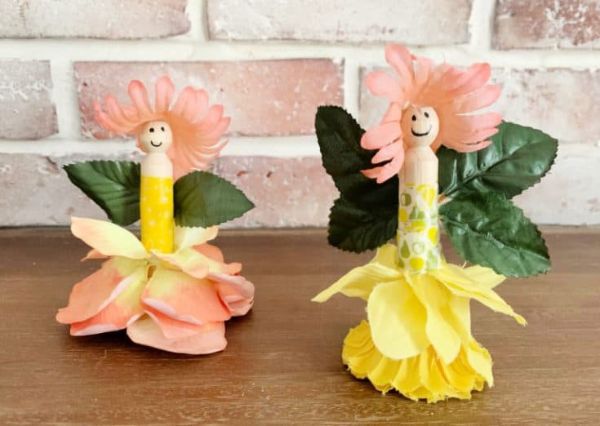 Wearable Fairy Crafts
Play dress up with some of these wearable crafts like magical fairy crowns and fairy wings that are fitting for fairies in the making.
Daisy Flower Crown
Any proper fairy must wear a crown. This daisy flower crown from Creative Green Living is a wonderful choice for your little girl, especially if she pretends to be a forest fairy! Follow the tutorial to learn how to braid and intertwine the stems so you can make a flower crown without any extra materials at all.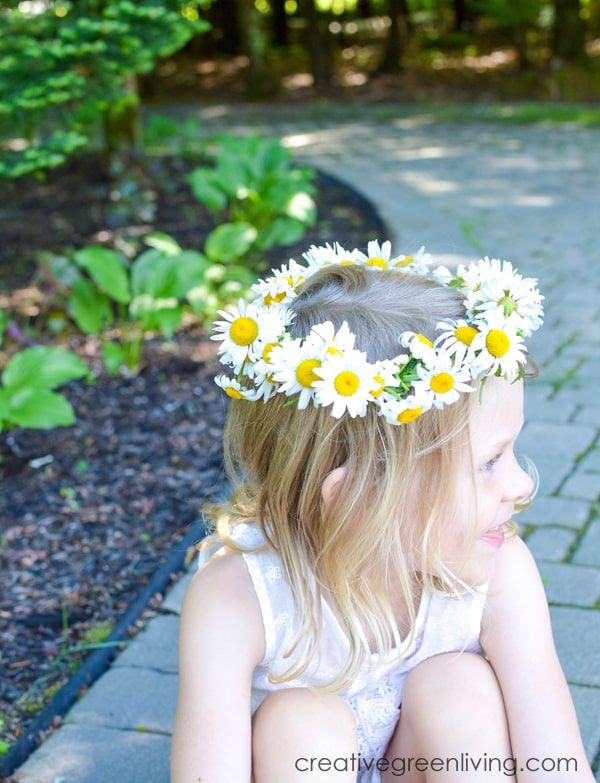 Egg Carton Flower Crown
A real flower crown isn't always possible—what if you want to pretend to be a fairy in the winter, for example? That's where these cute egg carton flower crowns from Hello Wonderful come in. Made with egg carton cups, construction paper, and pom poms, you probably have everything you need to make a crown for your fairy princess right now.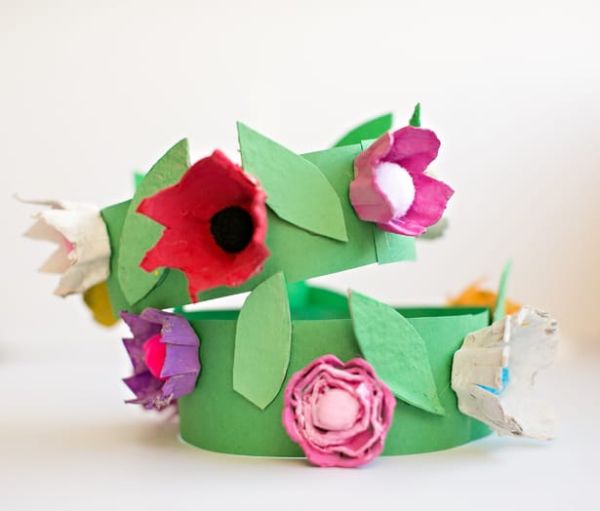 Cellophane Fairy Wings
Have a little one who is dreaming of her own pair of fairy wings? You can make them together instead of spending money on a pair from a costume shop. This is a cheap and fun craft from Everyday Best that you can create using wire hangers, cellophane, tape, and a few other materials. Lighter colors of cellophane will allow more light to shine through, making them look iridescent. You can find large rolls of cellophane at your local craft shop or online fairly inexpensively. Aren't they lovely?
Fairy Wand Crafts
Where would a fairy be without her wand? These cute wand crafts are colorful, easy to make, and look absolutely magical.
Rainbow Ribbon Fairy Wands
Add loads of color to your child's pretend play costumes and accessories with these charming rainbow fairy wands made with felt and ribbon. Kids will have lots of fun waving their wands around, watching their ribbons flutter in the breeze. Find out how to make them at Rhythms of Play.
Paper Leaf Magic Wands
Gather some sturdy wand-making sticks outside, then come inside to make the leaves and round up more accessories to make these paper leaf magic wands from Barley and Birch. Add stick-on gems, feathers, and ribbons to embellish the wands.
Easy Fairy Wand
It doesn't get much simpler than this easy fairy wand craft from Kids Activities Blog. Construction paper, wooden popsicle sticks, glue, glitter, and a star hole punch are all you need to make a wand of your own in about five minutes or less.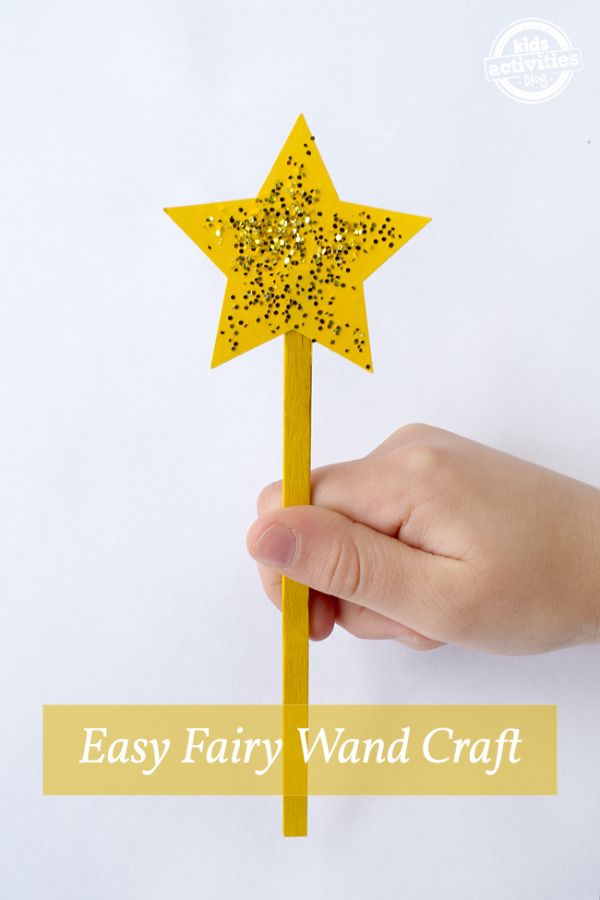 Sparkly Fairy Wand
A fairy's wand can never have too much sparkle. Make these shimmering star wands from The Craft Train, and you'll be the envy of all fairytale creatures. Glitter, sparkles, and plastic gems make these wands dazzle.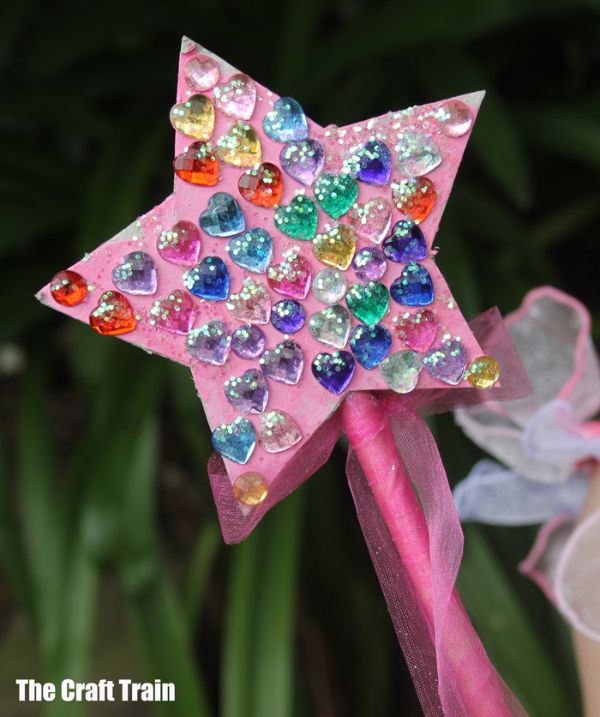 Fairy Garden Crafts Kids Can Make
While we've featured many fairy garden ideas for kids before, here are a few that are new to us that we think your kids are going to love. For more inspiration, read our tips on how to make a fairy garden with kids.
Beach Fairy Garden
Fill a washtub with sand and gather some shells from your seashell collection to make this fabulous beach fairy garden from Rhythms of Play. Our beach chairs (featured below) will look amazing in this! Add some faux plants, a tiny drink umbrella, and sea glass or smooth, colored rocks to complete the look.
Christmas Teacup Garden
Deck the halls with this adorable Christmas teacup garden from Fireflies and Mud Pies. Since it's small and teacup-sized, it's perfect for kids who are building their very own fairy garden for the first time. You'll need some greenery, berries, miniature ornaments, a jingle bell or two, and a banner that says Merry Christmas. It'll be a fun and festive piece of holiday décor.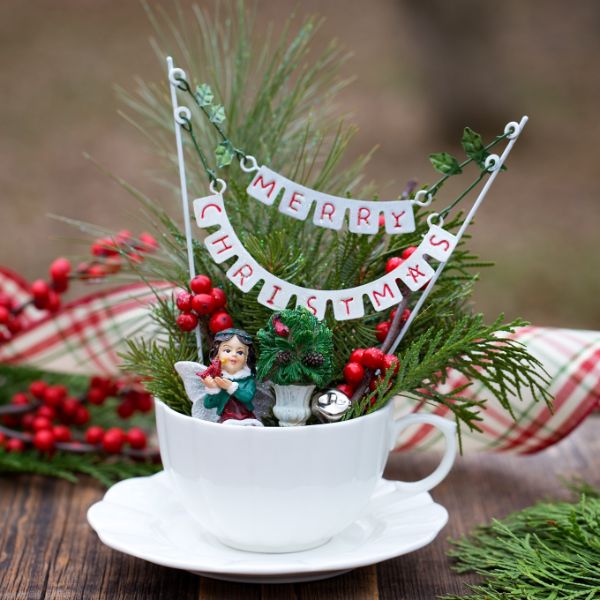 Lantern Fairy Garden
Our fairy garden in a lantern is easy enough for kids to make and will make a beautiful piece of décor for their rooms. You can purchase lanterns for a reasonable price during the holidays at most craft stores. However, you may be able to pick up a few for cheap at a thrift store or yard sale. Add a grass mat, decorative plants, a cute chair, and some fairy lights. It's tiny but gorgeous!
Fairy House Craft Ideas
The first step to building a fairy garden is adding a place for the fairies to live. Here are a handful of creative ideas to get you started, and we have even more fairy house crafts for you to check out when you're done here.
Popsicle Stick Fairy House
Make a popsicle stick fairy house using popsicle sticks, buttons, and glue. They're incredibly easy for kids of all ages. Your toddler or preschooler will need a bit of help, but otherwise, kids can complete them fairly independently by following the step-by-step photos. Not only is it a fun creative project, but it allows kids to practice problem-solving and engineering skills as well.
Edible Fairy House
Does your family enjoy making gingerbread houses at Christmastime? If so, you'll also love these edible DIY fairy houses from Frosting and Glue. The best part is that you can make them anytime during the year—no need to wait for the holiday season! Use Pop-Tarts, frosting, sprinkles, pretzels, graham crackers, and other tasty goodies to build the sweet fairy house of your dreams.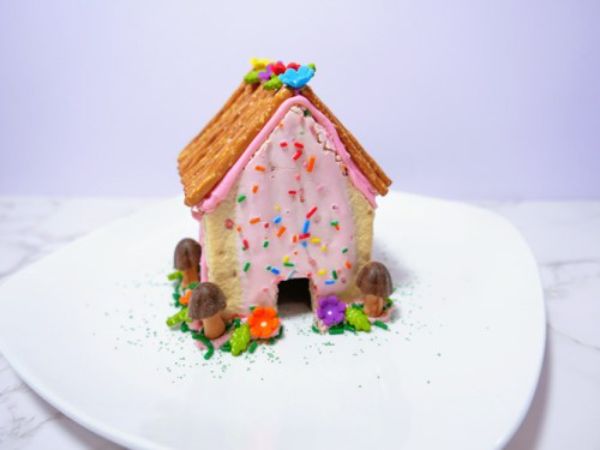 Printable Fairy House
Use this printable fairy house to build one fast to go along with your child's fairy toys. The template is free from Real Life at Home. Kids will have a blast coloring, cutting, and assembling the house. It's a wonderful activity for a rainy afternoon.
Fairy House Luminaries
Upcycle toilet paper rolls to make magical-looking fairy house luminaries like these from Messy Little Monster. Paint and decorate the toilet paper tubes however you'd like, and cap them with pretty cupcake liners. Slip a battery-operated tealight candle inside to watch them flicker and glow at night. Dreamy!
Fairy Birthday Party Craft
Hello Wonderful has the most amazing idea for a fairy-themed party craft—making fairy houses! Actually, pairing the papier-mâché houses with the wooden slabs allowed the girls to create an entire fairy scene. Provide lots of embellishments for the kids to use on their houses, such as sparkly pom poms, stick-on gems, moss, seashells, pebbles, and other fun bits and bobs.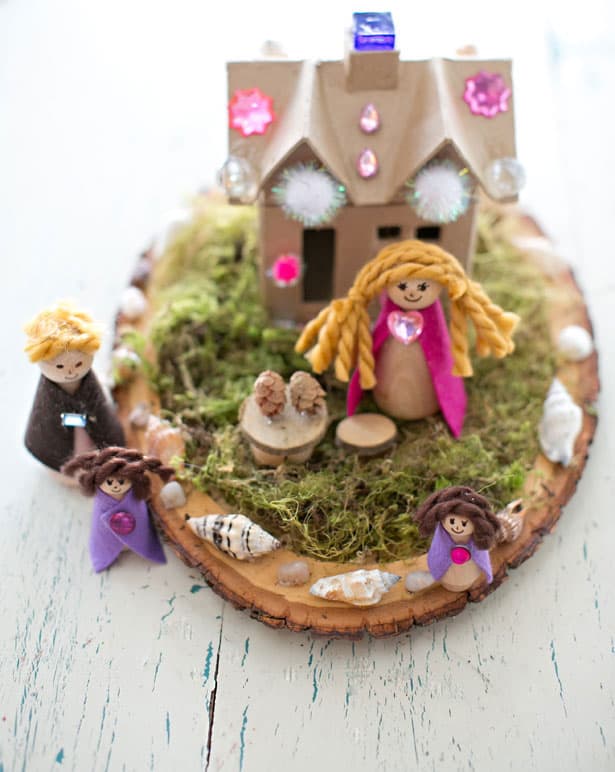 Shadow Box Fairy House
Create an enchanting fairy abode following this tutorial from Finding Myself Young. To make this shadow box fairy house, you'll need a house-shaped shadow box, paint, and glue. You can buy pre-made fairy windows and fairy doors or craft your own using popsicle sticks or cardboard. The house will provide hours of play for your sweet little fairy.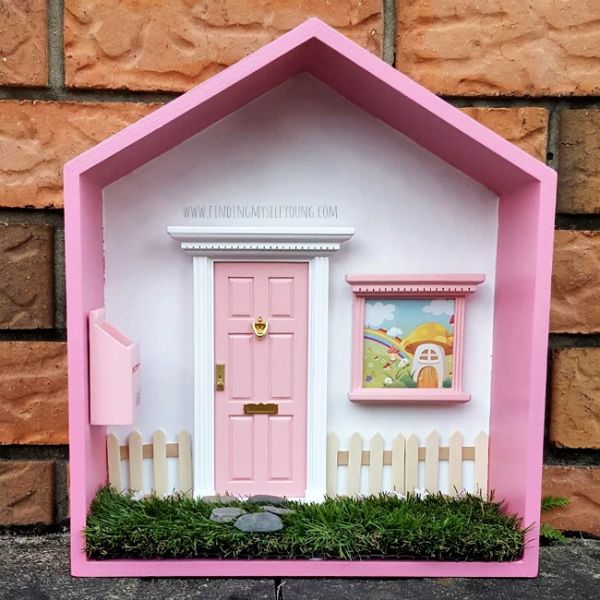 Mushroom Fairy House
You can grab the templates for these mushroom fairy houses super inexpensively from Kids' Craft Room and then make an entire village of them for your child's room or party. They come in three different sizes and are a darling addition to your child's fairy playthings.
Craft Stick Fairy Castle
For a truly magical dwelling for your fairy friends, make this craft stick fairy castle from The Craft Train. We love that it's made almost entirely of wood (craft sticks, toothpicks, and wooden spoons) that are embellished with mosaic tiles. How grand!
Nature Fairy Houses
Gather some long leaves, grasses, and sticks to make nature fairy teepees like this one from Red Ted Art. Yours doesn't have to look exactly the same. Make your teepees from whatever you can find in your environment.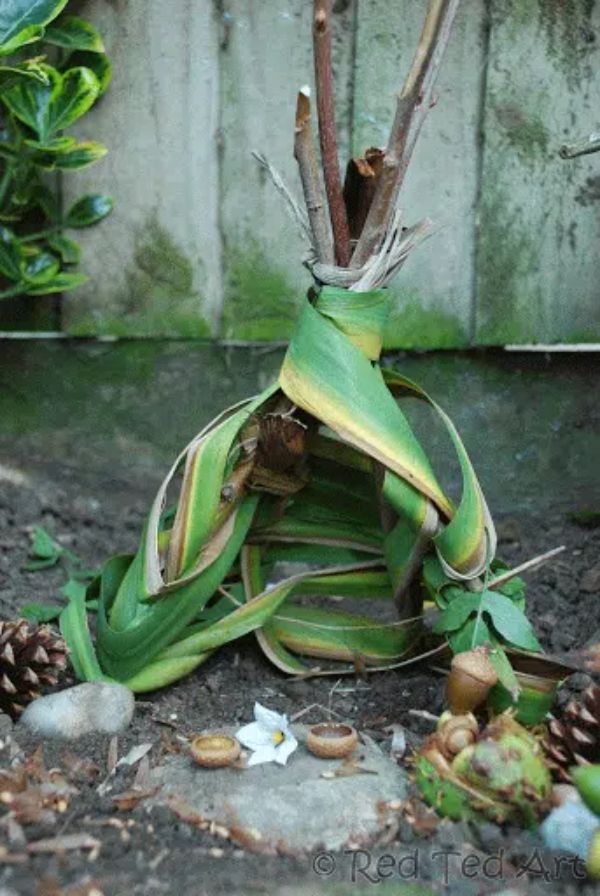 Egg Carton Fairy Houses
Cut those egg carton cups out and grab some paint to make these delightful egg carton fairy houses from Creative Family Fun. The washi tape flags sticking out of the tops look so cute!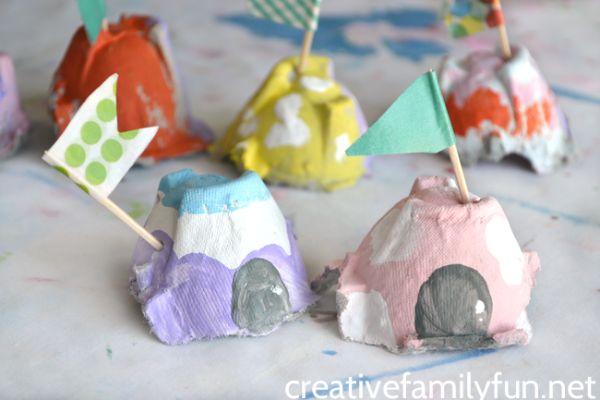 Paper Bag Fairy Houses
The Craft Train's paper bag fairy houses will make beautiful fairy party decorations. Add some battery-powered votives to make them glow—they'll look especially lovely at night (for a slumber party, for example).
Magical Fairy Doors
As the entryway into the magical world of fairies, a pretty fairy door is a must. Try these ideas or come up with your own!
Popsicle Stick Fairy Doors
Mommy Evolution's popsicle stick fairy doors are an easy and fun project for younger and older kids alike. The children can make several versions of their fairy doors in different colors and with various accessories. When they're done, add them to the garden, to flower pots, or stand them up against rocks or trees outside.

Wood Slice Fairy Doors
Cut your own wood slices or grab some from the store to make charming wood slice fairy doors to add to your yard or garden. Our favorite from Fireflies and Mudpies is the door with the tiny curtain over the "window," but there are no limits to the kind of magical door you can create.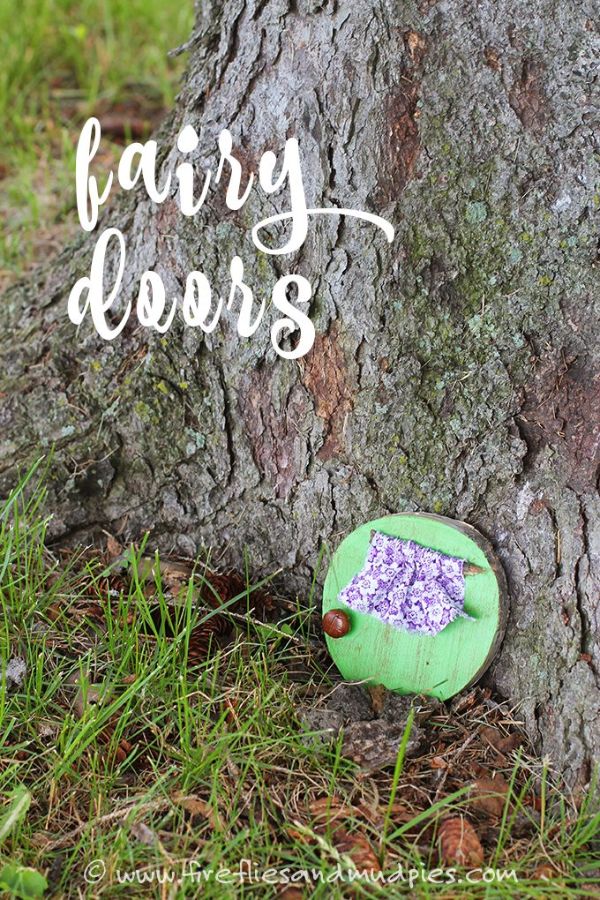 Dollar Store Fairy Door
Homespun Hydrangea shows how to make the most enchanting fairy door using dollar store items. With craft sticks, small stones, crafting moss, and faux flowers, you'll have a door fit for entrance into a magical kingdom in no time.
Polymer Clay Fairy Door
It's so easy to build a decorative fairy door out of polymer clay. Doors are such a fun way to add personality to a fairy garden, so you can make them as simple or as ornate as you'd like.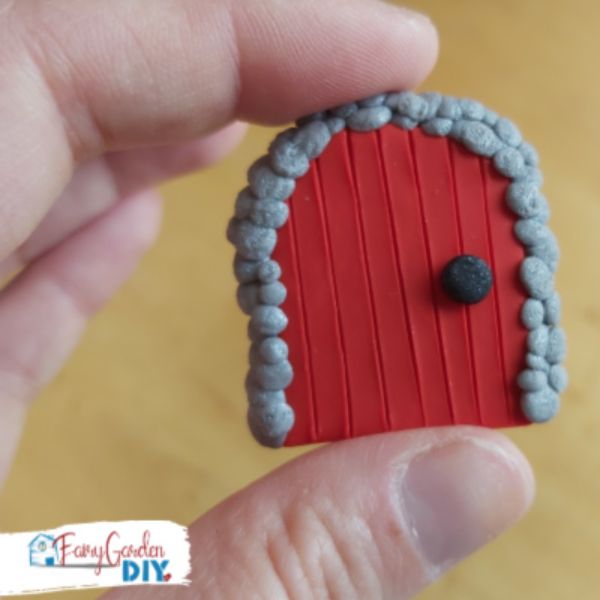 Fairy Home and Garden Accessories
Finally, here are some super cute fairy garden accessories to take your fairy homes to the next level. It's these details and decorative pieces that make each garden unique.
Rustic Twig Arbor
Doesn't this rustic twig arbor look picturesque? It looks like it belongs to a country fairy in the English countryside! Have the kids gather sticks and moss from the backyard or on nature walk to build the arbor. Don't worry about collecting too many sticks—turn them into cute matching outdoor furniture like we did.
Fairy House Painted Rocks
You can transform any area into a fairy garden with a bright and cheery fairy house painted on a rock. Our design is quite simple to draw and paint, making it easy for older kids and tweens. Add it to a flower pot, place it strategically in the garden, or use it as a paperweight at your desk for a touch of everyday whimsy.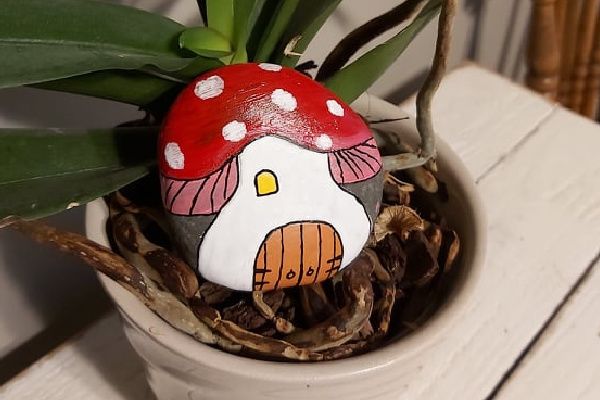 Beach Chairs
For the beach bum fairies, beach chairs are a must! You can make them with popsicle sticks, and they look like real Adirondack-style chairs. They'll make a cute addition to a sandy fairy garden.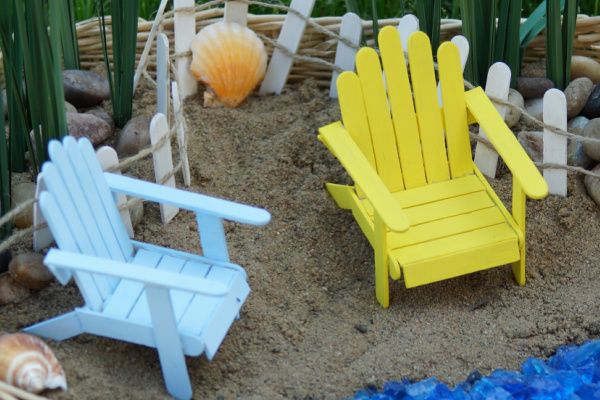 Fairy Bed
Grab some twigs (or bamboo) and twine to build a fairy bed for a tired little fairy who may come across it. Make the mattress out of fabric, a sponge, or leftover batting, if you have any. Doesn't this project from MollyMoo look cozy? It'll be a cute addition to any fairy house or garden.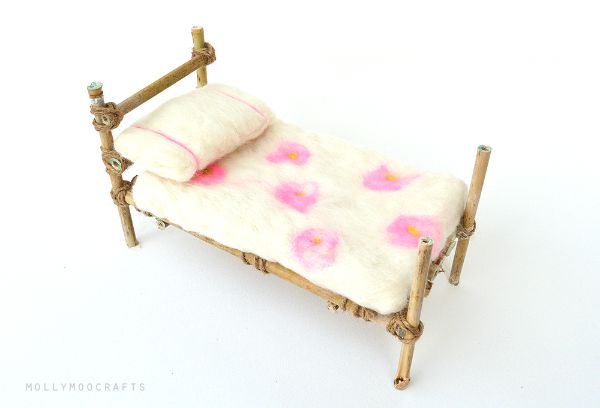 Fairy Garden Clothesline
Turn bits of scrap felt into a darling fairy garden clothesline. Craft Create Cook shows h ow to set up a clothesline between two popsicle sticks using some twine. Mini clothespins secure the felt clothes to the line perfectly. What an adorable addition to your garden!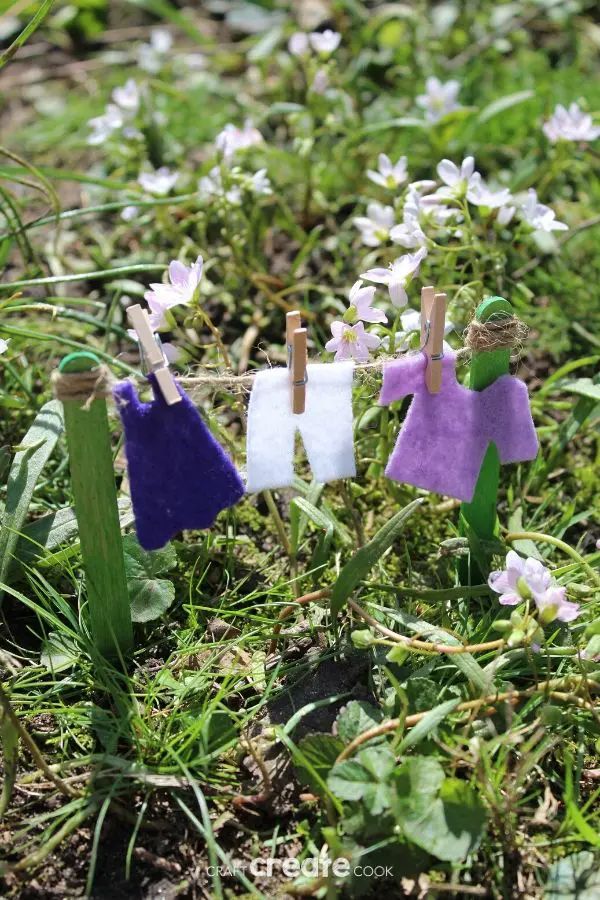 Polymer Clay Lanterns
Help the kids make some fairy lanterns to add to their fairy gardens. An adult should help with baking the pieces in the oven, but otherwise, they're simple enough for older kids to make all on their own.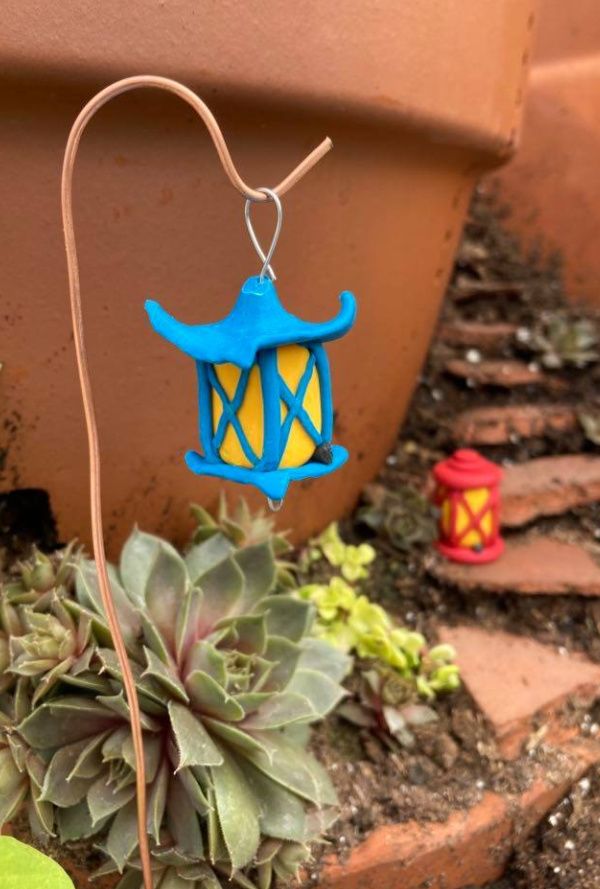 We hope you've found a few projects among these easy fairy crafts for kids. What will you make first? Let us know in the comments!