DIY clay fairy garden accessories can add SO much character to your miniature garden, and it's really very easy to work with! (I love that you can get such bright colored clay, and I think the fairies love color too.) Polymer clay is one of the easiest and most affordable mediums (outside of plain old sticks and rocks lol) to craft fairy garden accessories I've ever found.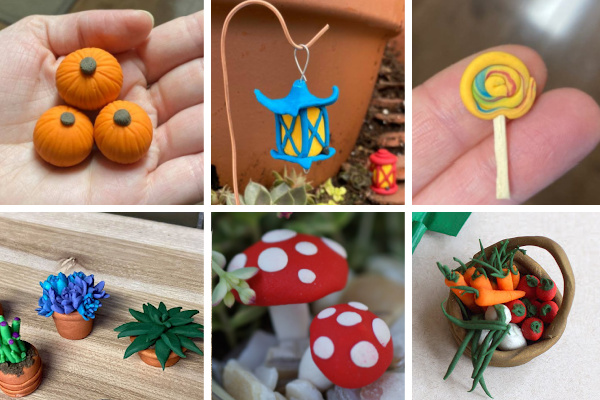 I found polymer clay a little overwhelming at first, so before we look at polymer clay fairy garden ideas, here's some quick tips on getting started and working with polymer clay to create adorable fairy garden décor:
How to Make Polymer Clay Fairy Garden Accessories
(THIS POST MAY CONTAIN AFFILIATE LINKS. YOU CAN READ OUR FULL DISCLOSURE POLICY HERE.)
1) Know the difference between name brand and knock-off clay:
Different brands of clay have different qualities.
If you want your project to be long lasting and more "professional" try Fimo or Sculpey or Primo – any of the "name brands" of polymer clay. Sculpey is a little softer, so it shows more fingerprints, imo – but it's also a little easier to work with for tiny fingers. A sampler package of sculpey is a great place to start.
You can purchase dirt cheap "knock-off" brands which are just fine if you are just making fairy garden accessories with your kids and you aren't that concerned with the longevity of the finished product. The quality is NOT the same with the cheap cheap stuff – but the fun can be the same!
2) Buy a bight colored sampler package of name brand clay + a large block of white.
I find we use white for a lot of projects, but you can also mix any color with white to make a different shade. (Just as it's ok to mix the different colors, it's also ok to mix different BRANDS.)
If you just get a sampler package of bright colors and and a large block of white, you'll be set!
3) You can find all the "tools" you need around your house
If you are REALLY sure you are going to LOVE working with polymer clay, you can buy a set of tools to help you craft your pieces, but if you're not ready to invest yet, here are some "tools" to collect from around the house that will help your clay fairy garden accessories look more professional:
sharp knife
old toothbrush
tooth picks
dry paint brush
tiny screwdriver
4) Let your imagination go wild + try these tricks for easier clay creation:
The best way to learn to create diy polymer clay fairy garden accessories it to practice!
Check the internet for ideas (like the ones you will find below in this post) but also go ahead and do what YOU want!
If your clay is super squishy and it's hard to mold (heat from your fingers can cause this) try popping it in the fridge for a few minutes to "firm" it up.
Here is a video of polymer clay tips I found SO helpful when I was starting out!
5) Bake according to the package instructions – or bake cooler, longer
The baking process is really important to creating décor that isn't super brittle.
When in doubt, cook your clay at a lower temperature for longer.
Also, note that cooking on aluminum foil creates a shiny spot where the clay is touching the foil, so cooking on parchment paper is a better choice.
6) Do NOT worry about your clay fairy accessories outside!
If you want to leave your clay creations outside in a fairy garden, DO it! There is no need to seal polymer clay, even if you are going to leave it outside. It is a waterproof plastic, and it doesn't mind the elements.
Now that you know how to make fairy garden accessories from polymer clay, here's 15 clay fairy garden projects to try and make!
13 Polymer Clay Fairy Garden Ideas
Most of the clay fairy garden accessories on this list are things I made in the first year I was working with polymer clay, and I'm not overly artistic… so if I can make these, you can make these!
Esp. if you are making a fairy garden with a child, remember it's more about imagination and creativity than perfection 😉
If you're creating for yourself, take your time and don't be afraid to start over when things are not going the way you'd hoped.
Toadstools

Aren't toadstools THE quintessential fairy garden décor?
I made these ones from red and white, like classic toadstools… but this summer I'll be making a bunch of rainbow colored ones. I am so excited!
ALL my fairy gardens need to be decorated with toadstools, haha. They add such a sweet pop of color to any mini garden.
Doors

Many of the fairy houses I create have polymer clay doors.
You can make them in any size, shape, or color – so there are endless possibilities!
Here is a tutorial for making the simple clay fairy doors pictured below.
Lanterns
I always imagine that fairies are mystical little creatures, but I don't seem to imagine that they can see in the dark haha.
My kids and I created these fairy lanterns – they were SO simple and anyone could make them! I love how realistic they look.
Fairy Houses
This tiny fairy house in my teacup garden isn't a creation I can take full credit for… I followed this step by step tutorial.
I LOVE how the tiny houses turned out tho (I made three – purple, blue and orange).
I intend to make a whole (larger) fairy house out of clay and I will do a tutorial for that on here soon!
Ladders
While I always imagine fairies with wings, I'd never make a multi-tiered fairy garden without a ladder or two.
You can make rope ladders, popsicle stick ladders, twig ladders… or of course, polymer clay ladders!
Pumpkins
These tiny clay pumpkins are the perfect fall fairy garden décor and took about 5 minutes to make! You could paint little jack-o-lantern faces on them or plant them in a pumpkin patch with a cute scarecrow.
Baskets of Veggies

I think the fairies love to garden, so I made these polymer clay veggies to display along side some mini garden tools.
Succulent Plants
It was a clay mini-succulent plant tutorial I saw years ago that inspired me to start making diy clay fairy garden accessories, so of course I had to attempt making my own!
I was pretty pleased with how these turned out, but they (esp. the purple one) did take some real time!
Lamp Posts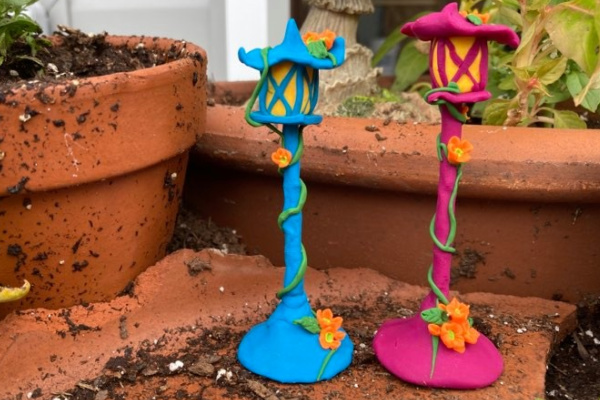 After making the little lanterns, I wanted to try lamp posts.
I used the same method as I did to make the lanterns, and then rolled clay around a stick to make the post.
I added tiny vines and flowers from polymer clay – because I'm almost sure that fairies expect their décor to be beautiful.
Lollipops
I had extra scrap clay laying around after finishing the lanterns above, so I rolled it all together and twisted it up like a lollipop – and stuck a half a match stick in the bottom.
Cutest little fairy garden lollipop ever! lol. You can make all kinds of fairy snacks with polymer clay. My kids and I will be making cookies soon, I'll add a picture when we do.
I loved this opinion piece on how creating tiny food from polymer clay helped ease anxiety for one woman. I supposed fairy garden creation is a kind of therapy for me too.
Recently we made hotdogs from polymer clay to go with our mini BBQ – see?
Although I haven't made them MYSELF yet, there are a few more polymer clay fairy garden ideas I plan to make ASAP:

These books from JessamaTutorials – I actually have purchased little paper books in the past, but they can't be used in outdoor gardens (well, they can't be LEFT in outdoor gardens) AND my kids can DESTROY them in a matter of minutes. Polymer clay books, on the other hand, would solve both those problems!
ALSO:

This green frog
These Hedgehogs (OH my heart)
I'll add photos when I make these things!
Of course, clay isn't the ONLY thing you can make fairy garden accessories from, so don't limit yourself, but it really does make awesome little things!